The mystery man dubbed a "legend" for tripping up a suspected drug dealer fleeing the police has been revealed as a soldier who was enjoying an early Valentine's evening with his wife.
Lance Sergeant Matthew Lawson casually stuck out his foot and sent the teenager flying, allowing Kingston officers to make an arrest.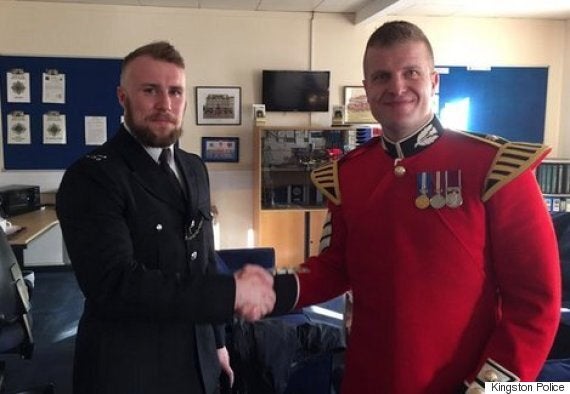 Lane Sergeant Matthew Lawson, right, shakes hands with officer PC Dexter Beek, who was pursuing the offender
The 37-year-old told how he simply reacted instinctively after he realised a police chase was happening.
The Evening Standard quoted the euphonium player in the Band of the Scots Guards as saying: "I heard a shout, 'Stop! Police!' and immediately my military training just kicked in."
"I saw the policemen chasing a guy and I thought, 'He's a bit of a whippet, they'll never catch him', so I reckoned I'd buy them a few seconds and just stuck my leg out to trip him up."
Lawson, who is based at Wellington Barracks, Buckingham Palace, said after the fleeing teenager fell to the ground, officers called back and said "cheers, mate, thank you".
He added: "My wife and I just continued on our way and thought nothing of it."
In CCTV footage released by Kingston Police Lawson was seen walking arm-in-arm with his wife before he tripped the teenager who was suspected of selling Class A drugs.
On Tuesday PC Sebastian Ellis from Kingston Borough said police were "very thankful" for Lawson's actions and urged him to come forward as the Borough Commander was "very impressed" and wanted to meet him.
Scotland Yard said officers were patrolling near Clarence Street, Kingston, around 11.20pm on Saturday when they received a report that two males were selling drugs nearby.
The spokesperson said the males left before police arrived, but one of them was stopped near to the scene. He then attempted to flee the scene, before he was arrested.
Related