Ted Cruz, the son of a blustering evangelical preacher, a man "told by God" to run for the White House, a Christian so devout he called same-sex marriage the "definition of tyranny," hired a porn star this week to feature in an attack advert for his campaign.
The Texas Senator was forced to pull the TV spot targeting Florida Senator Marco Rubio late on Thursday after it was revealed one of the actresses in the production had previously enjoyed a turn in several pornographic movies.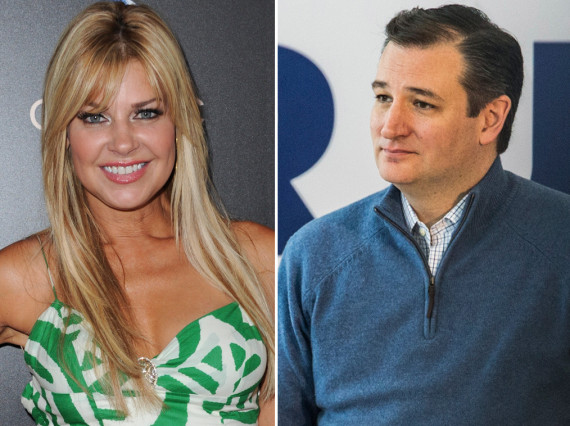 Ooh la la, Ted
Amy Lindsay gave an interview to BuzzFeed, confirming her background, but insisting she was a "Christian conservative" and that her inclusion in the advert would enhance Cruz's stuffy image.
"It's not just some old, white Christian bigot that people want to say, 'It could be, maybe, a cool kind of open-minded woman like me,'" she said.
She also tweeted her disappointment that the spot was pulled, adding ominously "#moretocome."
Extremely disappointed the #TedCruz campaign pulled the national television spot I had a role in... @CNN @Foxnews #moretocome #myvotecounts

— Amy Lindsay (@amylindsayLA) February 12, 2016
The Cruz campaign said Lindsay responded to an open casting call.
"Unfortunately, she was not vetted by the production company," campaign spokesman Rick Tyler said. "Had the campaign known of her full filmography, we obviously would not have let her appear in the ad."
Among Lindsay's back catalogue are "Confessions of a Lap Dancer," "Intimate Sessions." "Silk Stalkings," "Secrets of a Chambermaid" and the much underrated "MILF." It's all lightweight fare but enough to have Cruz and his team clutching for their pearls.
Here's the advert:
The gaffe marks the end of an indifferent week for Cruz. He placed a reasonable third in the (liberal) New Hampshire primary, but was called a "pussy" by Donald Trump over his aversion to torturing people.
SEE ALSO: