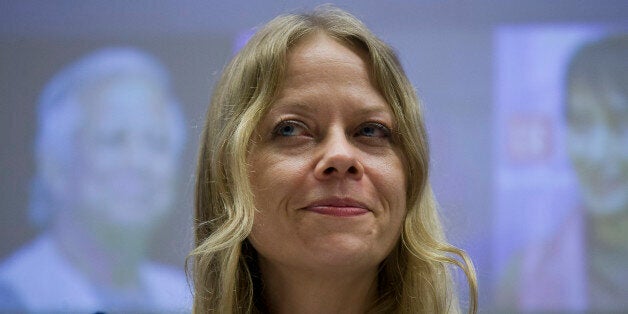 Tory Mayoral candidate Zac Goldsmith is not hungry enough to win the battle for City Hall, his Green Party rival claimed as she spelt out her vision for London.
Sian Berry told the Huff Post UK she has found it "confusing" the Richmond Park MP has not put up more of a fight to become London Mayor.
She insists her candidacy should be taken seriously, arguing the success of Jeremy Corbyn, the SNP and Bernie Sanders in the past year show people are ready for radicalism in politics.
The 41-year-old argued that housing is the biggest problem facing Londoners right now, and called for a greater role for smaller construction companies as a way to get homes built quickly.
Speaking to the Huff Post UK in the Map Studio Café in Kentish Town, Berry reflected on her two main rivals in the race to succeed Boris Johnson.
She said: "I think of the two of them, Sadiq has so far been more hungry to win than Zac, I'm finding that a bit confusing because it's such an important battle and such an important fight."
She added: "It's hard to see the difference sometimes between what Sadiq and Zac are saying."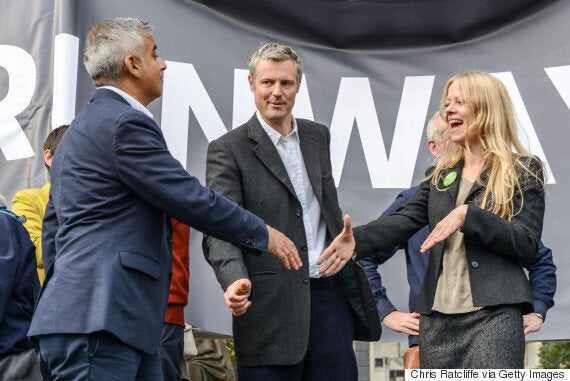 Friendly rivals: Sadiq Khan, Zac Goldsmith and Sian Berry
For Berry, housing is the key issue in the campaign race and prior to sitting down with a slice of quiche and a cappuccino, she took Huff Post UK on a tour of developments in Gospel Oak.
Against the backdrop of the construction of penthouse flats likely to be worth millions, Berry was keen to show off a block of one-bedroom flats built by a smaller company and marketed as starter homes.
For her, allowing smaller companies to work with communities to build properties is the key to solving London's housing crisis.
A report produced by the London School of Economics last year found that 59,000 homes must be built annually in the capital to meet demand.
Berry said: "If we sign off on a load of big deals with big developers and the land disappears off into the ownership of giant corporations, we have no help for people currently struggling.
"We end up with people living further and further away and having to travel back in from outer London or further away than that, it's a structural problem and we've squandered the opportunity to do something much more secure for the future."
She added: "People want a silver bullet, they want to sign a big deal which will solve London's housing crisis.
"We know as Greens that's not really how things work, you get more done by trusting the community."
Berry also has plans for the rental sector – a massive share of the electorate of course, with an estimated 2.3 million people in rented accommodation.
When asked whether rent controls should be imposed on private landlords, Berry backs the notion but is not fixed on one proposal.
She said: "The Berlin model is quite interesting. They are saying new tenancies can't be advertised at more than ten per cent more of the average in the local area so that keeps a cap on rent rises - between tenancy rises are one of the most pernicious things."
Sian Berry talks through the housing crisis with the Huff Post UK in Gospel Oak
Berry has a similar 'wait-and-see' approach when it comes to the congestion charge, saying she's "not making firm plans because it needs to be done right; we have this one chance now and we need to replace it."
But is it not strange going into the election without a fully-thought out plan for what to do with the 13-year old congestion charge zone?
Berry disagrees and said: "I'm consulting with a set of principles in mind and a set of outcomes that we have to achieve, which is reducing congestion and keeping pollution to within limits."
One firm policy plan is to reduce the number of underground zones to one, something which would lead to cheaper fares for those commuting into the centre.
Berry said: "I don't know why it hasn't been thought of before. It's the natural evolution for the zone system."
But, as with other proposals, Berry is already thinking of other ways it could be developed.
"You might want something – I'm calling it the Monopoly option – which is rather than have a zone, have a certain number of stations which you need to avoid to get a discount," she said.
"So you have a flat fare for everything assuming that you go through one of the big stations, if you avoid the big stations you get a bonus, and that might encourage people to walk, or get off before you get to Euston and walk down."
It is not the first time Berry has stood for Mayor – she came fourth as the Green Party candidate in 2008 – but that was before the rise of the anti-politics, represented by such diverse figures as Jeremy Corbyn, Bernie Sanders, Nigel Farage and Donald Trump.
But does the fact that people who want that brand of unspun, left-leaning politics can now turn to Labour actually hinder the Greens?
Berry disagrees, and said: "It's all part of the same movement. It's all one thing really, it's a feeling among people they want more involvement in things.
"For years people didn't join political parties and were intensely cynical about the whole process of getting involved in anything to do with changing the world. Only a few diehard people like me were doing it."
Turning to her own chances in the mayoral race, Berry said that equalling Green candidate Jenny Jones's third place finish in 2012 would be an achievable result, but a top two position is possible.
She adds: "We've had much less likely winners of many elections in recent years. My odds are significantly less than Jeremy Corbyn's were this time last year."
So, if Corbyn can win the Labour leadership election, you can be mayor of London?
"Yeah, why not? People are starting to realise they have the choice," Berry replied with a smile.