The ringleader of a Rochdale child sex grooming gang has cited human rights laws in an appeal against deportation from Britain.
Paedophile Shabir Ahmed, 63, described by a judge as a "violent hypocritical bully", has written to the European Court of Human Rights (ECHR) claiming his convictions for child sex offences were a conspiracy to "scapegoat" Muslims, his immigration tribunal heard.
Ahmed was jailed for 22 years after being convicted in 2012 of being the ringleader of a group of Asian men who preyed on girls as young as 13 in Rochdale, plying them with drink and drugs before they were "passed around" for sex. Rochdale child sex grooming gang ringleader Shabir Ahmed is appealing his deportation from Britain
He appeared before the First Tier Immigration Tribunal, sitting at Manchester Crown Court, on Tuesday to appeal against the decision by Secretary of State Theresa May to strip him of his British citizenship, the first stage in the deportation process.
Three judges will decide on Ahmed's appeal, as well as on appeals by three other men who were part of the same gang and who also face deportation.
Ahmed, who sat in the dock flanked by prison officers, told the court: "She (Theresa May) says all her trouble is coming from Muslims, yet she's the biggest trouble causer in the world."
He said he was convicted by "eleven white jurors", adding: "It's become fashionable to blame everything on Muslims these days."
Vinesh Mandalia, representing the Home Office, told the tribunal May had exercised her right as the Home Office minister to deprive Ahmed of British citizenship "if it is conducive to public good".
Mandalia said Ahmed's appeal against depriving him of British citizenship included an appeal to the ECHR against his criminal convictions, which had been acknowledged by that court but did not mean they would hear his case.
"He explains simply on human rights grounds the conviction is unsafe on the basis it was a conspiracy by everyone involved," Mandalia said.
Ahmed's appeal states his trial was "tainted" and a "miscarriage of justice" as it was "institutionally racist" using Muslims as "scapegoats".
Mandalia said: "The public interest weighs heavily in favour of the Secretary of State, to ensure those granted the benefits of British citizenship, however that comes to arise, know the responsibilities that go with it.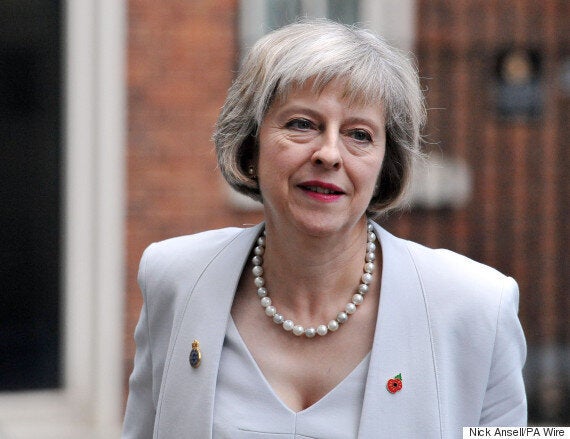 Ahmed said Theresa May was the 'biggest trouble causer in the world'
"And if you get involved in very serious organised crime then one of the consequences of that is that they will be deprived of their British citizenship."
He said Ahmed, who first came to the UK in 1967 aged 14, is a British citizen, but would not be rendered stateless as he retains Pakistani nationality having been born in Gujrat.
Three times married Ahmed told the court he had four children living in the UK, had lived here for nearly 50 years and had £83,000 in a UK bank account.
Ahmed was given a 19-year sentence at Liverpool Crown Court in May 2012 for a string of child sex offences, including rape.
He was also jailed for 22 years, to run concurrently, in July 2012 for 30 rapes against another victim.
Presiding tribunal Judge Michael Clements reserved his decision on Ahmed and the appeal of a second man, Qari Abdul Rauf.
Taxi driver Rauf, 47, a father of five, was released on licence last year after serving half of a six-year sentence for trafficking a girl, aged 15, in the UK for sex, and for having sex with the youngster himself.
Rauf, who also acted as a religious studies teacher at a mosque in Rochdale, burst into tears, and through his Urdu interpreter asked the immigration tribunal for "mercy" and a "second chance".
Two more men convicted of child sex offences in the Rochdale case, Abdul Aziz and Adil Khan, will have their appeals heard in Manchester on Wednesday.
If the appeals fail all four can take their case to the Upper Tribunal, so any final decision on deportation could be some way off.