Some of the nation's favourite hot drinks from popular coffee shops contain "alarming" levels of sugar per serving, an eye-opening new report has found.
Starbucks' Hot Mulled Fruit drinks were the worst offenders, containing up to 25 teaspoons of sugar per serving. That's more than three times the maximum daily sugar intake for adults.
Costa Coffee's Chai Latte Massimo was found to contain 20 teaspoons of sugar.
Of the 131 hot drinks analysed, 98% received a "red" label for excessive levels of sugar per serving.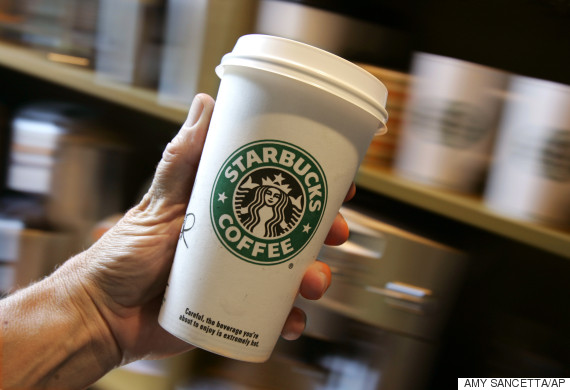 More than one third of the drinks contained the same amount or more sugar than a can of Coca Cola, which contains nine teaspoons of sugar per can.
The report, by Action On Sugar, estimated that 1.7 billion cups of coffee are sold each year in the UK from over 18,000 outlets. Meanwhile one in five of the population (including teenagers) visit a coffee shop daily.
In a bid to tackle the issue, Action On Sugar has called for a reduction in the amount of sugar in coffee shop drinks, a ban on promoting and marketing unhealthy products and a 20% tax on sugar-sweetened drinks.
Action On Sugar's chair, Professor Graham MacGregor, said the findings are "yet another example of [the] scandalous amount of sugar added to our food and drink".
"No wonder we have the highest rates of obesity in Europe," MacGregor said in the report.
"Cameron now has all the evidence to make the UK the first country in the world to stop the obesity and type 2 diabetes epidemic.
"To do this he has to be radical and follow every single action that we have set out in our comprehensive plan. Otherwise it will be the final nail in an already bankrupt NHS."

Kawther Hashem, registered nutritionist and researcher for Action on Sugar, added: "Coffee shop chains must immediately reduce the amount of sugar in these hot drinks, improve their labelling and stop selling the extra-large serving sizes.
"These hot flavoured drinks should be an occasional treat, not an 'everyday' drink. They are laden with an unbelievable amount sugar and calories and are often accompanied by a high sugar and fat snack."
Action On Sugar has advised consumers to drink "plain hot drinks" or ask for their favourite drinks with a "minimal amount of syrup, preferably sugar free, in the smallest serving size available".
Nicola Close, chief executive of the Association of Directors of Public Health said the results "highlight the need for more transparency on sugar content and compulsory labelling of sugar content".
"Drinkers deserve to know how much sugar they are consuming," she added.
SEE ALSO:

Can't Sleep? The Amount Of Sugar In Your Diet May Be To Blame

Cutting Sugar In Drinks 'Could Prevent 300,000 Cases Of Diabetes' In Five Years
In response to the report, a spokesperson from Starbucks said: "Earlier this year we committed to reduce added sugar in our indulgent drinks by 25% by the end of 2020.
"We also offer a wide variety of lighter options, sugar-free syrups and sugar-free natural sweetener and we display all nutritional information in-store and online."
Kerry Parkin, head of communications and CSR for Costa Coffee, said: "Costa takes the nutritional balance of our food and drink very seriously and we have already taken significant steps to reduce the sugar content of our ranges.
"We intend to continue improving the balance of our product offerings while maintaining the high quality and great taste our customers expect. This April we will be setting salt and sugar reduction targets for 2020."
You can find the full list of hot drinks and their sugar content here.