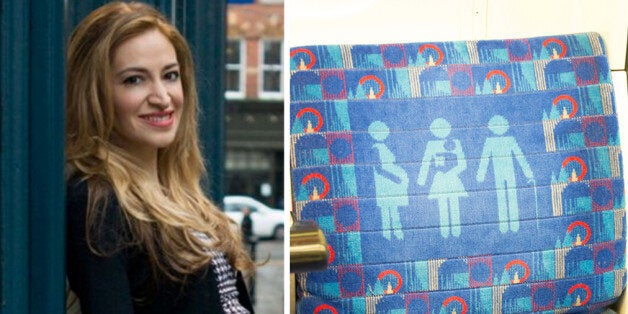 Pregnant women have lashed out at commuters after claiming they usually don't get offered a seat on TfL Tube services despite wearing 'Baby On Board' badges.
A group of women who wear the badges spoke to The Huffington Post UK about their experiences, saying that they "feel uncomfortable during commutes" as seated onlookers are "absorbed in reading and pretending not to notice".
The badges, which were released in 2005, are hugely popular with travellers on the Tube with over 130,000 badges handed out to mums-to-be each year.
Transport For London states its aim is to "help combat the awkwardness some mums-to-be feel if they have to ask someone to give up their seat" and to "encourage fellow passengers to help make pregnant women feel more comfortable when they are travelling".
But some mothers-to-be told The Huffington Post UK it's the commuters that are making life on the move difficult as they feel like they are being actively ignored.
Britt Soeder, 38, who is 26 weeks pregnant, said: "The reaction to the badge is mainly that fellow passengers either pretend to sleep suddenly or are totally focused on their phones – both make it easy to ignore a pregnant woman and tell yourself not to feel guilty about it I guess.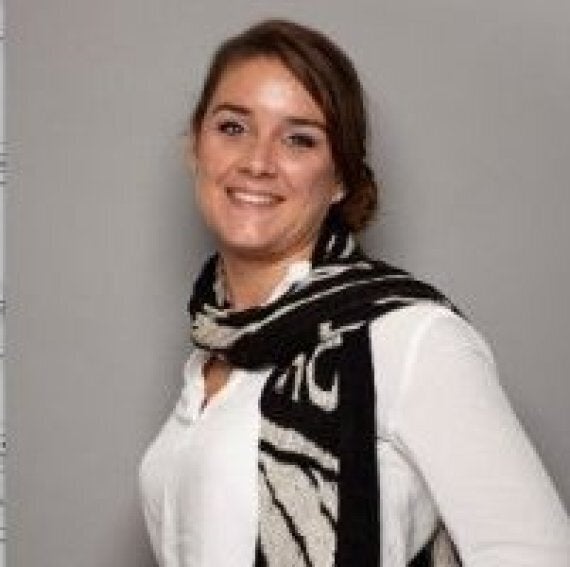 Britt Soeder, 38, said the reaction her badge has received was not the one she hoped for
"I feel uncomfortable walking over to someone in the priority seat to 'demand' the seat but the bigger I get, the more uncomfortable the commute becomes, so I might have to start asking for the seat."
Midwife Anna Nella previously spoke to HuffPost UK about the importance of the badges, especially considering how women feel at the early stages of pregnancy:
"I think some people have taken to be a little confronted by the baby on board badges," she says.
"They think women are whining and making a fuss, but actually it takes a lot of energy to grow a baby and in that first trimester there's so much going on.
"Actually in early pregnancy you feel probably the worst that you'll feel throughout the pregnancy."
Meanwhile 34-year-old Lisa Hancox, who used to wear the badge when pregnant, was more positive about the effect of wearing the token.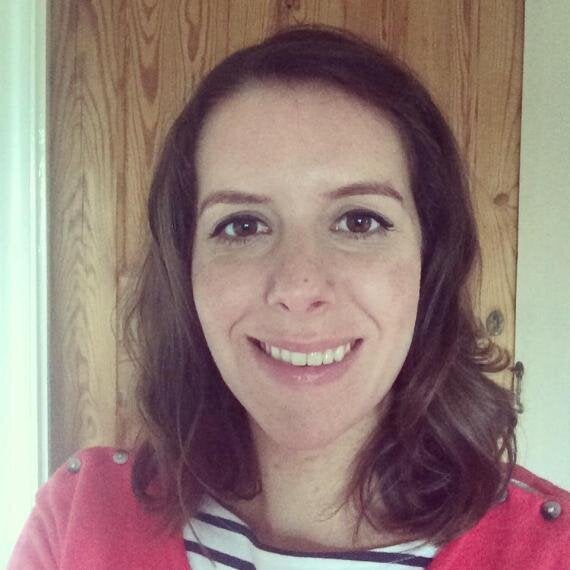 Lisa Hancox, 34, says she was offered a seat on 40% of journeys when wearing her badge
"I would say I was offered a seat about 40% of the times I travelled (on the Tube)," said Hancox.
"I was very fit before and during pregnancy, so sometimes when I was offered a seat I politely declined it if I felt ok.
" When I didn't have a visible belly was probably when people seemed least aware of me and the badge, and I was offered a seat the least.
"I was heavily pregnant in a very hot summer and did struggle with the heat on the tube, feeling quite faint - it was common for both men and women to ask me if I wanted their seat.
However, the marketing communications consultant, who has an 18-month-old son, said she did notice some stigma.
"I felt resistance only occasionally, she said. "I think most of the time it was either because people were too absorbed in reading or what they were doing.
"Sometimes I felt it was the typical 'pretending not to notice', but I was never shy in asking and I think it's important for pregnant women to feel like they can and should ask if they are in need of a rest."
The TfL badges caused controversy last week when one pregnant woman secretly filmed her commutes and captured a number of instances when she wasn't offered a sit down.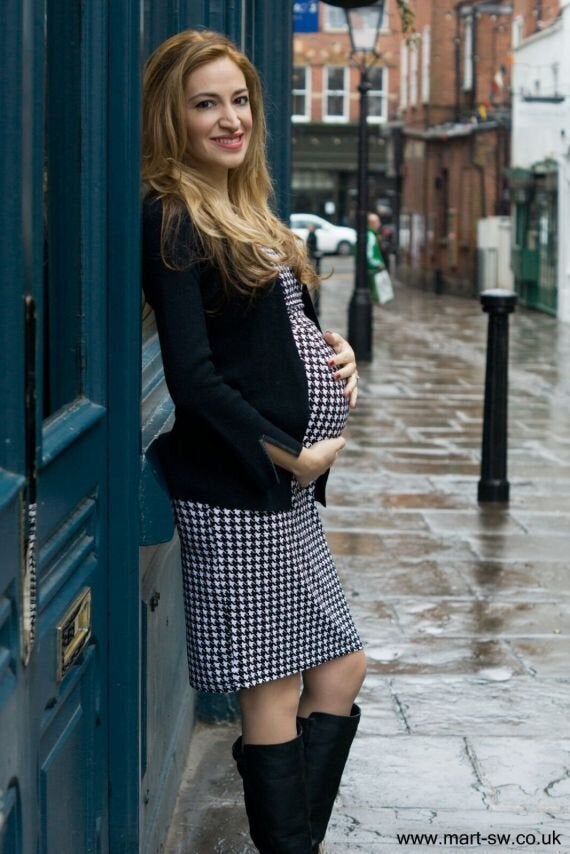 Miri Michaeli Schwartz says she felt miserable during commutes
The problem is something that has also resonated with Samantha Boyd, a pregnant 30-year-old who works in Advertising.
Boyd discussed the issue with HuffPost UK and said: "I am only 5ft1, so tend to get backpacks in the face anyway, I just hoped that by wearing the badge people might be a bit more thoughtful.
"A month in it seems that this is not the case, people are in a hurry and frankly don't give a toss.
"The week before last a man fully shoved me in his race to get past me in the tube station (we were the only two people in the walkway!) I feel like the next step could be getting loads of badges to put all over my coat, front and back.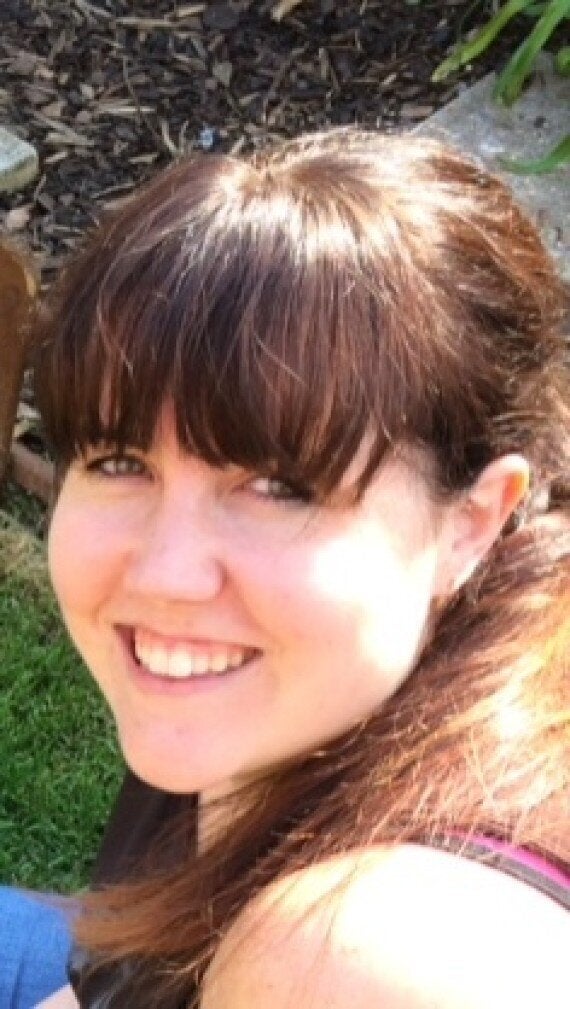 Samantha Boyd, 30, had hoped wearing a badge would make her fellow commuters more thoughtful
"I think this is a problem with commuters, they have paid for a seat and they've had a long day," added Boyd.
"I do understand that, because I have been commuting for years and I have felt the same, but I have always given up my seat when I have seen someone wearing a badge or with a walking stick. It's just human consideration.
"I know there's always the 'is she pregnant, or just fat?' worry, but if people are wearing the badge prominently then there's really no excuse."
Midwife Nella further explained the changes that occur during pregnancy.
"All the hormonal, metabolic and structural changes that are going on are completely out of proportion to the size of the baby, who at six weeks is the size of a lentil. At that stage women obviously don't show that they're pregnant, but they can feel awful.
"They could be feeling very nauseous, suffering from bleeding, dizziness and/or insomnia and they may be more sensitive to smells on the tube, which can make you feel more unwell.
"So if you've got this combination of things and you've got a long commute standing squashed under somebody's armpit, it is likely to compound any symptoms you have.
"Fainting doesn't damage the baby, but it could end up with the poor woman hitting herself on the way down, so there's hundreds of reasons to give a woman a seat in the first trimester."
"People usually ignore the badge completely, even though, in my opinion, it's common knowledge that you should let a pregnant woman sit down. I once asked to sit down as I felt dizzy and sick and was given such a dirty look I nearly told her to forget it."
HuffPost UK also ran a poll to see whether our readers believe people should stand up every time they see a woman wearing a 'Baby-on-Board' badge.
The results at the time of writing showed that 74% said yes, we should stand up, whilst 26% said we shouldn't. 303 votes had been cast when this piece went live.