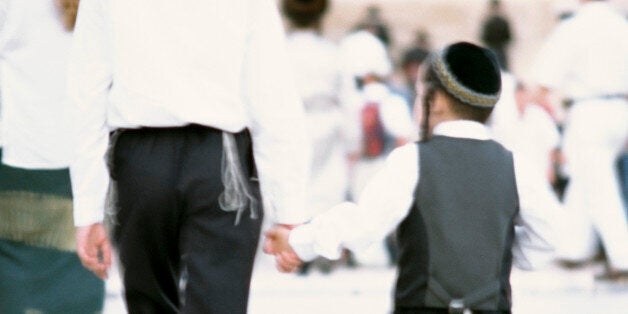 Two Jewish all-boys' schools in London have been criticised by Ofsted for their treatment of women after inspectors found pupils in one school thought women should "clean the house and cook, while men go to work".
Beis Aharon School in Stamford Hill was visited by the school watchdog's inspectors in January, who found students held "very narrow views about the role of women in society".
The report also found pupils were unable to show mutual respect and tolerance to people from different faiths because their knowledge of other religions is "very limited".
The Ofsted report read: "In discussions, the majority of pupils still express views about the roles of women and men that indicate that the school does not prepare them for the reality of life in modern British society.
"Pupils universally consider that the role of women is to 'look after children, clean the house and cook', while men 'go to work'."
At Yetev Lev, another school in Stamford Hill, reading books were provided to children in which "images of females had either been erased or radically changed".
Images of women and girls in short-sleeved clothing and children swimming had been obscured in reading books.
"Leaders told inspectors that they have no intention of providing pupils with experiences to enable them to acquire an appreciation of and respect for differences between people, based on culture, religion, sex and sexual orientation," the report read.
Inspectors also said pupils are not given "sufficient opportunities" to interact with others outside of their close community.
"Pupils had too few opportunities to develop respect and tolerance for those of different culture, faiths and beliefs. There were no regular lessons or activities to make sure pupils learnt about English institutions and services.
"[School] leaders also refused to allow pupils to talk to the female [Ofsted] inspector..
Most lessons are taught in Yiddish, meaning pupils' ability to speak, read and write English is "impeded", according to Ofsted.
Ofsted also found senior leaders at Beis Aharon prevent teaching pupils awareness of issues under the Equality Act 2010, including around sexual orientation.
The word "Christmas" was also found to be crossed out whenever it appeared in reading books for pupils in year four lessons.
The school, which charges annual fees of £2,860, was criticised for prioritising "its faith over the independent school standards".
Jay Harman , campaigns officer for the British Humanist Association told HuffPost UK: "We have highlighted these issues time and time again in recent years but, regrettably, the schools appear just as unwilling to make improvements as they always have.
"Providing an education that is culturally and ethnically insular, and which drastically limits the life chances of these children in wider society, is not acceptable.
"Every child deserves a broad and balanced education that will allow them to encounter the rich diversity of human history and culture, and equip them for life in an open democratic society.
"Ofsted are right to intervene and the Department for Education must take swift action to ensure that all the children within these schools receive the education they deserve."
The schools and the Department for Education have been contacted for comment.