Nile Rodgers has leapt to the defence of Lady Gaga, following criticism of her David Bowie tribute performance, which took place at the Grammys on Monday night.
READ MORE:
Nile, who made an appearance at the end of Gaga's medley, has replied to critics on Twitter in a series of tweets explaining how they planned the tribute.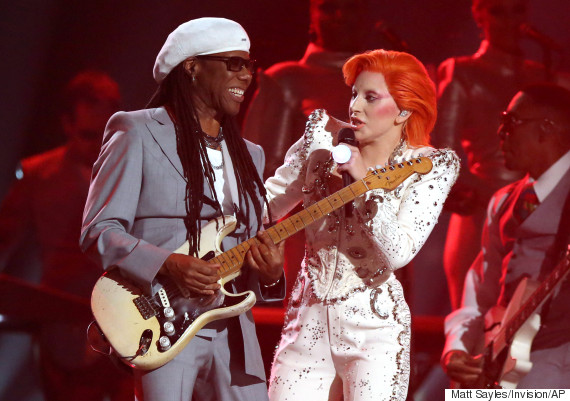 Well Nile and Gaga enjoyed it...
When one fan told the Chic legend that he should say sorry for the show, he replied: "If u think I'm apologizing you're sorely mistaken. I loved every minute I spent playing the #DavidBowieReal Tribute."
Another tweet explained: "We wanted to show the range of his music as best we could. Bowie's not one song or genre."
To other fans, he wrote:
That's how you see it. I've done tons of cover songs with David. This was a tribute and we only had 6 minutes. https://t.co/ebzQkhvgmY

— Nile Rodgers (@nilerodgers) February 18, 2016
Paying homage is not exploitive. Do you know how many songs I've covered with David? Look at the history! https://t.co/XHQEI4gaVe

— Nile Rodgers (@nilerodgers) February 18, 2016
Nile also responded when asked for his thoughts on a tweet from Bowie's son Duncan Jones, which appeared to suggest that he wasn't impressed with the performance:
It's fine. He doesn't have to agree w his dad's fans & co-workers. This was not a one size fits all Bowie fans show https://t.co/AnsWTKO7OY

— Nile Rodgers (@nilerodgers) February 18, 2016
"Overexcited or irrational, typically as a result of infatuation or excessive enthusiasm; mentally confused.' Damn it! What IS that word!?" Duncan had tweeted.
The word he's looking for? Gaga, obviously.
Gaga's tribute to Bowie didn't end with the Grammys performance, as she's also recently revealed a tattoo of the star, which stretches across her rib cage.
Watch Lady Gaga's Grammys performance below...
LIKE US ON FACEBOOK | FOLLOW US ON TWITTER