The murder convictions of two men under the controversial joint enterprise law have been set aside in a Supreme Court ruling today [Thursday], in a "truly significant" decision that that could lead to hundreds of appeals - but one that a victim's widow has said could mean killers will "literally be getting away with murder".
Under the joint enterprise law, people can be convicted of murder even if they did not inflict the fatal blow. For 30 years, prosecutors have simply had to prove that an accomplice or group of accomplices had knowledge that someone they were with could cause the serious harm that resulted in the victim's death.
Prosecutors will now have to prove that accomplices actively assisted or encouraged in the killing to secure a murder conviction. However, the Supreme Court said in its ruling that an accomplice's foresight of the risk that their companion could cause serious harm that results in death will still be admissible as strong evidence in murder cases and could lead to a conviction for manslaughter.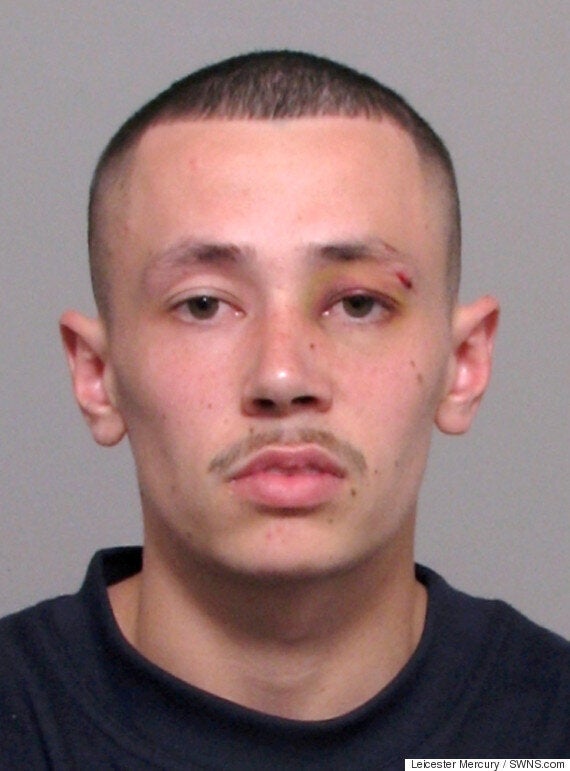 The Supreme Court overturned the murder conviction of Ameen Jogee who was conviction under joint enterprise provisions
In issuing a decision on the case of Ameen Jogee, who was convicted of murder after his friend Mohammed Hirsi stabbed Paul Fyfe to death in his girlfriend's house in Leicester in June 2011, the Supreme Court said joint enterprise crimes took a "wrong turn" in the 1980s, and ordered judges to assess the crimes of alleged accomplices in murder cases in the same way as the actual killer.
Speaking ahead of the Supreme Court decision, Tracy Fyfe said she would be "devastated" and "frightened" if Jogee was freed.
She told told BBC Radio 4's Today programme that she regarded Jogee as culpable for her husband's death because he knew what Hirsi was doing and was egging him on.
She said: "I think it is a very important law and it think it would be quite devastating for the victims' families like us, which would mean that criminals like Ameen Jogee would literally be getting away with murder.
"If Ameen Jogee hadn't been there that night neither would Hirsi. Ameen Jogee was using Hirsi as a weapon. Ameen Jogee intended to hurt somebody that night as he had picked up a knife earlier on and, in his words, he's threatened to 'shank' somebody.
"It's devastating. We have had four years of appeals, we can't move on, it just doesn't seem to stop."
The Supreme Court decision follows research by criminologists into the law which found "evidence that black and minority ethnic people are serving long prison sentences because of unfair and racist criminal justice practices". It also found that this group was also "unfairly identified by the police as members of dangerous gangs", an affiliation which was often used to secure convictions under joint enterprise provisions.
Patrick Williams, who conducted the research, on Thursday said the Supreme Court decision was a "truly significant and remarkable ruling".
The senior lecturer in sociology at Manchester Metropolitan University told the Huffington Post UK: "The Supreme Court have rightly discredited the use of Joint Enterprise. This is a testament to the work of JENGbA who have campaigned tirelessly to challenge the unjust law of Joint Enterprise.
"Of extreme importance, those women, men and children who were wrongly convicted of murder and are serving lengthy custodial sentences may now have the opportunity to appeal those unjust sentences."
Williams said "appropriately", prosecution teams will now have to demonstrate 'intent' rather than rely upon a "series of racist stereotypes, which have been used for 30 years to secure the conviction of innocent people".
He added: "This is a positive step towards justice."
The decision could impact cases such as that of Garry Newlove who was murdered in August 2007 by three drunken teenagers when he tried to stop them vanderlising his car outside his Warrington, Chesire, home.
Adam Swellings, Stephen Sorton and Jordan Cunliffe, were jailed for life in January 2008. Cunliffe's mother Janet claims that although he was at the scene he did not take part in the murder, and she has campaigned against joint enterprise laws.
Newlove's widow, Baroness Newlove, however, has become a staunch supporter of victim's rights. After her husband's death she set up a number of foundations and was appointed the Victims' Commissioner by the UK government in 2012. In 2010 she was given a peerage and she sits in the House of Lords as a Conservative.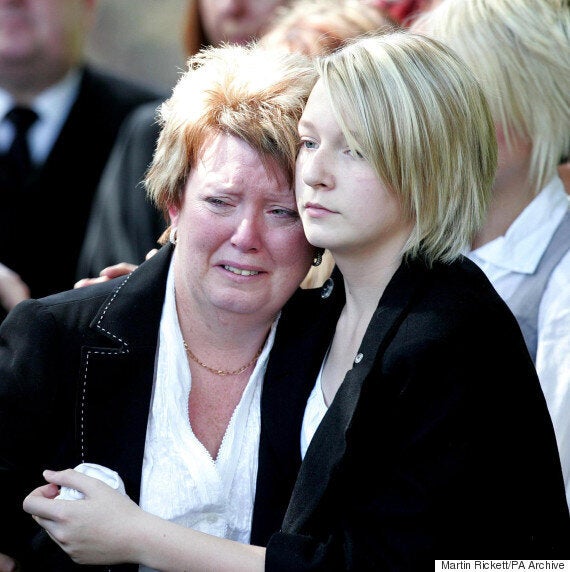 Baroness Newlove is supported by her daughter Helen at the funeral of Gary Newlove
The Supreme Court overturned Jogee's conviction after concluding that it had been secured on the grounds that he merely had foresight of the potential that the victim, Paul Fyfe, could suffer life-threatening injuries.
Because Jogee had not been in the room at the time of the killing, the justices said, it had not been proven that he had actively encouraged the crime.
According to The Telegraph, Jogee will not walk free following the ruling. He will reportedly remain in prison while the Crown considers whether to seek a re-trial on murder charges or a resentencing on the lesser charge of manslaughter.
President of the Supreme Court Lord Neuberger, said: "This does not mean that a person who took part in unlawful venture which any reasonable person would realise carried the risk of causing physical harm, and which in fact resulted in death, would go scot-free unless he could be proved to have intended to assist or encourage the principal (offender) to inflict death or serious harm.
"Anybody who took part in a venture of that kind would be guilty of manslaughter, a very serious crime, at least unless the death resulted from something which he could not possibly have foreseen.
"But to be guilty of murder, rather than manslaughter, the secondary party (to the crime) had to have had the intent which I have described."
MPs previously called for an urgent review of joint enterprise laws which has been used in a wide variety of cases, including gang murders where it was impossible to prove which member's actions actually led to the victim's death.
In May 2014 a gang of teenage killers, some as young as 14, were named after being convicted of murdering their 19-year-old rival Sean "Shorty" McHugh.
A major artery in his leg was slashed open with a sword after being chased into a Merseyside laundrette by five youths.
The House of Commons' justice select committee said in a report in December 2014: "In light of the evidence we have heard in this inquiry ... our disquiet at the functioning of the law on joint enterprise has grown.
"Notwithstanding the positive development of the publication of the CPS's guidance on joint enterprise charging decisions, there seems to be no willingness on the part of the Government to recognize that there may be negative effects from the operation of the doctrine, for the reputation of the justice system and for wider society, as well as for the interests of some of those convicted under the doctrine and for the victims of crimes."
In the committee report, chairman Sir Alan Beith said the authorities should keep better figures on the use of joint enterprise so that its full impact can be monitored.
"Given the degree of concern which exists about the operation of joint enterprise, we say it is not acceptable for the main authorities in the criminal justice system to give such limited attention and priority to the recording and collation of fundamental information about the use of the doctrine," Sir Alan said.
"We also call for research to provide information covering the last five years, and for the CPS to monitor and analyse the way prosecutors are following the guidance in cases where the joint enterprise doctrine is used."
Campaigners have claimed joint enterprise leads to miscarriages of justice and is used disproportionately against ethnic minorities.
However, the report said: "The low rate of success of appeals against joint enterprise convictions is seen by some, including the Director of Public Prosecutions, as giving comfort that miscarriages of justice in this sense are not taking place to a significant degree."
It went on: "We now recommend that the Government should request the Law Commission to undertake an urgent review of the law of joint enterprise in murder cases.
"This review should consider the appropriateness of the threshold of foresight in the establishment of culpability of secondary participants in joint enterprise cases.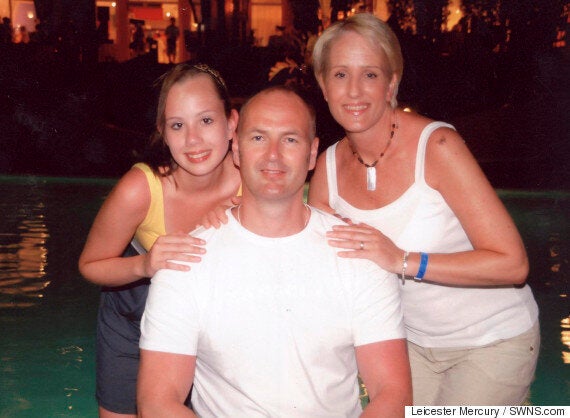 Paul Fyfe, pictured above with his family, was stabbed to death by Jogee's friend Mohammed Hirsi in June 2011
"It should also consider the proposition that in joint enterprise murder cases it should not be possible to charge with murder secondary participants who did not encourage or assist the perpetration of the murder, who should instead be charged with manslaughter or another lesser offence.
"The Law Commission should be asked to present proposals for the codification in statute of the law of joint enterprise, together with any proposed changes arising from its review."
A new report published on January 27, based on a survey of 250 prisoners convicted under joint enterprise provisions "found evidence that black and minority ethnic people are serving long prison sentences because of unfair and racist criminal justice practices".
The report - Dangerous associations – tracked the complex process of criminalisation through which black and minority ethnic people are "unfairly identified by the police as members of dangerous gangs".
"This apparent 'gang' affiliation' is used to secure convictions, under joint enterprise provisions, for offences they have not committed," the research by Williams and Becky Clarke, senior Lecturers in Criminology at Manchester Metropolitan University found.
Williams said of the research published in the Centre for Crime and Justice Studies: "Serious violence affects all communities irrespective of 'race' and ethnicity, class, gender and age. Our research suggests that the ongoing preoccupation with the gang results in the unwarranted targeting and policing of young black men, which diverts attention away from the wider problem of serious violence throughout England and Wales.
"The survey responses reveal the human tragedy of young lives disrupted and damaged by the indiscriminate use of collective punishments as currently practiced through the doctrine of joint enterprise."
The report was discussed with MPs at a specially convened meeting in the House of Commons on 26 January and is to be further debated at separate events with practitioners, activists and campaigners in Manchester and London.
One prisoner convicted under joint enterprise provisions told the researchers: "I was not a gang member. I know both of the intended victims and I had and do not have any conflict with them."
And another told of the consequences of her conviction under the law. "I was a mother studying to be a midwife. My partner was an electrician, we had a life, we did not 'hang around' with anyone."
Researchers said their survey found evidence that it was "black and minority ethnic defendants who bear the brunt of joint enterprise prosecutions".
Over half of the prisoners who responded to the survey (53%) described themselves as black and minority ethnic, which researchers said was much higher than the proportion of all prisoners from black and minority ethnic groups - some 18%.
The researchers said that more than three quarters of the black and minority ethnic prisoners told them that the prosecution in their cases had claimed they were members of a gang, whereas only 39% of white prisoners had been presented to the court as being associated with a gang.
The study found the lists of gang members maintained by police included people who "have no proven convictions and… those who have been assessed by criminal justice professionals as posing minimal risk".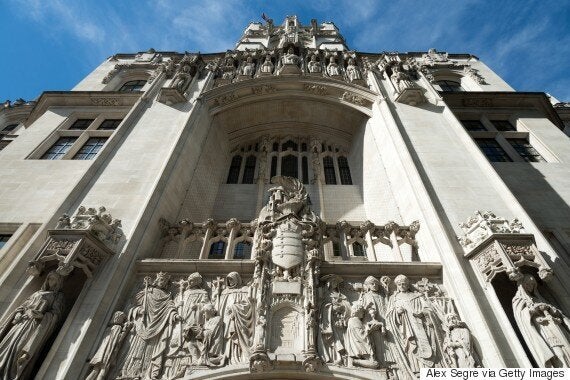 The Supreme Court found that the joint enterprise law had taken a 'wrong turn' in the 1980s
The gang lists are also dominated by black and minority ethnic people, as a result of racial stereotyping, researchers said.
It found 89% of those on the Manchester Police gang list (Xcalibre) were black and minority ethnic, yet only 23% of those convicted of serious youth violence were black and minority ethnic people.
And 87% of those on the Metropolitan Police 'gang matrix' (Trident) were black and minority ethnic, yet only half of those convicted of serious youth violence were black and minority ethnic people.
"The report offers a troubling exposé of the use of collective punishment against black and minority ethnic people, based on racism, rumour and innuendo," researchers said.
The report recommended a rethink of the use of racist 'gang' stereotyping in the policing of serious violence; greater transparency in the use of joint enterprise, through the production and publication of official statistics on the charging and prosecution in relation to joint enterprise, including information on the age, gender and ethnicity of defendants.
Will McMahon, Deputy Director at the Centre for Crime and Justice Studies, said of the research findings: "Prosecutions under joint enterprise all too often seem to involve a dangerous cocktail of innuendo, hearsay and racism.
"If you have a black skin you are much more likely to be convicted under that law. This report shows that a large number of people may have been given long sentences for offences they did not commit. Regardless of ethnicity, this is an affront to justice. An urgent review is needed."
Gloria Morrison, Campaign Co-ordinator at JENGbA, which campaigns for reform of joint enterprise laws, said: "Joint Enterprise is a common law used against common people and makes no common sense. This lazy law allows for lazy policing and is the perfect tool for lazy prosecutors. Its continued use has undermined the British legal system to the point that a defendant is now guilty until they can prove themselves innocent. People are serving life sentences for crimes they have not actually committed."