Please note: This article contains images of a malnourished dog that some readers may find upsetting
A starving dog who was found abandoned in a back garden in Miami has come on in leaps and bounds after a group of housemates took him in and nursed him back to health.
The dog, who is a Dogo Argentino mix, was tied up with no food, water or shelter. His ribs and spine were showing, and his back legs were weak.
He was rescued by four housemates, who have since taken him under their wing and cared for him with the help of vets and donations from kind strangers online.
The dog has made a remarkable recovery and despite his "dire need to gain muscle and a mild case of ear mites, which have caused an ear infection" he is now in good health.
His rescuers are hoping to find a more permanent home for the pooch.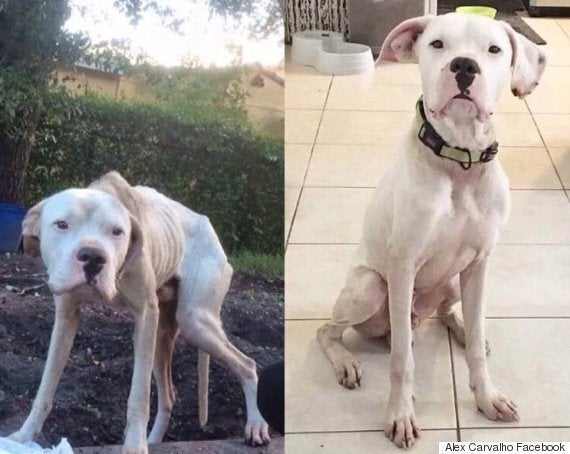 Ganesh before and after they found him
Stephanie, Alexandra, Hugo and Alejandro - who all share a home - had been told by their landlord that there was a neglected dog tied up in the neighbourhood.
The self-confessed "dog people", who already have three dogs and a kitten, decided to go and investigate the pup's situation.
Alexandra wrote on a GoFundMe page: "When we got there we saw him tied up, in starving conditions, no food, water or shelter in sight.
"Initially we thought the house was abandoned... but after about 20 minutes a man came through the gate. We confronted him and his response was 'that's my nephews dog, he left him here months ago and I'm not interested in taking care of him'."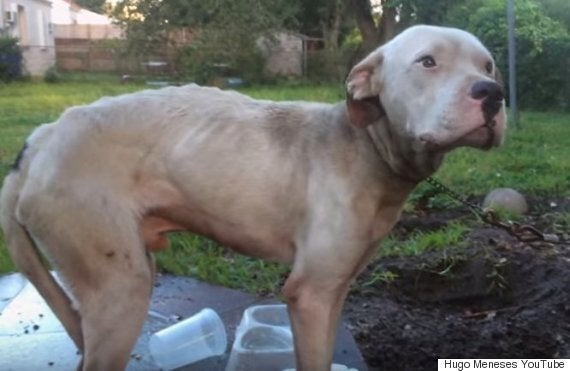 Ganesh when they found him
Alexandra said they were "very irritated" by the man's reaction and called animal control.
When asked whether they'd put the dog down, animal control said there was a huge chance he might be, "given his condition".
The group of friends then decided to take matters into their own hands and said that they would take the dog.
The named the pooch Ganesh and took him home where they cleaned him, fed him and cared for him. They also organised a trip for him to go to the vets.
Alexandra said that over the past few weeks the change in the dog's demeanour has been nothing short of incredible.
She wrote: "The anxious, barking, nervous dog is now showing us nothing but love and curiosity."
Since taking Ganesh into their home, the group launched a GoFundMe page in the hope that people would donate to Ganesh's medical bills.
The response from strangers has been overwhelming.
Donations are nearing $3,000 (£2,100) and the four roommates have vowed to use any left over money to help other animals in need. They've also shared copies of their vet bills and receipts online, so that people know their plight is legitimate.
They said: "Ganesh came into our lives afraid and never having experienced compassion before. The most beautiful experience so far has been the endless gratitude and loyalty he has shared with each of us.
"He speaks 'thank yous' with his loving eyes every time you look at him… All that matters to him at this point in life is giving and receiving more and more love. Well, that and food!"
The housemates are now hoping to find a more permanent home for Ganesh.