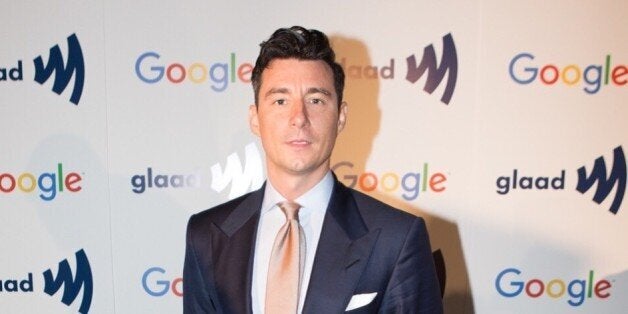 A former Nike and Barclays executive leading Labour Party's new business advisory board has condemned George Osborne's Living Wage as too low and called for controversial non-dom tax status to be abolished.
Anthony Watson, chief executive of online financial company Uphold, has been appointed to chair the party's Business and Enterprise Advisory Council that will provide counsel to Shadow Business Secretary Angela Eagle and the rest of Jeremy Corbyn's top team.
Speaking to The Huffington Post UK, Mr Watson, 39, said he did not see his job as "having to polish up the image of the party", despite commentators claiming Labour had rejected Tony Blair's "pro-business" agenda under Ed Miliband and Jeremy Corbyn.
He said being "pro-business and pro-employee" are "not mutually exclusive".
Making clear his personal views, Mr Watson called the Chancellor's new £7.20 per hour pay deal for workers "slave wages", and insisted it was "disgraceful" non-dom status could see the super-rich slash their UK tax bill.
Mr Watson, who credited the Labour government elected in 1997 for his successful career, has donated money to the Labour Party since supporting Diane Abbot's London mayoral campaign a decade ago.
At the last election, the financier gave £33,000 to the party to help underwrite the campaigns of 33 Labour lesbian, gay, bi-sexual and transgender (LGBT) candidates.
"I don't have a problem with the party's view on business," he told HuffPost UK. "I'm a big driver of fairness and equality. All of us in society deserve to be treated fairly, to be paid fairly.
"I didn't grow up with very much and the only reason I have achieved any success in life, I would argue, is the Labour Party came to power in 1997. Labour is a party of business, but it is a party of equality as well."
He argues Labour "hasn't left" the position adopted under Mr Blair, and downplays the idea that Mr Corbyn's much-trumpeted left-wing beliefs are incompatible.
He said: "I don't personally know Jeremy Corbyn so I don't know what his politics are, but the majority of what I've seen is very pro-employee and pro-business. I haven't read or seen anything that is hyper left-wing as I would see it."
He added: "I don't get into the narrative of left-wing and right-wing: I'm pro-business and pro-employee. They are not mutually exclusive."
Mr Watson, who has held board level positions at Nike, Barclays and Wells Fargo, has been a fierce critic of the banking system and fears problems persist.
His firm, Uphold, operates in online finance and is attempting to break the dominance of traditional banking giants and their "financial injustices".
He believes Britain's boardrooms lack diversity, and industry has failed to cotton on to how a better mix of backgrounds can pay financial as well as social dividends.
He said: "Boards that are highly diverse in terms of background, education, ethnicity, gender - not just a bunch of white guys - are far more profitable. If you extrapolate that into the broader economy, that has impacts for all of society."
The belief underpins his decision to fund LGBT Labour candidates at the election. He said: "As an openly gay man who has gone through his own struggles - that's not to say 'boo-hoo' me - LGBT people are not treated broadly equally. So I wanted to ensure candidates that were brave enough to stand and lead with their identity were at least equally funded."
In this summer's budget, Mr Osborne announced a new minimum wage for over 25s - a so-called Living Wage - that will come into force from April, starting at £7.20 an hour and increasing to £9 by 2020.
Mr Watson said the increase still represented a "slave wage", and the policy "needs to be looked at".
Asked what he made of the Conservative Party celebrations on the announcement, led by the Work and Pensions Secretary Iain Duncan Smith, he said: "I don't know how they can celebrate when someone like Gideon Osborne - George Osborne - lives off a trust fund and banks with the most elite bank in London.
"I think it's got to be re-vamped. Expecting people to live on a slave wage in a cosmopolitan city like London, or cities across the UK, is not sustainable."
While his firm is based in the US and he "could have non-dom status tomorrow", Mr Watson says he is based and pays taxes in the UK since it is a "privilege to be a British citizen".
He said he would like to see the 200-year-old "non-dom" tax status - where the wealthy can cut their tax bill by abiding by lower overseas rates on their global incomes - abolished.
He said it was "disgraceful" the device was used by prominent British business leaders who "pay little or zero tax". He said: "I have homes all over the world, and I could live anywhere I choose. But I choose to live in the UK and pay my tax accordingly."
Mr Watson, who describes himself as "very pro-EU", said he was disappointed both sides of the EU referendum debate were arguing the "sky will fall in tomorrow" if the UK either voted to leave or stay in the bloc.
He said: "Both sides are making the argument to the most extreme position. It's shame on both sides."
Political parties have increasingly had a fondness for appointing business 'Tsars' to burnish their industry credentials.
While Mr Watson may not be a household name on par with football executive Karen Brady, appointed by the Tories in a similar role in 2013, party insiders are clearly pleased to have a rising star on board.
Ms Eagle said: "It's great that Anthony has agreed to chair this group which will help forge a new vision for a dynamic industrial strategy, because he has the fresh ideas and a proven track record of putting innovation and ethics at the heart of business practices.
"Both Anthony and I are determined to lay the foundations for a shared capitalism which helps Britain's world-leading businesses and industries thrive and grow further still, generate more of the high-skilled and better-paid jobs of the future, and ensure that profits and power are more fairly shared."