A man cavorting in high heels and hot pants and an advert that cast doubt over Santa's existence topped the list of most complained about ads in 2015, the Advertising Standards Authority (ASA) has revealed.
MoneySuperMarket.com's internet and TV advert of a man walking down a street and dancing while wearing denim shorts and high-heeled shoes received twice as many complaints as the second most criticised.
The ASA received 1,513 complaints that the ad was offensive, with many viewers citing the man's clothing and dance moves and its "overtly sexual" content as reasons.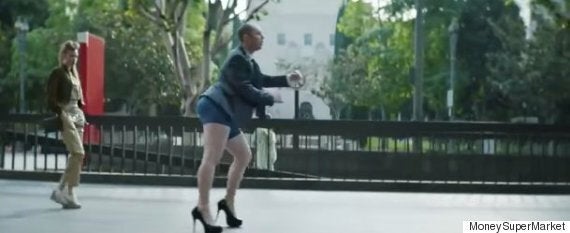 This MoneySuperMarket advertisement was the complained about commercial last year
Three Booking.com adverts - involving a play on words where the word "booking" was seen to be used in the place of a swear word - were the second, fourth and seventh most complained about ads.
Online payment website PayPal claimed third place with its portrayal of two children concerned that their parents had not been shopping for Christmas presents.
Nearly 500 people expressed fears that "the ad revealed the truth about Father Christmas" - and despite the complaints not being upheld, PayPal decided to change its scheduling of the advert.
A controversial Protein World poster campaign showing a woman in a bikini promoting a weight loss collection was the fifth most complained about ad, drawing 380 complaints.
The posters, which asked "Are you beach body ready?", were criticised on social media and scrawled over in protest by angry commuters.
The ASA told Protein World that, due to its concerns about a range of health and weight loss claims, the ad could not appear again in its current form, but concluded it was "unlikely to cause serious or widespread offence".
Charity ads and public health messages, which the ASA said can sometimes draw complaints due to their "sensitive content and handling of hard-hitting issues", also featured in the top 10.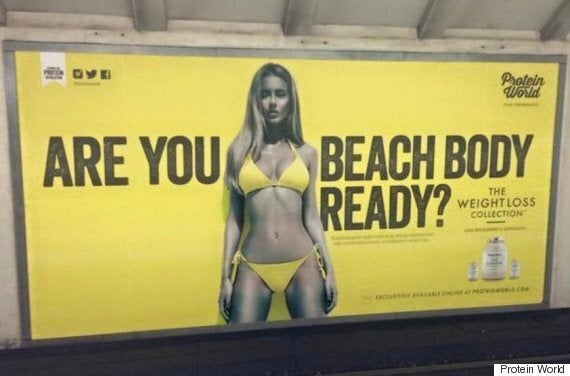 This Protein World advertisement caused widespread outrage, but the ASA said it was 'unlikely to cause serious or widespread offence'
Only one out of the top 10 most complained about adverts - an Omega Pharma ad for a slimming aid - was banned, after the ASA found it presented "an irresponsible approach to body image and confidence".
The number of complaints an ad receives is only one of the factors the ASA takes into account when looking at whether it has broken its rules. Other aspects include the ad's audience, medium, context and research into prevailing standards in society.
While the top 10 list largely drew complaints about harm and offence, 75% of the complaints the ASA receives are about misleading ads, the regulator said.
It spent last year ensuring broadband providers and secondary ticketing sites were transparent in their pricings, and that vloggers made it clear when they were being paid to endorse products.
ASA chief executive Guy Parker said: "While matters of offence can grab the headlines, the bulk of our work is the less glamorous task of tackling misleading advertising.
"That's why we're taking a more proactive approach to address the issues which affect consumers the most before complaints need to be made."