Asda has backtracked on a decision to remove food bank collection points from its stores following a fierce public backlash and claims the move could have threatened a quarter of vital supplies to the needy.
The supermarket chain quietly started removing permanent, unmanned collection points across Britain this week which prompted boycotts, a petition signed by 88,000 people, and strong opposition from MPs including Labour's Dan Jarvis and Liverpool Mayor, Joe Anderson, who wrote to Asda chief executive Andy Clarke. And as opposition mounted against Asda its rival, Tesco, announced it was installing 100 new collection points in its stores.
Asda, which is owned by US giant Walmart and has 525 UK stores, insisted the move was to give a "fair and consistent" approach to all charities by only allowing charity collections to be made in person, but now says it will reinstate the collection points.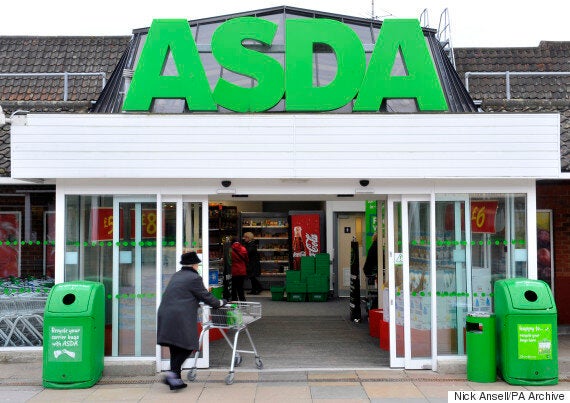 Asda have done a U-turn and reinstated food bank collection points in its stores
The Guardian reported that news of Asda's change-of-heart began to circulate on Wednesday. Comments from staff on its internal social network had expressed disquiet and regret over the company's decision, it said.
According to the newspaper, a briefing released to staff on Thursday evening said: "We are reinstating all previously existing unmanned collections in store, eg Guide Dogs for the Blind collections, food banks, Marie Curie collection trays. This is about reinviting existing charity partners back into store, not about actively going out and recruiting any new unmanned collections at this stage."
Asda told The Huffington Post UK that the collection point review had allowed it to raise an extra £2 million for good causes.
A spokesman told the newspaper that the retailer was "committed" to supporting local communities and it "never intended" to stop food banks or similar local charities collecting in its stores.
He said: "We made some changes to our community programme around unmanned collections in the belief that this would benefit the many local good causes who collect in our stores.
"On this occasion our customers and colleagues have told us they understand our intentions, but prefer us to continue to give charities more options to maximise donations.
"We are therefore reinstating unmanned collection points."
In his letter to Asda Anderson told the company its collection point decision had meant he and his extended family "can no longer consider being customers of yours, and I will publicly urge Liverpool residents and others to do the same".
In response to Asda's U-turn, Anderson told the Guardian: "It's disappointing that we had to lobby a company like Asda, who are usually good contributors to good causes. But all credit to them for listening. I'm just glad that they've done the right thing and reversed the decision.
"I don't think they understood that this is a way of charities being there at the point that people find it easy to make a contribution. A lot of people aren't going to take their shopping home and say: 'I'm going to take these three tins down to the local food bank'. I lacked any understanding of why Asda made the decision: it was no skin off their nose."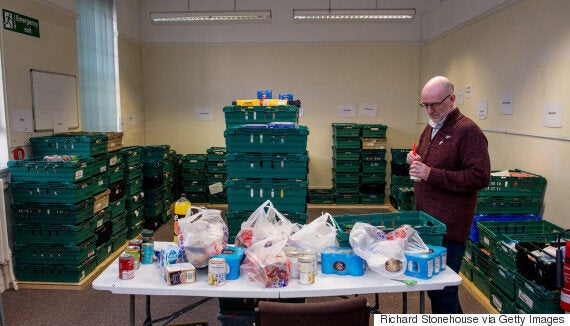 A volunteer collects food from shelves to fill a client's voucher request at the Trussell Trust Food Bank in Liverpool
Its initial statements about the policy change Asda said it thought it was essential that "volunteers are on hand to talk to customers and explain where their donations are going". In response, food banks had said they would have find it difficult to find volunteers to spare.
Oldham Foodback tweeted its relief at Asda's decision on Friday, writing: "Thanks Asda staff and customers. Hope to have collection rounds back soon."
Bob Ashford, the chair of trustees of the Fair Frome charity in Somerset, told the Guardian he was "absolutely delighted" by Asda's U-turn, saying its decision to scrap collection points "didn't make sense".
He said: "We're a very small charity and we were one of the first to raise this. And now we've seen a major national store change its policy."
Amanda Bloomfield, the chief executive of the Gatehouse Foodbank in Suffolk said members of the public had approached it expressing concerns about the move. She said "They'll be glad to know that their voices have had an influence."
A spokesperson for The Trussell Trust, which co-ordinates Britain's sole nationwide network of food banks, also added: "We are really pleased to see the Asda permanent foodbank collection points restored at stores across the country.
"Foodbanks right across the UK will benefit from this decision as these collection points provide an easy way for customers to donate to help people in crisis during their weekly shop.
"They also help to ensure that foodbanks have a consistent supply of food to give to people facing hunger in local communities. Asda customers have spoken and we are delighted that Asda have responded positively."