An Imgur user has devised an ingenious way to tell other people she is deaf in one ear.
The woman, known only by her username "raingoose", shared an image of her tattoo on the site on Thursday.
The tattoo, which is behind her left ear, clearly shows the image of a speaker with a cross against it.
"Since I'm deaf on one ear I thought this was a friendly [way] to tell the world not talking to me from the left [sic]," she captioned the photo.
The image has had more than one million views in less than 24 hours, with other deaf people commenting to say they may copy the tattoo design for themselves.
Tap on image to launch slideshow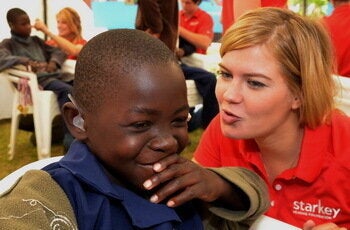 Deaf Kids Hear For First Time