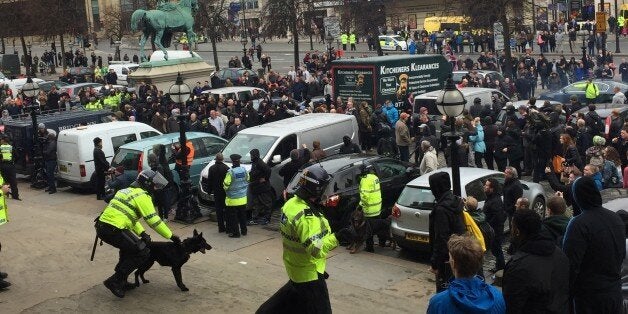 Swatiskas were apparently painted on a building and cobblestones ripped up from the street at a demonstration by a far-right group labelling themselves the "North West Infidels".
The march, which was originally planned to take place in Manchester but was switched to Liverpool at the last moment, descended into violence on Saturday.
A police officer was taken to hospital with concussion after being hit by a missile in the city centre.
Police said that a number of arrests had been made.
Members of the North West Infidels were vastly outnumbered by counter-protestors at the demonstration and police struggled to keep the groups apart.
The city's mayor, Joe Anderson responded to reports of swastikas spray-painted on the city's St George's Hall:
The Liverpool Echo reported that assistant chief constable Nikki Holland said: "The safety of members of the public is our main priority. While we will facilitate a peaceful protest we will not tolerate disorder or criminal or anti-social behaviour.
"Our officers acted quickly to deal with the situation, separate groups of protestors and contain them in a single area to try to minimise the disruption caused to members of the public and local businesses.
"During the incident one of our officers was hit with a missile and was taken to hospital suffering from concussion. He has now been released from hospital to recover at home but I want to make it clear that we will not tolerate this kind of behaviour against our officers and will take all the necessary steps to find the person or persons responsible.
"Together with our colleagues at the British Transport Police and Greater Manchester Police the majority of protestors have now been escorted onto trains at Liverpool Lime Street and out of the city.
Related