Smoke bombs are believed to have been thrown in Preston city centre on Saturday during a protest against refugees by far-right group the North West Infidels.
Members of the English Defence League splinter-group gathered at the Flag-Market while members of the Lancashire Association of Trades Union Councils (LATUC) held a counter demonstration.
It is not clear who threw the smoke bombs and police are yet to report any arrests.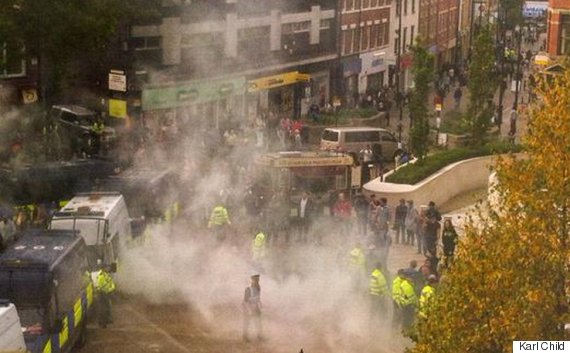 Smoke bombs were thrown during an anti-refugee protest in Preston
Karl Child captured a picture of the smokey scenes and wrote on twitter that smoke grenades were "flying back and fourth".
The infidels have not commented to local media about their No More Refugees protest but their message was clear.
They carried signs saying "refugees not welcome" and "support our truckers secure our borders". Some 270 supporters indicated on the group's Facebook page that they would attend the event.
Counter demonstrators told the Lancashire Evening Post that they were out in force to show "Preston is saying no to hatred".
Preston demonstration, smoke grenades flying back and forth shouting "off our streets" @leponline @BBCLancashire pic.twitter.com/bmklEVaJJT

— Karl Child (@karlchild) October 10, 2015
@karlchild @leponline @BBCLancashire I was walking passed when that happened. Had to move one away from a kid in a pram! Was on fire too!

— Timmble Addams (@timmbleaddams) October 10, 2015
So there's a bomb scare/protest in Preston 😂😂 pic.twitter.com/Wlpnfw6DSr

— Louisa Steeley (@Louisa_Steeley) October 10, 2015
Police set up barrier between Nazis and trade union counter protest, Preston. pic.twitter.com/TIpXMmIFCG

— Alan Gibbons (@mygibbo) October 10, 2015
#Preston North West Infidels Anti Fascist protest. pic.twitter.com/1RnoVlBR1I

— Ahmed ♌ (@_AhmedTweets_) October 10, 2015
There's reasonable democratic protest and then there's 'thinly-veiled-racism dressed as a protest'... #preston 1/2

— Matt Ball (@Matt0791) October 10, 2015
Demonstration is underway on the Flag Market. Our role is fair policing and keeping the peace. We are impartial on the nature of any protest

— Preston Police (@PrestonPolice) October 10, 2015
EDL protest in Preston looks tragic x

— Hettie (@Hettie_McIntyre) October 10, 2015
Even though there's a protest on, I couldn't think of anywhere safer than Preston city centre right now with the amount of police!

— Natalie Edge (@LookItsNatalie) October 10, 2015
One of the protesters, University of Central Lancashire student Pupp Nito told the Post: "We have come to show our support for refugees. We don't support fascists or the views these people are trying to spread."
Fellow protester Mitchell Peeke added: "We are here because we love refugees and we hope they come here."
The LATUC, which is part of the national Trades Union Congress, began their counter protest an hour before the infidels.
Peter Billington, LATUC secretary, told the Post: "We have called a peaceful demonstration to show that the so-called NW Infidels are not welcome in Preston. No-one invited these people into the city."
SEE ALSO