Despite being roundly trounced on social media, Britain First have claimed a documentary following their attempts to "ban all trace of Islam from the UK" did nothing to harm their reputation.
'We Want Our Country Back' aired on BBC Three on Tuesday night and saw film director Miles Blayden-Ryall investigate the pseudo-political party as they tried to drum up support around the UK.
Response to the programme was mostly a mixture of disgust, bewilderment and outrage...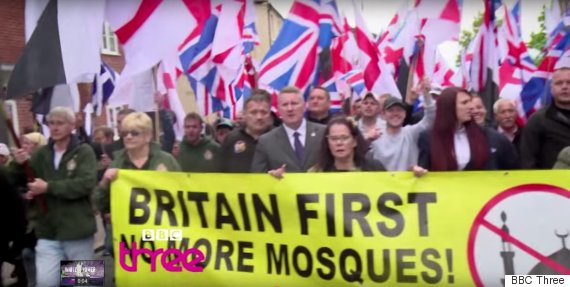 I recall this same type of racial hate in the 1930s & how politicians manipulating emotions of many to kill millions #WeWantOurCountryBack

— Harry Leslie Smith (@Harryslaststand) October 6, 2015
Cringing for the hardworking restaurant owners having to deal with the petulant facists storming their establishments #WeWantOurCountryBack

— Vicky Chandler (@VickyChandler) October 6, 2015
#WeWantOurCountryBack scream people who would be lucky to find the British isles on a globe within two minutes

— Will Black (@WillBlackWriter) October 6, 2015
The programme featured clips of the group harassing innocent restaurant owners, briefly holding a "no more mosques" banner outside a mosque before running away, and shouting "go back to the desert" to an Asian man on the street.
This is Britain First "not being racist" #WeWantOurCountryBack https://t.co/2nQkuYTZtj

— Chris York (@ChrisDYork) October 6, 2015
Despite this the group maintained throughout they were not racist and after the show aired they declared victory over the BBC.
They wrote...
"Is that all they can throw at us? Is that the worst the BBC can do?

"Well, that was pretty much exactly what we expected!

"True to form the BBC pulled out all the stops to try and condemn us for our love of Britain and label us as "racists".

"What they probably didn't bank on was the public reaction which has been evident on social media showing an abundance of support for Britain First."
Evidence of this support included...
#WeWantOurCountryBack As an American, I support Britains right to control its border. pic.twitter.com/hRE9t9kmTG

— Tony's Rant (@Tonys_Rant) October 6, 2015
So many young females slating Britian First on #WeWantOurCountryBack

Don't complain when you get raped by moslems & have to wear a burka

— uKipaLotmoreIan (@UkipaLotMoreIan) October 6, 2015
#WeWantOurCountryBack why is it only Christian countries are forced to take Muslim refugees ? pic.twitter.com/tPvQERAh3Z

— Lady M (@TheMysticOracle) October 7, 2015
Bout time people have their say not given 2 us by spineless politicians who don wanna lose their job by speaking out

— Shane paull (@Shanepaull1) October 6, 2015
Bbc always make the right people look stupid , country is fucked another 50 years won't be a Christian in site #WeWantOurCountryBack

— BABY DANNY (@dannymckiernan1) October 6, 2015
Generally the response was more like this as #WeWantOurCountryBack became the top UK trend...
I wonder what Britain First makes of the 400k Muslims who served Britain in WWI..? #WeWantOurCountryBack pic.twitter.com/pZafkT6GGf

— Evan Bartlett (@ev_bartlett) October 6, 2015
Why does every interview with a far right idiot remind me of this? #muslamicrayguns https://t.co/r9jQTBxfLg

October 6, 2015
Just when you think @KTHopkins might be the most revolting woman in Britain, along comes #Jayda to prove you wrong #WeWantOurCountryBack

— Fifthcolumnblue (@Fifthcolumnblue) October 6, 2015
This is how the leader of Britain First showed respect on Remembrance Sunday at the Cenotaph. #WeWantOurCountryBack pic.twitter.com/gnpUOpKLVp

— J. Ali (@junayed_) October 6, 2015
The only thing British about Britain First is in the name. Nothing but xenophobic racists who are a cancer to humanity #WeWantOurCountryBack

— Moe (@moethemyth) October 6, 2015
What a bunch of spineless, mindless inbreds Britain First are #WeWantOurCountryBack

— Varun Khanna (@LFC_VK) October 6, 2015
One place Britain First can rely on support from is the comments section of their Facebook page where the top comments were...
"TheAs I've commented earlier the bbc have not changed my views on Britain First if anything just reinforced them, this country needs the likes of Paul and Jayda"
"The programme was an absolute disgrace. We shouldn't be surprised though, the BBC are quite clearly biased and obviously support the Muslims. The programme was edited to make Britain First look like thugs."
"There are a lot of do gooders in here. Join the army and fight for your country, don't have a go at someone trying to defend it. The U.K. Should not have to adapt for other people, religions or races. Don't like it, feel free to go. Carry on Britain First you doing a great job"
"Dont see any police arresting the muslims"
But the group's claim to be a "Christian" organisation was heavily called into question...
You can't call yourself Christian but then pick & choose what you want to follow. Jesus preached tolerance not hatred #WeWantOurCountryBack

— Mozes (@mozesislam09) October 6, 2015
I wonder how many of these racist scum go to church, considering they're fighting for a Christian country? #WeWantOurCountryBack #Fanatics

— Les Floyd (@Lesism) October 6, 2015
As a Christian, I'm deeply offended by these soap dodgers claiming the cross of Jesus represents them. #WeWantOurCountryBack

— Matt (@MattTweets11) October 6, 2015
I'm not Christian, but I know Christians are going to be offended by Britain's First using Christianity as a tool #WeWantOurCountryBack

— Saif Chowdhury (@SaifIllus) October 6, 2015
Stop using God to hide behind your poisonous ideals! Nothing you do is Christian like @BritainFirst #WeWantOurCountryBack

— Negus. (@UncleTimi) October 6, 2015
LOOL a Christian country and yet nothing you are doing is Christian. #WeWantOurCountryBack

— Negus. (@UncleTimi) October 6, 2015
Despite all this Britain First claimed...
"After launching what was clearly a personal attack on Paul Golding and Jayda Fransen and our loyal Britain First comrades, the BBC seem to have achieved the undesired effect of making us more popular.

"Paul and Jayda have personally received over 1,000 messages of support from people who tuned in to watch the leftwing attack on our patriotism and Christian faith.

"Much like the last documentary, we expect the result of that sixty-minute hatchet job will be an influx of new members who are sick of being labelled and criticised for loving our country.

"So nice try BBC, better luck next time.

"After two consecutive victories over the BBC in their pathetic attempts at defaming our movement, we are now more determined than ever."
But there was some hope...
The Twittersphere has tonight proved that humanity trumps hatred 😍. Loving the comments #WeWantOurCountryBack

— ✨ Claire (@nellie1915) October 6, 2015
Wow humanity prevails. Even more proud to be British after the Twitter response to the hatred inciting #britainfirst #WeWantOurCountryBack

— Saqib Saddiq (@SaqibSaddiq) October 6, 2015
thanks to all the fellow humans on this hashtag for making me proud to be human again #WeWantOurCountryBack

— rosielouiselove♥ (@rosielouiselove) October 6, 2015
And while Britain First were worried the documentary tarnished their image, here are some recent activities upon which they've already built a reputation.
In fact the 'Christian' group already have such a bad reputation that Church of England clergy recently wrote an open letter slamming their attitude to Muslims.