The leader of Britain First has threatened to bury a pig at the site of a planned mosque in order to 'Contaminate' the and and stop its construction.
Paul Golding was speaking ahead of a march through the town of Dudley on Saturday afternoon.
He said: "Britain First has come here today to show solidarity with the people of Dudley.
short video From #Britainfirst #Dudley pic.twitter.com/JZNUfr9ele

— John (@Kennettphoto) May 9, 2015
"That mosque has not been constructed yet and I can tell you now it won't be.
"In previous cases like Seville in Spain, patriots, local residents have buried pigs on the land. Contrary to what it says in the Koran, you can't build on swine-infested, contaminated land.
"We will take that action if necessary."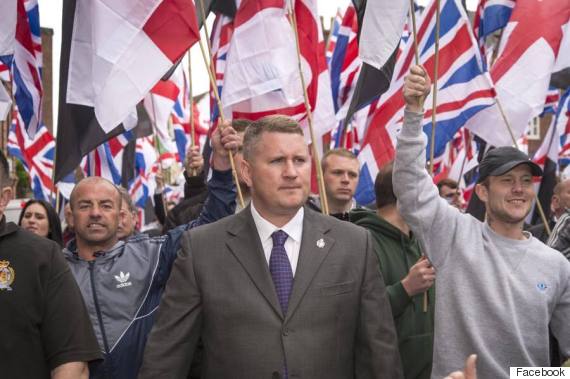 Paul Golding
The group was outnumbered by police and a few scuffles broke out.
Anti-fascism and war veterans lined the route to express their opposition to the group.
Many residents were visibly upset at the group's "hate-speech".
#Britainfirst #Dudley pic.twitter.com/cW42rrTgYm

— John (@Kennettphoto) May 9, 2015
In stark contrast to the vitriolic rhetoric of Britain First, Dudley Central Mosque opened its doors to all and offered tea and the chance to view and debate the plans for the new building.
SEE ALSO:
Spokesman Amjid Raza said: "It's unfortunate that this is the fifth protest from the far-right who have come from outside Dudley to spread hatred and fragment the community.
"I give credit to the community who have responded positively every single time to say 'not in my name and not in the name of the people of Dudley'.
"Not only has the Muslim community felt under siege from this scaremongering which has led to attacks over the past six or seven years but it has affected the livelihoods of the traders who have had to close their shops.
"We respect people's right to protest but that right shouldn't infringe other people's rights and leave them scared to go out."
Last year Britain First threatened to do the same thing to a planned mosque in Birmingham.