Members of Britain First, including leader Paul Golding, have visited Calais to "see for ourselves" the scale of the migrant problem and to learn among other things that some migrants have mobile phones, watches and recently had their hair cut.
In a YouTube video Mr Golding can be seen driving himself and deputy leader Jayda Fransen into the port city as ominous music plays. He then turns to address the camera, saying: "Thank you for joining us".
As the introductory music fades he explains: "We've just stepped off the ferry and we was confronted by a large mob of Syrian migrants."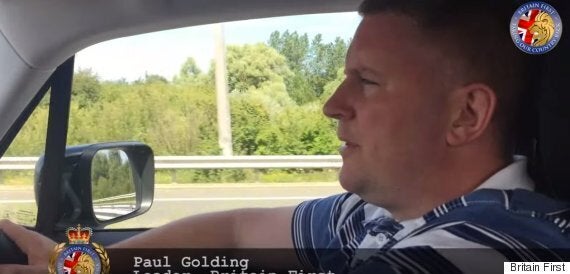 Britain First leader Paul Golding visited Calais with deputy leader Jayda Fransen
Mr Golding goes on to say that the Britain First "delegation" are trying not to be "too ostentatious with our politics today", so they're wearing casual clothing.
Moments later a migrant asks the pair not to film him, using his hand to block their camera. They are headed for the Eurostar terminal area where Mr Golding says an estimated 10,000 migrants are based.
The pair holler out of the vehicle window at those nearby, "you're going to England". When the man continues to block the camera Mr Golding tells him to "get out of my car". Another migrant then decides to indulge the interviewers.
Ms Fransen addresses him: "Now you're in France trying illegally to get to England."
The man confirms this is the case before she asks him what he will do there, and if he thinks the government will let him stay. The man doesn't think so.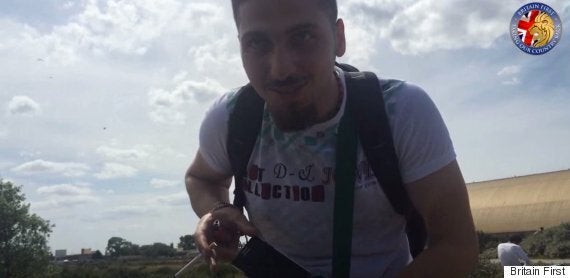 A migrant is asked about his Galaxy cellphone which Ms Fransen says is "quite a nice phone"
Ms Fransen then asks him why he wants to go, and when he becomes confused, says: "But you look, in terms of clothing and possessions... you don't look like you have nothing.
"You have quite a nice phone there I see. That's a decent phone. A Galaxy. You're not absolutely poor are you?"
Ms Fransen then changes tact, focusing instead on his hair, observing that it looks like it was recently cut.
"Can I ask you a question. When did you last get your hair cut. It looks like you had your hair cut recently."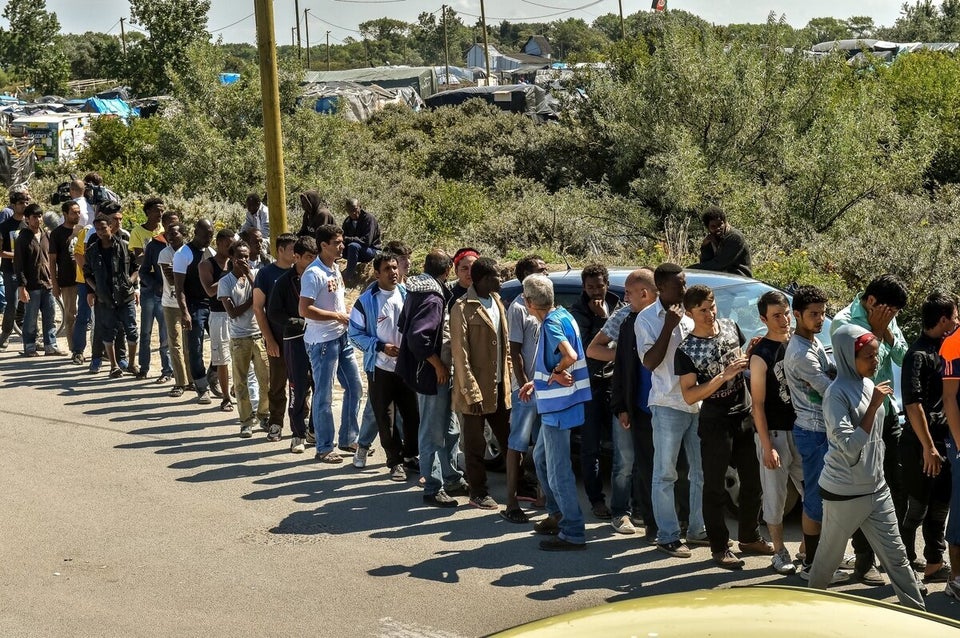 France migrants
The man says it was cut in Calais. When questioned further he says it cost £9.
He is then asked if he was given any help to get to France by authorities and what money he is using to survive. He says he has his own "special money".
Later the pair tell another migrant that English people "don't want asylum seekers like you". Mr Golding explains that England has had "too many", but comedy ensues when the migrant confuses "too many" with "Germany".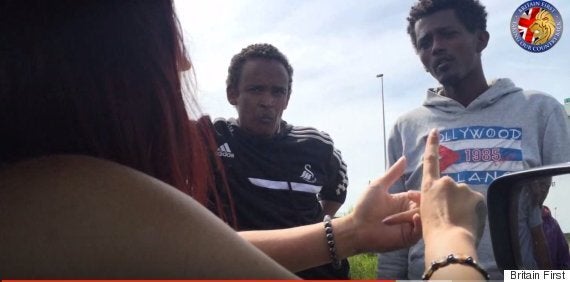 Ms Fransen speaks with several migrants in Calais and concludes they are simply coming to Britain for "handouts"
During another interview a migrant explains to the pair that it doesn't matter what they think, saying, "If you agree or not, we're coming."
Ms Fransen interjects telling the man, "that's a very nice watch, you've got there", before Mr Golding explains what the attitude of English people is: "Our politicians are traitors and they don't care about their own people, they look after foreigners first."
The pair are left confused when the man explains he has his own money. Ms Fransen: "You live over there in those trees but you've got lots of money. Well that doesn't make much sense."
The tour continues with the pair asking migrants where they are going, and "if they feel safe" in France, why they don't just stay there.
Ms Fransen concludes the video, which has had over 23,000 views, by saying the group were "utterly shocked by what we've encountered" and that from the moment they arrived they were "accosted by migrants".
And the key learning, she explains, is that despite migrants saying they wanted to come to the UK for safety reasons, they clearly want "hand outs".
Related