The Daily Telegraph said it has photographs revealing how a group of 30 migrants breached security and walked inside a secure zone.
The men walked up to a gate about a mile from the Coquelles Channel Tunnel terminal near Calais and were inside within seconds, the newspaper reported.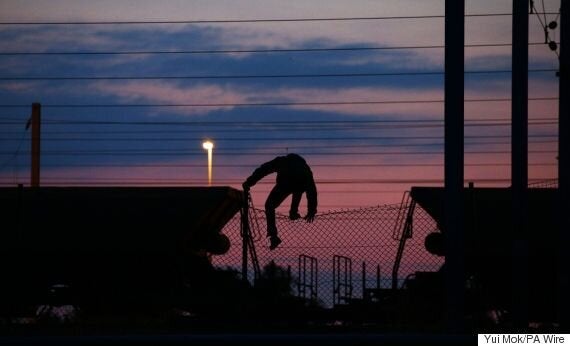 Migrants have turned to desperate measures to gain access to the Channel Tunnel
It is thought they were able to guess the security code by examining which numbers were dirtiest or most worn on the keypad.
The newspaper said a close examination showed certain numbers were clearly more worn than the other numbers.
The Home Office said it does not comment on specific incidents, but a spokeswoman said: "We continue to work closely with the French government and Eurotunnel to tackle the immediate pressures and longer term issues involved in the situation in northern France.
"The UK Government has recently invested £7 million for fencing at Coquelles to secure the Eurotunnel platforms, as well as further perimeter fencing.
"The first phase of fencing at Coquelles was completed today. Extra Border Force search and dog teams have also been drafted in to further protect the Eurotunnel site.
"Since last year, the UK Government has provided funding to bolster the security and infrastructure of ports in Northern France — including a £2 million upgrade of detection technology, a £1 million extension of dog searching capacity and an additional £12 million to reinforce security at the juxtaposed border."
Earlier, footage and pictures, shot by the Home Office, showing new fencing installed in Calais and Coquelles was released.
It is hoped the fencing will secure one mile of Eurotunnel's shuttle platform area where migrants attempt to board waiting and slow-moving trains destined for the UK.
The Sudanese national was found less than 1km from the terminal in Folkestone, Kent at 6.13pm on Tuesday, having walked almost the whole stretch of tunnel.
At least nine people have died attempting to gain entry to the UK via Calais this year, including a teenage boy.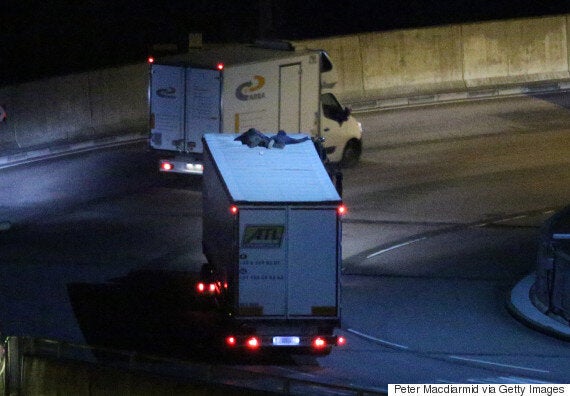 Migrants cling to the roof of a lorry leaving the terminal at Folkestone
The recent crisis at Calais has led to talks over the possibility of closing the tunnel at night.
The proposal has been discussed at the Government's emergency Cobra meetings in what has been described as the "nuclear option".
However, Eurotunnel has said that it consider suing if this was the case, as such as closure would result in huge losses, according to the Telegraph.
Eurotunnel president Jacque Gounon reportedly accused British ministers of "sowing panic among customers and investors", in a letter seen by the paper.
In it, Gounon said: "Under the concession agreement Eurotunnel would be obliged to claim for losses which we estimate could easily attain the level of circa £200 million per year.