Over the last few weeks I have watched the unfolding crisis in Calais and the increasingly desperate plight of migrants and refugees, including orphaned children and pregnant women, who are living in diabolical conditions.
While governments on both sides of the channel have dithered over what to do, it has been charities like Doctors of the World who have stepped in to provide the urgent medical help and support needed by people who have fled their home countries in search of safety and security.
Talking to friends and family, we felt a growing sense that we could be doing more to help. The tipping point for me came after the sad news that a Sudanese man had been killed making a desperate attempt to enter the channel tunnel.
On the same day I heard a radio presenter inviting his listeners to call in with suggestions for messages to send over a loudspeaker at Dover to 'convince migrants not to pile into the UK'. I felt an overwhelming sense of anger that the desperation of fellow human beings was being trivialised in this way. People are risking their lives for a chance of a better life and people seemed to be suggesting that traffic jams on the M25 and the banality of the Labour leadership race were in some way comparable to the squalid conditions of makeshift camps in Calais or the desperate situations from which the refugees are fleeing in their home countries.
We wanted to show the people living in the Calais camps that people in Britain do care. And so with the help of my husband and daughter we launched a JustGiving Crowdfunding Page to appeal for donations and funds to buy essential supplies that we can drive to Calais in a van. We also set up various drop-off points for donations across Glasgow. The level of support we've received has been truly overwhelming.
People have dropped off clothes, tents, sleeping bags and many people have been offering their help to collect supplies and help with logistics, including local businesses like Greencity Wholefoods, who have donated food. Our garage is now almost full and we've even had to find another van as our camper van wasn't big enough.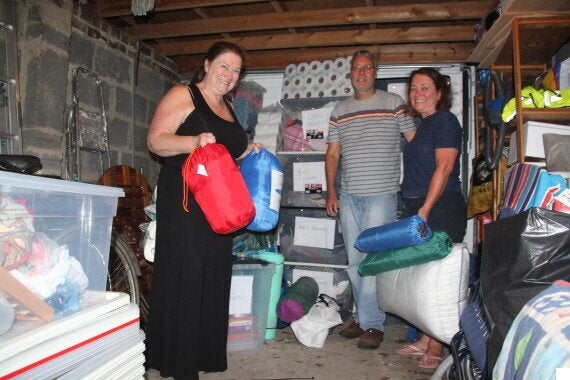 The JustGiving crowdfunding page has been a great help and has more than doubled its original target. We've also had advice from Doctors of the World who are raising money on JustGiving for medical supplies. They've seen an urgent need for basic human necessities and so we're putting the money raised on our crowdfunding page towards waterproof clothing, blankets and toiletries.
It's reassuring to see that we're not the only ones who have been moved to help. Lots of people are now mobilising on social networks, like Facebook and many others are launching their own crowdfunding pages on platforms like JustGiving as a way of taking direct action.
It's been wonderful to see how much grassroots support there is out there and is a wonderful demonstration of how the British people can work together to transform people power into donations and support.
We plan to embark on the 500-mile journey from Glasgow on 11 August and intend to return two days later, after donating the supplies.
We hope it goes some way to challenge some of the negative coverage of the humanitarian crisis that is unfolding on our doorstep and inspires others to lend their support too.
Popular in the Community