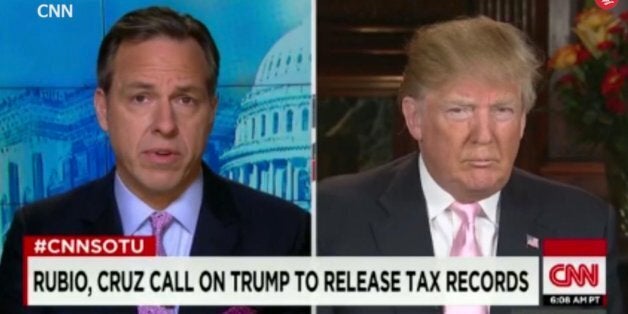 Donald Trump has publicly refused to condemn the white supremacist group Ku Klux Klan, claiming he knows "nothing" about them.
Various white supremacist groups have voiced support for the republican presidential candidate, but when questioned Trump said he didn't know enough about the decades-old group that opposed the civil rights movement and has used murder to suppress those it disagrees with.
Trump was asked on CNN about his endorsement from David Duke, a white nationalist and former leader of the Ku Klux Klan or KKK.
Called on to "unequivocally condemn" Duke and say he did not want votes from other white supremacists, he insisted he "didn't know" what group the interviewer was talking about.
"I don't know anything about David Duke. I don't know anything about what you're even talking about with white supremacy or white supremacists. You're asking me about something I know nothing about," he said.
"I have to look at the group," Trump continued, "I don't know what group you're talking about. You wouldn't want me to condemn a group that I know nothing about."
After the interviewer explained he was referring to Duke and the KKK, Trump again responded: "I don't know David Duke, I don't think I've ever met him. I don't know anything about him."
His words come as KKK member was accused of stabbing a man with a flagpole after a protest turned violence on Saturday.
At least three people have been stabbed after the KKK 'White Lives Matter' rally in Southern California turned into a violent brawl.
Protesters from the white supremacy group dressed in black shirts decorated with the 'Klan cross' took out signs that read "White Lives Matter" after getting out an SUV in a park in Anaheim, near Los Angeles, on Saturday afternoon.
They were quickly surrounded afternoon by the counter-protesters who had heard about the planned anti-immigration protest and were waiting for them, the Associated Press reports.
The counter demonstrators shouted and someone smashed the SUV's window, before one KKK member reportedly stabbed a counter-protester with the decorative end of a flag pole, setting off a vicious brawl videoed by witnesses.
Three people were stabbed, one critically, and two were assaulted.
"I got stabbed," a man is then heard screaming, lifting his T-shirt to show a wound to his stomach. A fire hydrant where the man briefly sat was covered in blood.
One police sergeant saw Klan member with a knife in his hand and a counter-protester bleeding nearby, Anaheim Police sergeant Daron Wyatt said. The sergeant took the KKK member into custody.
Meanwhile, counter-protesters 'stomped' on two KKK members, he said.
"All hell broke loose," said Brian Levin, director of California State University who witnessed the violence. "I thought they were going to stomp these Klansmen to death."
A witness said he saw a swarm of police cars and helicopters in the area.
Chris Barker, who identified himself as the imperial wizard of the Loyal White Knights of the Ku Klux Klan, said his members were holding a peaceful anti-immigration demonstration and acted in self-defense.
"If we're attacked, we will attack back," said Barker.
The KKK has a long history in Anaheim. In January 2015, fliers condemning the Rev. Martin Luther King Jr. and supporting the KKK were left in the driveways of about homes in Santa Ana, eight miles south of Anaheim.
The fliers opened with the heading "On Martin Luther King Day, you are celebrating a communist pervert." The bottom of the fliers stated they came from the "Loyal White Knights of the Ku Klux Klan."
Popular in the Community