David Cameron had to pause a question and answer session with students in Ipswich on Monday after a girl fainted.
The prime minister was setting out his case for Britain to remain inside the European Union when he stopped and looked at the back of the hall. "Are we alright?" he asked "We ok?"
A concerned looking Cameron asked for "a quick pause" in the event while the girl was helped.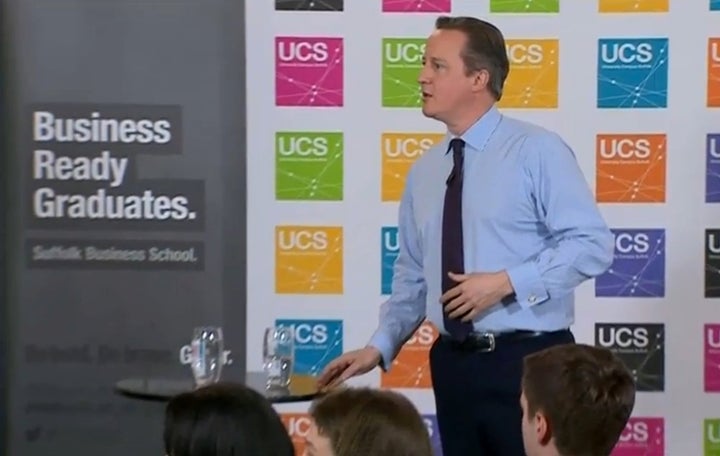 Today government divisions on the European Union deepened as eurosceptic ministers poured scorn on claims that a vote to leave could create a "decade or more of uncertainty".
The first official Whitehall analysis of the process of withdrawal, published by Foreign Secretary Philip Hammond, warned an "out" vote would mark the start of "a period of uncertainty, of unknown length, and (with) an unpredictable outcome".
The 23-page document said it was unlikely the terms of withdrawal could be fully negotiated within the formal two-year process, opening the door to other EU states demanding concessions in return for an extension.
But Leader of the Commons Chris Grayling dismissed the findings, insisting it would be just as much in the interests of the remaining 27 nations to reach a speedy conclusion to the negotiations.
"Why on earth would we think it would take twice as long as the Second World War to be able to sort out our trading relationships with Europe and elsewhere?" he said on BBC Radio 4's Today programme.
Cabinet Office minister Matt Hancock denied accusations the Government was stoking fears about the consequences of a vote to leave in the referendum on June 23, insisting the analysis was a "cautious assessment".
"The truth is we don't know. Those who are proposing to leave, I think it's incumbent on them to have to explain exactly what would happen," he told the Today programme.
"What would happen to the two million Brits who live in other places in the European Union, would they still have access to free healthcare? There are real consequences of this for jobs and for livelihoods."