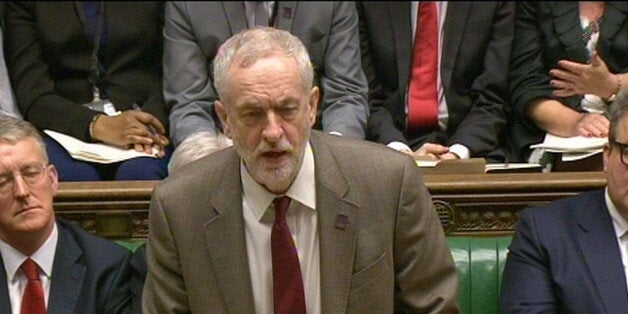 Tensions between Jeremy Corbyn and his MPs have boiled over once more amid fears that Labour will lose seats in this May's local, Scottish and Welsh elections.
At the weekly meeting of the Parliamentary Labour Party (PLP), Mr Corbyn and Shadow Communities Secretary Jon Trickett came under fire from fellow MPs worried that the party will go backwards in the first national electoral test for the new leader.
The prospect of winning the London Mayoral election is the only bright spot on what could be a gloomy night for Labour if it loses its majority on the Welsh Assembly, all its constituency seats in the Scottish Parliament and control of key English town halls in Tory marginals in the West Midlands and the South.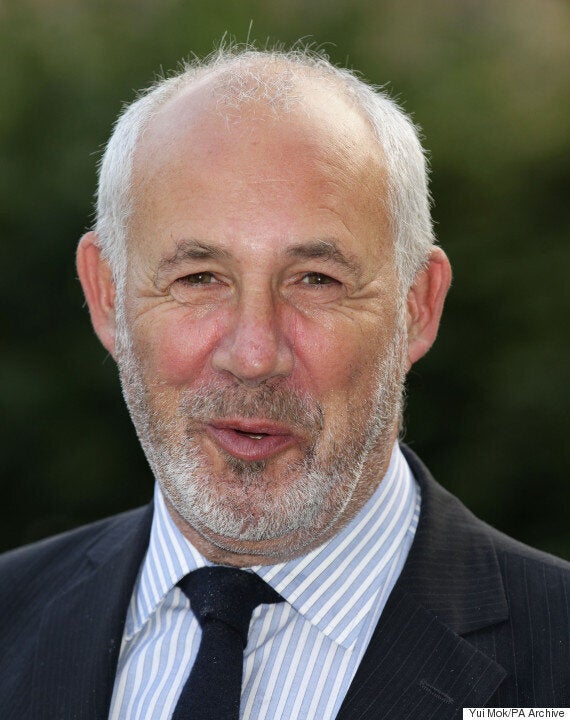 Shadow Communities Secretary Jon Trickett
HuffPost understands that MPs demanded to know why Labour was not targeting Tory marginal seats and appeared to be digging in solely to defend what it already held, ahead of the elections on May 5. Other MPs sought reassurance that the party had no plans to scrap its anti-extremist Compliance Unit.
A party spokesman admitted afterwards that there had been "a robust discussion" with "strong views" expressed.
Backbenchers and frontbenchers had hoped to ask Mr Corbyn questions at his first PLP meeting of 2016, but the event was disrupted by a Commons vote before he had to then leave to record ITV's political programme The Agenda.
Some MPs were furious that the Labour leader failed to take questions, although his spokesman stressed afterwards that he would return next week for a fuller session.
However, MPs were unimpressed with presentations by both Mr Corbyn and Mr Trickett, with one telling HuffPost: "Amateurish doesn't do it justice. If that was a branch meeting in my local party, it would have been embarrassing." Another added: "Just shambolic." Yet another said of Mr Corbyn's own 10-minute speech: "Painful, patronising and desperate".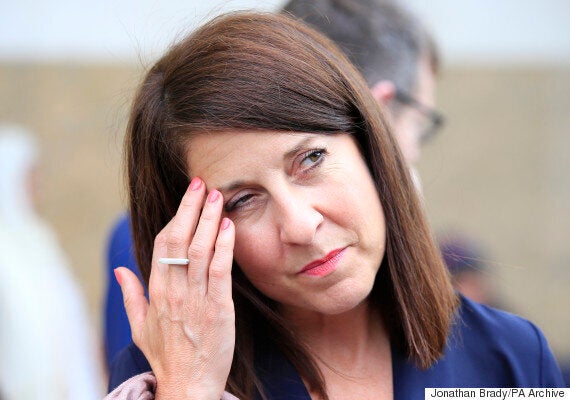 Former Labour leadership candidate Liz Kendall
Mr Trickett had told the meeting that he expected some good 'gains' for the party, but former leadership contender Liz Kendall told him that Labour should be setting its sights much higher.
Ms Kendall told the Shadow Communities Secretary that the party should be scoring between 434 and 500 council seat gains from other parties, in line with average performance of previous Oppositions. Even William Hague won hundreds of seats at the depths of the Tories' woes after the Blair landslide of 1997.
Mr Corbyn began the meeting by pointing out that Labour had made some progress in the opinion polls lately, with a two point rise to 33% to the Tories 39% with IpsosMORI and a narrowing of the gap on YouGov with 30% to the Tories' 37%.
He also pointed to council by-election results being better than Tory and UKIP results, but warned that the party had "a big job of work" to do in May's local and regional elections.
Mr Corbyn pointed to the fact that Labour party membership had doubled since last May and praised the Labour Lords team for protecting 3 million low income families from Tory tax credit cuts.
The Labour leader also recounted his new 'open door' policy of leadership had seen him attend most meetings of backbench parliamentary committees, where "frank and robust discussion" had taken place. He had met backbenchers for chats on Wednesday afternoons.
But instead of taking questions straight away, the Labour leader then handed over to Mr Trickett, who spent 20 minutes setting out his messaging on the local elections campaigns.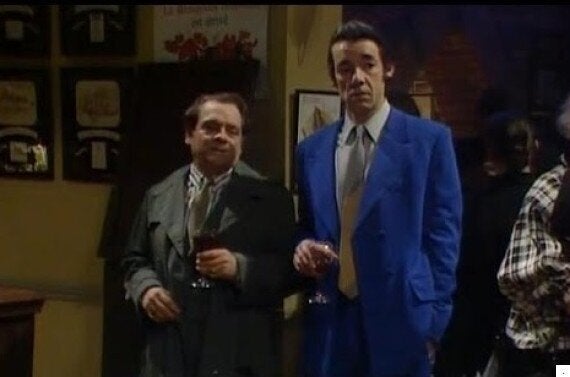 Del Boy and 'Trigger' in 'Only Fools and Horses'
During the talk, one unnamed Labour MP could be heard asking colleagues 'is this the Monty Python show?', a reference to the famous 'Dead Parrott' sketch. Some present wanted projections of numbers of seats and target cities and towns but got none.
At one point, Mr Trickett's slide show had a missing slide, while at another he was told by an MP that he'd got his figures wrong on the cost of Tory cuts to Labour councils.
One MP explained: "He had one slide, which he said was a 'very strong slide,' saying how we would meet the Tory attack that Corbyn was 'a threat to security'. We would say 'We say we are on your side'. It was useless. It all just reinforced Corbyn's incompetence."
Another told HuffPost UK that MPs now had a nickname for Mr Trickett that stemmed from the sitcome 'Only Fools and Horses': "It's a new tactic by Corbyn. Get 'Trigger' on after you to make yourself look good," the MP said.
Mr Trickett is in charge of the election strategy, a fact that some MPs believe will ensure the results, for good or ill, will be 'owned' by the new party leadership. "It's his baby now, so the Corbynistas can't blame anyone else if things go badly wrong in May," one MP told HuffPost.
A Commons vote on a Parliamentary order to implement the bill then disrupted the meeting and, pressed for time as he had to record the ITV programme, Mr Corbyn didn't return when the PLP resumed.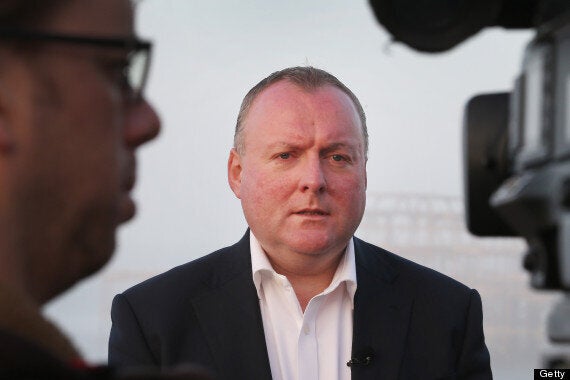 Several Labour MPs, including former Shadow Culture Secretary Michael Dugher, walked out of the meeting when informed that Mr Corbyn would not be returning to take questions. An exasperated Ian Austin, Gordon Brown's former chief aide, said "He's not coming back".
Many had wanted to ask why the Labour leader had attended the CND anti-Trident rally on Saturday when the party was meant to have been focused on selling its 'In' campaign on the EU.
On ITV1's Agenda programme later, Mr Corbyn tackled the issue head-on. "'He's a sinner who has repented. It doesn't mean what he did was OK," he said of Mr McBride. "It does mean that he like everybody else will work very hard to make sure that we have had proper debate."
"Emily has employed him and it's very clear the standards I expect and will get from my team."
But those MPs who did stay proceeded to lambast Mr Trickett over his presentation for his lack of detail and failure to set out a plan to try to make inroads in Tory marginal areas.
One MP told HuffPost: "The election 'message' was basically about how evil the Tories were. There was nothing we could sell on the doorstep in areas we need to win back. They just want us to tell Tory switchers they're idiots."
Backbencher Graham Jones MP asked "Why aren't we targeting any Tory councils?" Shadow Education minister Jenny Chapman MP told Mr Trickett: "This strategy just isn't good enough." Ex-shadow defence minister Kevan Jones said: "That's not a presentation for winning".
And Kevin Barron, the respected chairman of the Commons Standards Committee, pointed out to the meeting that there was no message at all on how to deal with UKIP in areas like his in Yorkshire
The meeting began with General Secretary Iain McNicol revealing that an investigation into alleged anti-Semitism in Oxford University Labour Club had been widened.
The review by Baroness Royall would not include claims about conduct at this weekend's Young Labour conference, which saw the narrow election of 'moderate' Jasmin Beckett defeat the Momentum-backed James Elliott by the narrowest of margins.
Mr McNicol also told the meeting that there would be no attempt by the ruling NEC to abolish the Compliance Unit, a suggestion floated by Shadow Chancellor John McDonnell last week. A party spokesman insisted tonight that the idea was a "personal view" of Mr McDonnell.
The spokesman refused to put any figures on Labour's May election projections other than to say it was "confident of a good result". He stressed that it was Mr Trickett's very first presentation to the PLP and he would be coming back with more details on targeting and strategy.