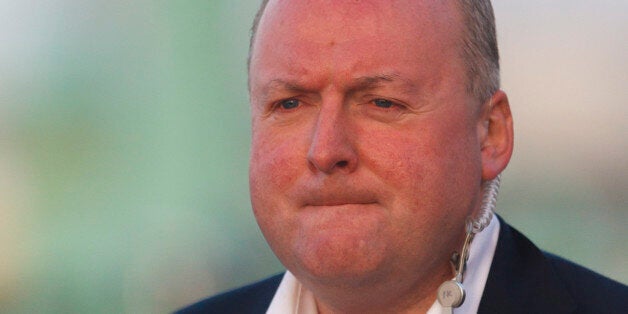 Gordon Brown's former spin chief Damian McBride is to make a dramatic return to frontline politics – working for Shadow Defence Secretary Emily Thornberry, HuffPost UK can reveal.
Mr McBride, who quit Downing Street in disgrace over attempts to smear Tory politicians, will return as Ms Thornberry's political adviser from a week on Monday.
The former No.10 press aide and Treasury official will act as communications adviser on a fixed term contract for the duration of Labour's crucial defence policy review.
It is understood that Mr McBride answered a Labour party advert for the communications post, which has been vacant since Ms Thornberry took over in January.
The Shadow Defence Secretary, who has supported unilateralism, is overseeing the party's review of the UK's Trident nuclear system.
Significantly, Mr McBride has expressed his backing for a 'third way' alternative to Trident.
Mr McBride has been out of politics ever since he quit his role working for the former Prime Minister in 2009.
Mr Brown was forced to apologise for emails sent by Mr McBride in which he had discussed plans to use a new attack blog to spread false rumours about the sexual and personal lives of Tory MPs including David Cameron, George Osborne and Nadine Dorries.
The emails, which were sent from within Downing Street, were exposed by blogger Guido Fawkes and Mr McBride resigned soon after.
Downing Street at the time apologised for "juvenile and inappropriate" emails and Mr McBride has since revealed that when he first notified his boss he was so angry that he could not speak.
Since his resignation, McBride has worked for his former school Finchley Catholic High School, and the Catholic charity Cafod.
It is understood that Mr McBride will report directly to Ms Thornberry and his contract will end by the Labour party conference, when policy on Trident is due to be debated.
Ms Thornberry currently has a policy adviser but has had no media specialist since she was installed in Jeremy Corbyn's reshuffle to replace Maria Eagle.
Mr McBride has expressed support for Mr Corbyn's leadership and some had expected him to be installed as the Labour leader's press chief before Seumas Milne was appointed.
The first hints of a return emerged a week ago when Mr McBride was spotted dining with Ms Thornberry and Mr Milne.
Mr McBride rose to prominence as a trusted and highly effective civil servant in the Treasury, becoming communications chief to Brown as Chancellor and then his press aide in Downing Street.
After his new appointment was revealed by HuffPost UK, reaction on Twitter was swift.
During the launch of his 2013 memoir, publisher Iain Dale was caught on camera attacking a protestor.