Labour splits over Trident widened tonight after Shadow Defence Secretary Emily Thornberry appeared to suggest that the nuclear submarine system was as outdated as World War II Spitfires.
At another fractious meeting of the Parliamentary Labour Party (PLP) in the Commons, furious MPs heckled Ms Thornberry as she answered their questions on her review of defence policy.
Former defence minister Kevan Jones declared at one point during the heated gathering "you're an embarrassment", and left the meeting saying she was "waffly and incoherent…cringeworthy".
Former First Sealord Lord West and backbencher Madeleine Moon won applause as they both urged the renewal of Trident and warned that the United States was worried about Jeremy Corbyn dumping the nuclear deterrent.
Afterwards, Ms Moon tweeted her verdict on Ms Thornberry, a unilateralist who was installed in her post by Jeremy Corbyn last month.
Ms Thornberry also provoked concern when she accidentally told the MPs "at the end of the day, the policy will be changed by the national conference". "That was a Freudian slip if ever there was one," one MP told HuffPost UK.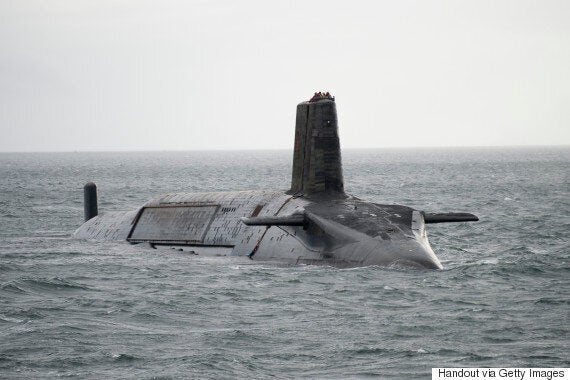 One of the Royal Navy's Vanguard class nuclear submarines
But she sparked most anger when she compared the £31bn plans for a new generation of continuous at-sea submarines to "patrolling our skies with a Spitfire".
The Shadow Defence Secretary said that high-tech drones could track submarines in future and suggested that just as Spitfires had become outdated, Trident could be overtaken by new technology.
"It was when she said 'I've been out talking to these young Turks about drone warfare' that we looked at each other and couldn't believe it," one former shadow minister said.
Ms Thornberry went on to point out that Tornado jet fighters had had to be updated, but MPs present said there was an audible gasp in the room as the Spitfire comparison was made.
"The most advanced large manufacturing and engineering project in the world compared to a Spitfire," one MP said afterwards.
A Labour source said after the meeting that Ms Thornberry's reference to Spitfires was in a wider context of talking about defence technology.
"She was talking about drones and it was apparent how it was absolutely possible that with improving technology, large submarines could easily be tracked and attacked by drones," he said.
"So she said it is a question of keeping your eye on new technology. She said we don't have Spitfires any more, but we have some quite old planes, Tornadoes, but they've been updated. She was saying some technology gets old. Some gets updated. Some things are replaced."
Tempers boiled over so much that at one point Ms Thornberry told her hecklers "there's no point trying to shout me down" and PLP chairman John Cryer threatened to stop the meeting.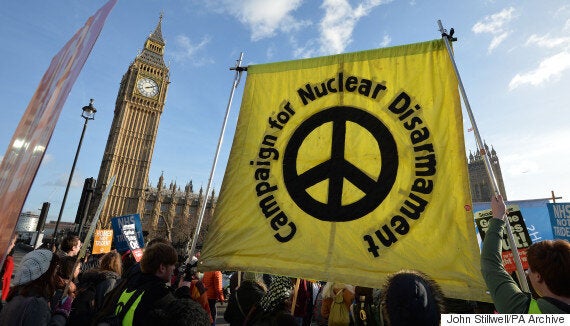 CND protestors, who want Labour to change policy
Ms Thornberry had started the meeting with a 10-minute update on the process of her defence review, stressing it was being done in an atmosphere of "trust and mutual respect".
The party had to come to a "collective decision", she said. "We all have different views, but I would ask people not to go into entrenched positions on this and to look at the evidence."
She said the review would be "wide-ranging" and cover conventional and cyber warfare as well as the vexed issue of the renewal of Trident, which she pointed out cost huge sums of public money and had to be scrutinised properly.
"It was a toxic mix of Islington dinner party self-assuredness, total ignorance about the subject and complete indifference to the disastrous path down which she and Jeremy Corbyn are taking the Labour party," one backbencher told HuffPost UK.
"It meant that people were sitting there in stony faced silence. People were looking into the middle distance and concentrating on keeping their faces straight while she was talking."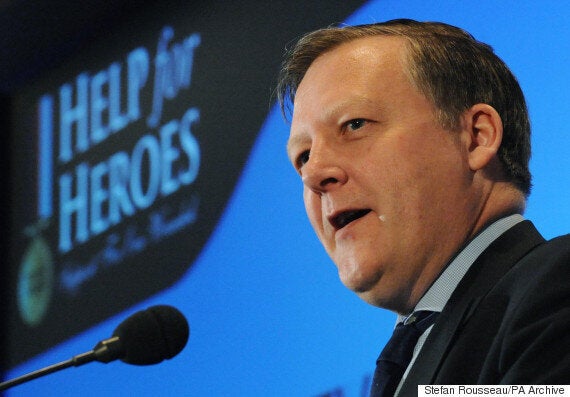 Former defence minister Kevan Jones
One MP claimed that Ms Thornberry had not wanted to take questions after her presentation but was warned by Mr Cryer beforehand that she had to do so.
When the questions did come, many were hostile. Pat McFadden began by asking that if she stood by her position as former Shadow Attorney General that airstrikes against ISIL in Iraq were legal. Ms Thornberry voted against airstrikes in Syria last year, but she said there was now more RAF activity in Iraq than before.
"You could feel the atmosphere curdling as she talked," one MP said. "I've never been at a more sour meeting."
David Lammy and Richard Burden appeared to back the Shadow Defence Secretary, pointing out how difficult the subject was.
But Jamie Reed warned of the death of shipyards if Trident wasn't renewed and John Woodcock asked her when she would visit Barrow in his constituency to meet the skilled workers whose jobs were at risk. Ms Thornberry agreed to visit.
Ex Shadow Cabinet minister Caroline Flint said the move to unilateralism would be a 'disaster' and declared: "Jeremy's made up his mind hasn't he?"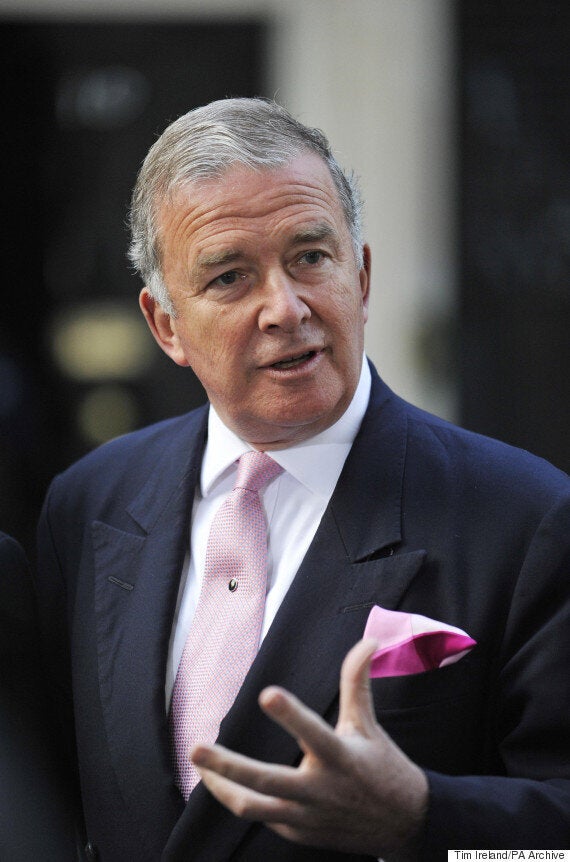 Lord West said that some of the top brass in the military were worried that "the Tories are playing politics" with Trident by refusing to hold a definitive Commons vote on the issue until after Labour's party conference.
The former First Sea Lord and security minister urged the party to stick to renewal and said the Ministry of Defence Permanent Secretary should be coming to Parliament as soon as possible for approval of the half billion of funding for preparations for Trident on top of £3.9bn already spent since 2007.
Lord West, who has intimate knowledge of the Trident system, pointed to his article in The House magazine recently in which he pointed out that Mr Corbyn's idea of submarines without nuclear warheads would be 'dangerous and nonsensical'.
As he left the meeting he said that Ms Thornberry failed to understand the "physics, basic physics" of the working of the Trident system, perhaps a reference to the way its missiles are difficult to defend against because they go so high into the atmosphere.
Ms Thornberry said that the Tories plans for holding a 'symbolic' vote in the Commons, possibly as early as next month, was an "elephant trap" laid for Labour to parade its divisions on the issue.
But Kevan Jones, who quit in protest at Ms Thornberry's appointment last month, told her in the meeting that she was wrong about the vote. "You're an embarrassment" he said, just yards from her.
He and John Woodcock said that Ed Miliband had gone over all the numbers and funding for Trident and "even he" couldn't find an alternative to four new Trident Successor submarines.
Madeleine Moon, who sits on the Defence Select Committee, said that she was in Washington last week with Nato officials. "This isn't just Britain's nuclear weapon, this is Nato's nuclear weapon, and people were asking 'what is the British Labour party upto?'"
Ms Moon said that Russian planes were buzzing British airpace, their subs were lurking British waters and asked for Ms Thornberry's assessment of the strategic Russian threat posed by Russia.
"She had no answer. It was absolutely woeful," one MP said.
One MP revealed that Ms Thornberry's opening line of the evening was that it was "wonderful" to be Shadow Secretary of State for Defence. "It's the second best job in politics," she had said, adding "of course, the best job in politics would Secretary of State for Defence."
"It was laughable," one senior MP told HuffPost UK. "It was downhill from there. She began with a lie and carried on lying all the way through."
Asked after the meeting how it had gone, Ms Thornberry replied "Alright". The Shadow Cabinet will debate her defence review for the first time on Tuesday.
Popular in the Community