On Saturday, the Labour leader was one of the keynote speakers at the Trafalgar Square rally on Saturday led by the Campaign for Nuclear Disarmament, and renewed his long-held opposition to the Trident nuclear weapons system.
His stance contradicts Labour party policy. But a review being carried out by Shadow Defence Secretary Emily Thornberry, who is also opposed to renewing the nuclear weapons carrying submarines, could lead to the party to backing unilateral disarmament for the first time since the 1980s.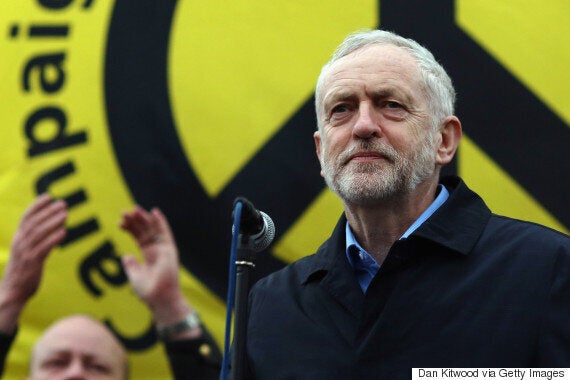 Jeremy Corbyn said on Saturday: "You don't achieve peace by planning for war."
The Conservative Party think this shows Labour would put the UK's security at risk if to came to power, and even many on the Labour benches believe his position to be wrong-headed in a dangerous world.
In the House of Commons today, Conservative defence minster Philip Dunne shoe-horned in an attack on Corbyn when questioned about whether more British steel should be used when the next generation N-subs are built.
The minister said: "I think he should have a word with the leader of his party. On this side we care about both security and prosperity and the he might like to remind his leader grandstanding on Saturday places not only the ultimate security of the country at risk but also the tens of thousands of jobs and the hundreds of companies in the submarine industry at risk."
Labour shadow defence minister Kate Hollern said the comments showed the Government was not taking the issue of steel industry jobs "seriously", and pointed to how 60% of steel for British warships is sourced from Sweden.
On Saturday, Corbyn spoke alongside Scottish first minister and SNP leader Nicola Sturgeon, who has vowed to banish nuclear weapons from an independent Scotland.
Corbyn told the crowd: "We live in a world where so many things are possible. Where peace is possible in so many places.
"You don't achieve peace by planning for war, grabbing resources and not respecting each other's human rights.
"Today's demonstration is an expression of many people's opinions and views. I'm here because I believe in a nuclear-free Britain and a nuclear-free future."
The issue is likely to re-ignite for the party at its meeting of the Parliamentary Labour Party tonight, where Trident is likely to be discussed.
Labour MP Michael Dugher, who was sacked from Corbyn's Shadow Cabinet, said ahead of the rally: "For Jeremy to share a platform with many of Labour's political opponents and denounce what is still Labour policy is quite frankly barmy."
He later tweeted: "The Tories must think it's Christmas."
Buying four new submarines capable of carrying the nuclear warheads will cost around £31bn over 20 years, according to the Ministry of Defence, as well as a contingency fund of another £10bn.
Related