Devon and Cornwall Police kept a dog in a 1m by 3m cage for two years without ever exercising it following the arrest of her owner on an unrelated matter, according to reports.
Stella was seized in Devon in 2014, according to the BBC, which said police refused to give specific reasons why the dog could not be exercised.
The broadcaster reported that the dog was considered potentially dangerous, and said a worker at the kennels said they were told by police not to exercise dogs held under the Dangerous Dogs Act.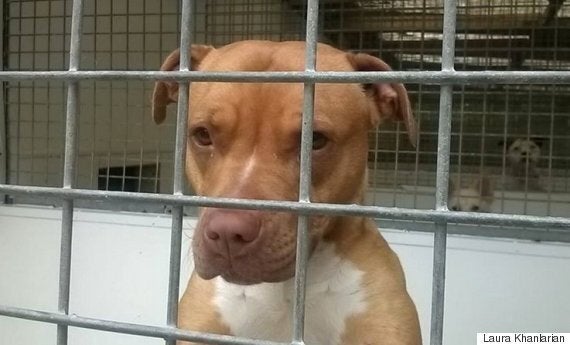 Stella was kept in a 1m by 3m cage for two years without ever exercising it after police arrested her owner
Kendal Shepherd, a vet of 30 years and animal behaviour expert, called the case "terrible" and "unjustified".
She told the BBC: "It's wasting huge amounts of money and it's not doing a single thing to prevent dog bites.
"It's cruel. But it's what our system forces us to do."
Laura Khanlarian worked as an assistant at the private kennel used by Devon and Cornwall Police and said Stella only left her kennel twice during her stay to have her behaviour assessed.
She explained that kennel staff were told not to exercise, enter the kennel of, or even touch, any dogs brought in under the Dangerous Dogs Act.
Khanlarian: "Animal welfare comes before anything, and that was my job. I don't believe I would be doing it properly if I would sit back and think that's ok. It wasn't ok - it's not ok."
The RSPCA has created a guide to good practice for all police forces, which states: "Dogs must be provided with the opportunity to exercise away from their kennel at least once a day and this should be for a total of at least 30 minutes."
Stella, a pit bull-type dog, was considered potentially dangerous because of her breed, her behaviour when police seized her, and her behaviour in assessments. Her owner, Antony Hastie, had previously told a court that there had been no incidents of aggressive behaviour prior to Stella being seized.
Hastie attended court 11 times over Stella, but in February 2016 it was ruled she should be destroyed.
Sergeant Allan Knight, from the Devon and Cornwall Police dog handling unit, told the BBC the force has released dogs back to their owners during proceedings in the past, but said there "will always be some dogs" that cannot be returned, or walked by kennel staff because of the danger they pose.
Popular in the Community