Stacey Dash provided the most awkward moment of the Oscars on Sunday (28 February) night, as she made surprise appearance at the Academy Awards.
MORE OSCARS:
The former 'Clueless' actress, who has become a controversial Fox News pundit in recent years, was greeted with a resounding silence, as she attempted to make a gag about the diversity issues that have surrounded this year's awards.
Stacey had previously claimed that Black History Month should be scrapped, and as host Chris Rock introduced her as "the new director of our minority outreach programme" to present an award, she walked on the stage laughing.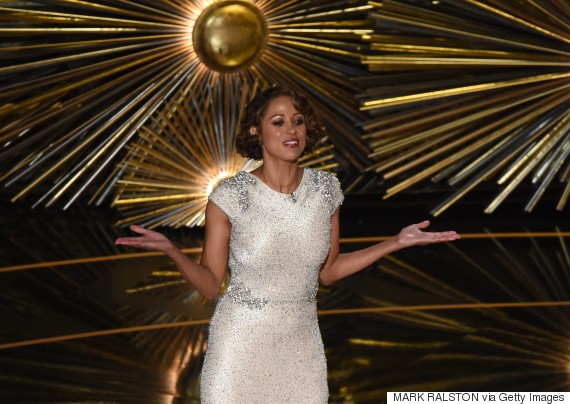 Stacey Dash made a bizarre appearance at the Oscars
"I cannot wait to help my people out," she told the confused audience. "Happy Black History Month!"
The comments were met with complete confusion by the audience, most notably The Weeknd and Chrissy Teigen, whose reactions went viral online.
The Weeknd is all of us responding to Stacey Dash. #Oscars pic.twitter.com/8gSq9npgOS

— Vulture (@vulture) February 29, 2016
Chrissy Teigen is the best at award shows. #Oscars @chrissyteigen pic.twitter.com/h6wYle8PL2

— Elizabeth C (@ecctv) February 29, 2016
After the ceremony, Stacey penned a blog, which tried to explain her bizarre appearance
"You might be watching the Oscars and wondering why someone named Stacey Dash just walked across the stage. (Why was that funny anyway?)," she wrote.
"We need to stop complaining about white people oppressing us, we shouldn't boycott the Oscars, and we need to support Chris Rock the host.
"Which brings me to the joke. When they added ME to increase the diversity, I'm sure many black people rolled their eyes. I'm not 'black enough,' they say. But guess what? I've heard that all my life. I would rather be a free thinking, black than a cookie cutter black who thinks – and votes – just like all my friends."
Stacey's appearance wasn't the only awkward moment of the ceremony though, as costume designer Jenny Beavan experienced a real dose of Oscars snobbery, as many people refused to applaud her as she went up to collect her award for Best Costume Design dressed in a leather jacket.
See all the red carpet pics from the Oscars in the gallery below...
SEE ALSO:
LIKE US ON FACEBOOK | FOLLOW US ON TWITTER