Dan Walker has not yet slept through the three alarms he sets for his hosting duties on BBC Breakfast, so what is the verdict on Bill Turnbull's replacement on the red sofa?
READ MORE:
Bill Turnbull Says Brits Are Embarrassed To Be Religious
It was a busy morning for Dan's debut yesterday morning, with live links from Hollywood to chew on the Oscar results. Tuesday was relatively normal, with discussions of St David's Day and what Super Tuesday in the US actually means.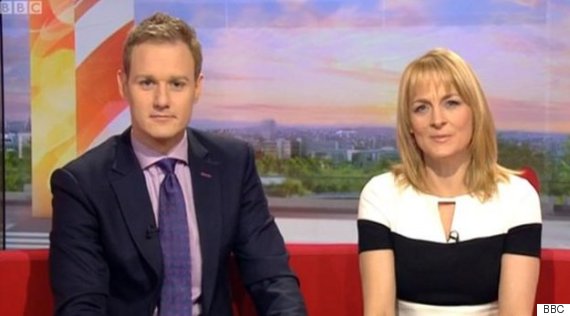 Dan Walker was beside regular presenter Louise Minchin for his debut
So far, viewers appear divided into FOUR camps.
The business-as-usual brigade...
Dan Walker looks at home on the red sofa on his first BBC Breakfast show https://t.co/lU4bWnOIGi

— denise allman (@rydalhurst) March 1, 2016
I watched @BBCBreakfast this morning @mrdanwalker did fantastic job on his first morning well done

— Nathan Watkins (@NathWelshFA) February 29, 2016
@mrdanwalker @BBCBreakfast @louiseminchin looking at home Dan #goodteam

— valleys girl (@ElaineTonypjay) March 1, 2016
The swooners - Dan's army in waiting…
@mrdanwalker @ brilliant job! Great to have a younger, lighter and brighter feel to my morning. No more dreary droning on! Keep it up

— Barbara Jones (@babsberllan) March 1, 2016
@BBCMOTD @mrdanwalker waking up in the morning just got a little easier!

— harinder sahota (@MsHKS) March 1, 2016
@BBCBreakfast I have developed a total man crush for @mrdanwalker shhhh, don't tell my wife! 😉

— Michael (@michaellstp) March 1, 2016
The ones who can't reconcile themselves to his devout and open Christian beliefs…
I can't see Dan Walker the same, knowing he's a creationist

— Matthew Cole (@MattC_64) March 1, 2016
.@BBCBreakfast pretty unpalatable now that it's hosted by a fundamentalist extremist @mrdanwalker

— Penbedw (@Penbedw) March 1, 2016
#DanWalker is more #DavidIcke than #BillTurnbull says @terrychristian #TerryChristian... https://t.co/NJXljM1ZCz pic.twitter.com/LO9PdPAx82

— Atheism Updates (@atheistolizer) February 21, 2016
#DanWalker #BBCBreakfast not doing it for me. Fluff, no heft and can't help thinking about his wanky religious beliefs.

— Kevin Turner (@turner_kevin) March 1, 2016
And the ones pointing out they're wrong...
@ChristianToday @billtu @RuthieGledhill Hope the tweeps read this who say they won't believe #danwalker because of his faith. #faith

— Andrew Cashmore (@arcashmore) February 16, 2016
So #DanWalker presenting @BBCBreakfast for half an hour now & hasn't started foaming at the mouth about creationism & the world hasn't ended

— Hugh Ferrin (@ballyboneman) February 29, 2016
Dan will be on the sofa every week on Mondays, Tuesdays and Wednesdays, and continuing with his 'Football Focus' duties.
LIKE US ON FACEBOOK | FOLLOW US ON TWITTER