Jeremy Corbyn has insisted he will not be getting rid of his, stylish, grey tracksuit anytime soon.
Appearing on ITV's The Agenda programme on Monday evening, the Labour leader brandished a fake newspaper front page with the headline: "Tracksuits are back".
"This is my shiny grey tracksuits that nobody, but nobody, but nobody, likes. Except me," he said.
Presenter Tom Bradby asked if it was "staying at all costs" in his wardrobe. Nodding, Corbyn replied "the tracksuit's there" before offering to give it to Bradby.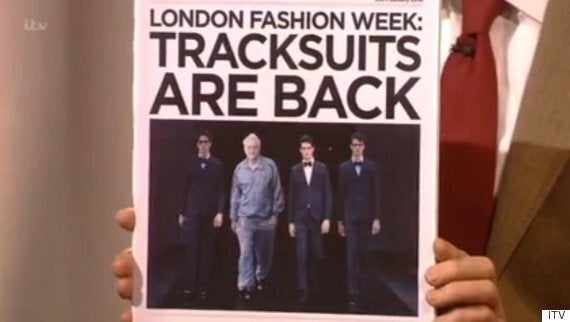 Corbyn's dress sense was heavily scrutinised last week after David Cameron angrily told Corbyn to "put on a proper suit, do up your tie and sing the national anthem" after Labour MPs heckled him about his mother during prime minister's questions.
Afterwards Corbyn appeared to take the jibe in good humour. A video clip of Corbyn getting ready for a TV interview showed the Labour leader laughing as he told the camera crew: "I've got to do the tie up."
Grinning, Corbyn said of the prime minster: "He's actually jealous of the jacket. You know what's really jealous of? That I can go shopping in the greatest shopping centre in the world, Holloway Road N7, and he's stuck with Bond Street."
Appearing alongside Corbyn on The Agenda, comedian Marcus Brigstocke mocked Cameron for his angry response at PMQs having "poured" out of him.
Corbyn laughed as Brigstocke added: "He was properly cross because somebody mentioned his mum. Who presumably he doesn't know very well because he went to boarding school when he was seven."
Questioned about criticism at PMQs on his dress sense, Corbyn told the programme with a smile: "I was obviously deeply hurt."
Commenting on Cameron's comments about what his mother would think of him he said: "I've never had the pleasure of meeting his mother so i have no idea what she would say - my mother gave lots of advice and she said stand up for what you believe in."
Popular in the Community