The organisers of a popular LGBT club night in east London have been accused of being "tasteless" and "Islamophobic" after using cat memes to promote their parties.
Sink The Pink posted a picture of a cat dressed up as a suicide bomber on its Instagram account, with an accompanying caption reading: "Jihad cat is readies… for my virginz!"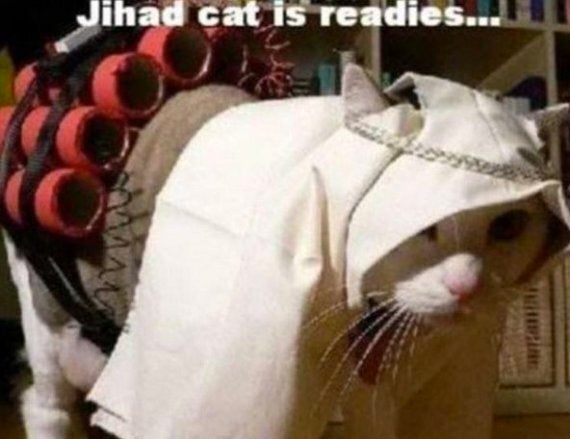 Sink The Pink organisers have been accused of Islamophobia after using this cat picture to promote an event
Another picture showed a kitten wearing a headdress and said: "I iz prophet meowhammad."
Zing Tsjeng wrote beneath one of the pictures on Instagram: "I've been coming to your nights since they were at BGMWC [Bethnal Green Working Men's Club], but this is just tasteless (and not in a fun, cute way).
"Seriously, you're one of the biggest queer nights in London. You can do better than trashy Islamophobic memes."
Another club-goer Martin Chivers, 29, said he has stopped going to Sink The Pink's parties after feeling uncomfortable about its use of "problematic stereotypes".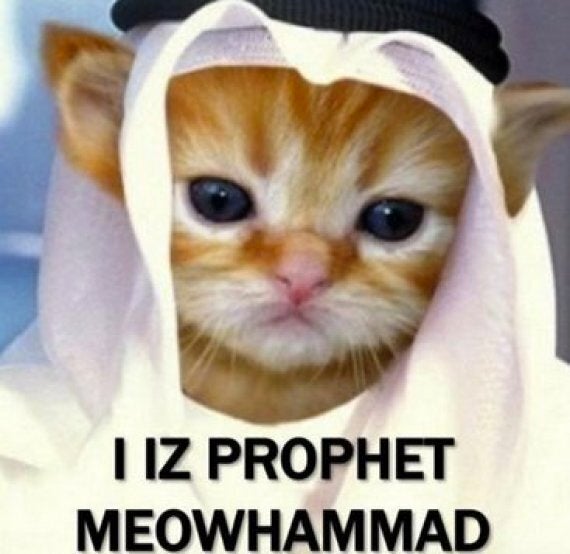 Sink The Pink organisers said they had removed the images, but this one remains on their Instagram account
He told the Evening Standard: "I thought the memes were trying to be deliberately offensive - depicting Mohammed, mocking suicide bombers - by punching down on a marginalised community in the UK.
"Also it erases the fact that there are queer Muslims in this country, and the world, and you want to mock their religion in an offensive and unfunny way for self-promotion, just stop. Be better.
"It also made me roll my eyes."
Another Instagram user described the memes as "tasteless".
The club night has claimed it uploaded the images by mistake and said it was "mortified" by them, but the kitten image is still visible on its Instagram account.
In a statement to the newspaper it said: "We google imaged 'religious cat' and we have no idea how that image got bundled into the ones that made it onto our Instagram.
"We are absolutely mortified that was included and we took the picture down as soon as we realised, because in no way are we Islamophobic or against any religion.
"We apologise to anyone who was offended by this. We're having a tongue in cheek themed event called the Church of Sink The Pink, obviously we believe in equality, peace and love."
Not everyone has accepted the promoters suggestion it uploaded the pictures in error.