A man has been caught on camera seemingly relieving himself into a freezer at a Morrisons supermarket in Stockport.
Mobile phone footage uploaded to YouTube shows the unidentified man, with his trousers undone, leaning into the freezer in Cheadle Heath, as shocked customers watch on in disbelief.
The person filming can be heard saying to his children "he's pissing in the freezer".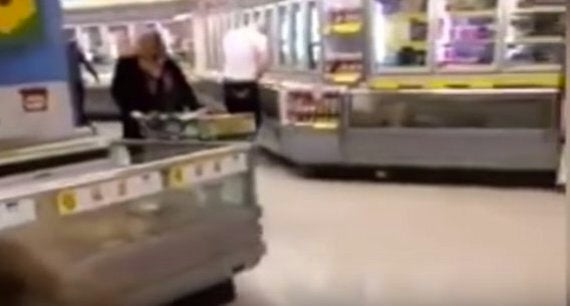 The man appeared to be urinating into a freezer at Morrisons, in footage captured in mobile phone footage
A number of people who were in the store at the time reported seeing the man break wine bottles while wandering around, while others said he had also been caught vomiting in another freezer, the Manchester Evening News reported.
A spokesman for the store said that the freezers had been checked and no urine was found and also refuted claims that the man had vomited into a freezer or broken any products, the newspaper reported.
The spokesman said: "The store team were quick to respond to the incident, the police were called and the individual was escorted from the store by officers.
"We checked the freezer thoroughly and are totally satisfied that the individual did not urinate in it."