A contestant on 'The Chase' has been dubbed the most selfish ever after reducing her teammate's winning pot by £7,000.
Elaine bottled an offer from chaser Mark Labbett aka 'The Beast' to play for a record-breaking £67,000.
The pot was already at £33,000 after a storming but risky round by her teammate Nigel.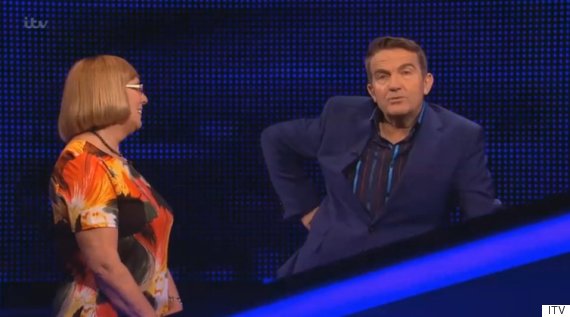 Elaine and host Bradley Walsh
Rather than monopolise on the winning streak, she instead took the safe option of taking a step away from Labbett with an offer of minus £7,000.
-£7,000 !? If she stole that off Nigel in the streets she would go to prison - that's no different to doing it on the Chase. Fuming !

— George Lineker (@GeorgeLineker) February 29, 2016
Her decision drew boos from the audience. Even host Bradley Walsh was disappointed saying: "It's the only time in the show I say I hope you don't romp home."
Elaine then went on to do just that getting only one question wrong.
Viewers were far from impressed.
Makes me so angry when people have the audacity to take the minus offer on the chase, you're an absolute disgrace Elaine you deserve nothing

— Rachael (@_rachaelnoblett) February 29, 2016
Elaine on The Chase. What a greedy coward. #thechase #itv

— Lee (@Nelson_Muntz23) February 29, 2016
People like Elaine is why I hate the chase🙄😡

— Lucy Rae (@lucyarae) February 29, 2016
Unfortunately - or fortunately depending on your sympathies - Elaine and Nigel were caught by The Beast in the last round and went home with nothing.
@ITVChase Shame for him but she got what she deserved.

— ┬©♍ (@TCM51x) February 29, 2016