The Daily Mail's Ephraim Hardcastle column made an interesting use of punctuation in Thursday's edition when mentioning Stephen Fry's husband.
Elliott Spencer was described as the comedian's 'husband'. That's 'husband' in inverted commas: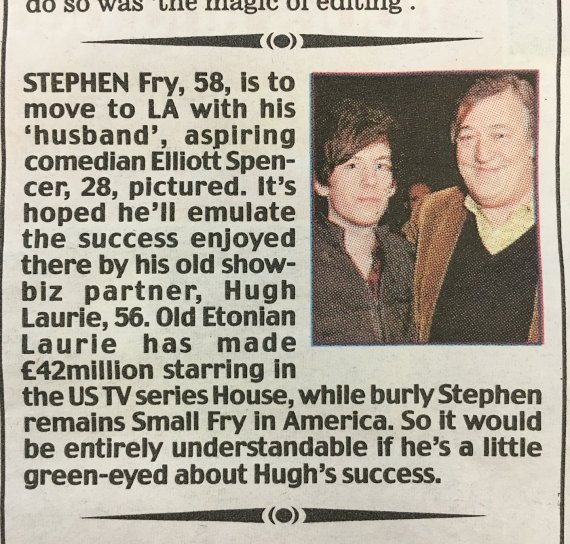 Spencer and Fry married in January 2015 and at the time Fry tweeted: ""It looks as though a certain cat is out of a certain bag. I'm very very happy of course but had hoped for a private wedding. Fat chance!"
But Thursday's Mail column provoked anger among many online...
Why the inverted commas? pic.twitter.com/HXXo1rld23

— Nicky Campbell (@NickyAACampbell) March 3, 2016
According to the 'Ephraim Hardcastle' column in the '@DailyMailUK', Stephen Fry has a 'husband'. Nice pic.twitter.com/riIr5L8iQc

— Danny Boyle (@DannyBoyle87) March 3, 2016
The Daily Mail just described Stephen Fry's husband as his "husband" aaaaand that's decades of progress thrown out the window

— Emma Oulton (@eggplantblog) March 3, 2016
The Daily Mail have managed to insult Stephen Fry, his husband & his career in less than 100 words #journalism https://t.co/rF7tTgQ9Wb

— Sam (@samjevansstuff) March 3, 2016
Or simply, with his husband, Daily Mail. pic.twitter.com/uZdCnEpNQj

— Jonathan Haynes (@JonathanHaynes) March 3, 2016
A number of people decided to make use of inverted commas in a similar way to criticise the Mail...
@NickyAACampbell Because it was written by a 'journalist' - looks like the dinosaurs are not yet extinct.

— Dean Leigh-on-Sea (@deanleigh) March 3, 2016
@NickyAACampbell Daily Mail 'journalism'

— Complexicated Cookie (@Johnboy_Cook) March 3, 2016
@NickyAACampbell Don't argue. It's a 'newspaper', so it tells you the 'truth'

— Russ ★ (@DickGraceless) March 3, 2016
@NickyAACampbell an article written by a 'journalist'

— Matthew Walker (@mashwalker) March 3, 2016
One person opposed to gay marriage tried to intervene in the discussion, claiming it's right to ignore others' marital status because you disagree with their choice of partner.
@NickyAACampbell I would use inverted commas too. Not everyone has to agree with this nonsense y'know.

— Frank Fisher (@frank_fisher) March 3, 2016
@AP_Gooner @NickyAACampbell gay marriage yes. No validity - British people were refused a say on it.

— Frank Fisher (@frank_fisher) March 3, 2016
This is not the first time a Mail columnist has commented on Fry's marriage.
Writing shortly after the couple's nuptials, Tom Utley said that, were he in the position of Spencer's parents, he would be unhappy with the union because of 30-year age gap between the pair, Fry's history of mental health issues and his "twee use of language".
He added: "I'd be disingenuous to pretend I don't also have difficulty in accepting the idea that a man can marry another man, or a woman a woman."