'BBC Breakfast' cameramen may be able to operate some pretty impressive technology, but throw some fog into the works and they hit a stumbling block.
READ MORE:
The camera operators seemingly had no idea how to fix the problem of a misted-up lens as the show broadcast a segment from Chester zoo on Monday (7 March) morning.
The production team didn't seem to mind that viewers were left unable to see what was happening on the show, while presenter Steph McGovern met some of the animals.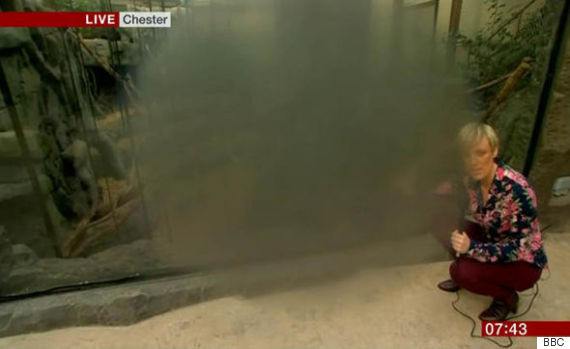 'BBC Breakfast' aired a camera fail on Monday
Steph explained that the camera had experienced trouble "acclimatising" to the conditions, but it didn't occur to any members of the production team that the circle could have just been wiped off with a hankie.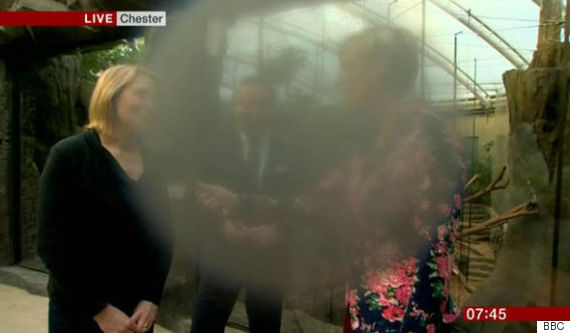 No-one thought to wipe the fog off with a hanky
While it was only on-screen for a few minutes, the mishap left viewers agitated, as they were unable to see what was going on, with many taking to Twitter to blast the coverage of the item.
@BBCBreakfast Take it off. We don't want to look at fog for 10 minutes!! #fail

— Mike Ruddick (@MikeRuddick) March 7, 2016
@BBCBreakfast @stephbreakfast Someone's not been looking after their camera properly! Internal lens fog = Moisture in casing. GEL PACKS YO!!

— Steven Carrie (@steven_carrie) March 7, 2016
@BBCBreakfast ZOO FOG Next time layer of clear clingfilm stretched tight over lens surround ie not touching glass #tropicalisation

— JULIAN BRAY UK (@JULIANBRAY) March 7, 2016
#bbcbreakfast Interesting watching Steph at Chester Zoo but problems with the camera. Try using a hair dryer on the lens.

— peterB (@peterbailey88) March 7, 2016
@BBCBreakfast @stephbreakfast Chester zoo quote "what a great picture" NO ooops! !!! We can't see through the lense #steamedup

— Robert Smith (@robsmithphotos) March 7, 2016
Steph McGovern going under cover at Chester Zoo this morning for the business news. #bbcbreakfast pic.twitter.com/BPntNtkfTB

— Nick Rotherham (@nrothers) March 7, 2016
However, it wasn't the only mishap that happened on Monday's show, as the programme also broadcast a segment on the all-female Yorkshire Rows, and one inadvertently revealed a bit more than intended.
During a clip of the rowing four at sea, the camera panned down and briefly showed one talented oarswoman Helen Butters naked from the waist down.
'BBC Breakfast' airs daily from 6am on BBC One and BBC News.
LIKE US ON FACEBOOK | FOLLOW US ON TWITTER