The remaining few Europeans who still think we're a conservative bunch this side of the Channel would have had to reconsider if they'd tuned into BBC Breakfast just before 7am this morning.
The programme was broadcasting a segment on the all-female Yorkshire Rows, and one inadvertently revealed a bit more than intended.
During a clip of the rowing four at sea, the camera panned down and briefly showed one talented oarswoman Helen Butters naked from the waist down.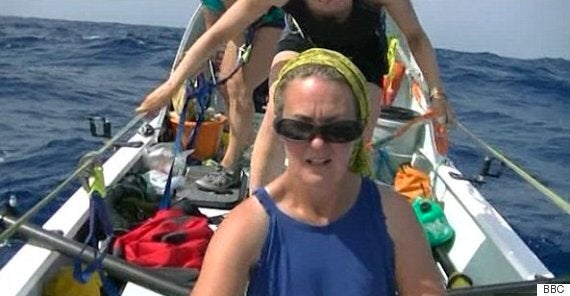 Whoopsie on the high seas
Viewers didn't miss the moment, soon taking to social media to discuss the lack-of-wardrobe malfunction. While many said it was a bit much to see on the TV at breakfast time, several others admitted rewinding the segment "just to check".
Lest the stunning sporting achievements of the Yorkshire Rows be overshadowed by this accidental boating blooper, we should add the ladies form a tireless squad, who have successfully rowed the Atlantic and broken a world record while they were about it.
The Yorkshire Rows set a Guinness World Record as the oldest all-female crew to cross an ocean when they arrived in English Harbour, Antigua, on February 25, 67 days and five hours after leaving La Gomera in the Canary Islands.
They were competing in the 3,000-mile Talisker Whisky Atlantic Challenge.
The crew members told Breakfast hosts Dan Walker and Louise Minchin that being naked was all part of the job, because clothes got soaked and took so long to dry there was no point in covering up
Yorkshire Rows are a team of 4 working mums, united by one dream to cross the finish line in Antigua, bringing glory to Yorkshire by breaking the world record for being the oldest crew (male or female) to row any ocean. As they all have full time jobs and 2 children each, it takes a lot of planning and management to be able to fit in all the training, courses and fund raising! In addition, they also want to raise as much money for their chosen charities at the same time. The team's aim is to inspire others, particularly people who are pulled in so many different directions, and also children (especially our own) that with effort, team work and application anyone can do anything.
They have been raising money for two charities – Yorkshire Air Ambulance and Maggie's Cancer Caring Centre.