A 14-year-old who is campaigning to stop Tesco from selling eggs from caged hens has rallied more than 88,000 people to support the cause, yet the supermarket giant has failed to change their policy.
Lucy Gavaghan, from Sheffield, started a Change.org petition after writing letters to stores was not successful.
"I thought that a petition may be able to create the impact needed to make a company like Tesco change their ways," she told HuffPost UK. "I think that animal welfare and commercial treatment is a really important issue and I know that many others share this view."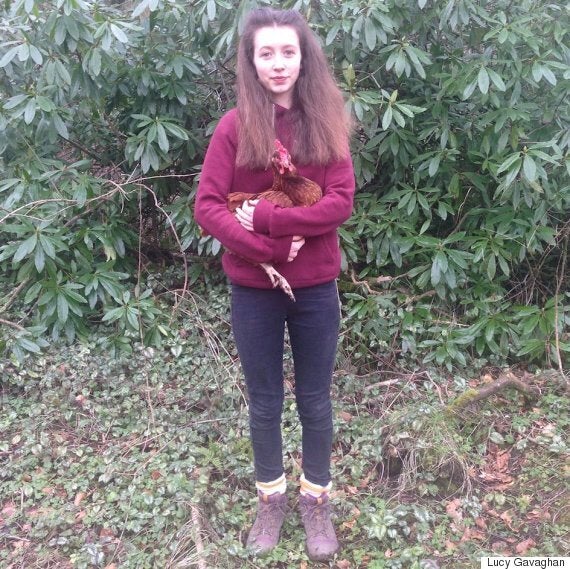 Gavaghan is the proud owner of five hens, two of which used to live in commercial barns, and one which was rescued from a colony cage - also known as "enriched cages".
Enriched cages are only around 50cm² bigger per hen - equivalent to the size of a beer mat.

Gavaghan says the response she has seen from Tesco - who said in 2013 it was "committed to high animal welfare standards" and clarified it supported "British egg producers, all of whom have invested large amounts of capital to ensure they conform to new EU legislation on higher welfare 'enriched' cages" - is inadequate.
"The response they have given doesn't go very far as to justifying the problems of caged and barn farming," she says. "I think that eventually the only form of egg farming in the U.K. should be free range and organic. It offers increased welfare standards and gives the hens much more freedom than either caged and barn farming. Free range is definitely the way forward."
Eventually, Gavaghan hopes to end caged and barn farming in all supermarkets in the UK.
"The petition to Tescos is a first step to achieving higher welfare standards for all hens."
She adds: "I have been amazed at the amount of support the petition has had, and the amount of signatures it has gathered in the short time it has been online. I'm so grateful to everyone who has signed and shared."
A Tesco spokesperson told HuffPost UK: "We are committed to high animal welfare standards and all of our egg producers must be fully compliant with the Red Tractor assurance scheme, as well as meet additional Tesco welfare standards. Eggs from caged hens are clearly labelled as such, so that shoppers can make an informed decision about what to buy."