Kay Burley gave a lesson in how to handle offensive interviewees today after a man told her she was "pathetic", more than once, live on air.
Buchanan, who has written books including 'Feminism: The Ugly Truth', spent much of the interview trying to interrupt Garrett, as well as claiming that having women in boardrooms is linked to a decline in companies' financial performance.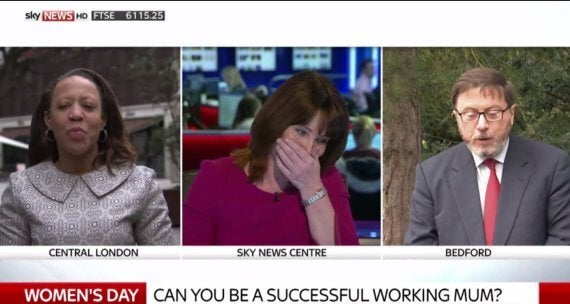 But it was when Burley gave her own story that Buchanan really lowered the tone.
After he blurted out "so this is all about you?", Burley clarified: "I'm just responding to your point about working mums and kids not doing as well."
But Buchanan simply told her: "It is pathetic just to hurl in personal anecdotes as if they mean anything."
He also continued to insult her when responding to Burley's remark that he seemed to only accept surveys as valid if they supported his point.
An incensed Buchanan answered: "I'm sorry but you're being pathetic."
But where others would have lost their temper, Burley simply responded "oo!" and asked Garrett for her view.
Other choice quotes from Buchanan included his claims that feminism is a "female supremacy movement", interrupting by saying "oh my God, you're killing me" and advising the two women to "get real" when Burley suggested that a survey from 2000 may be out of date.
Barely unable to contain her mirth, Burley could be seen giggling at Buchanan's outrageous claims.
She went on warn him: "Seriously Mike, you're not doing yourself any favours here, you're just being disparaging about women."
Burley also responded to a number of people on Twitter who didn't like her discussing her personal experience:
In it she said: "My advice - accept you won't always get it right, but do the best you can and certainly don't be bowed by those who want to beat you with the guilt stick. Especially late night talk show hosts. Instead, ask yourself while they're working who is looking after their kids???"
You can read the full blog here.
Popular in the Community