As a teenager, fashion-mad Phoebe Gormley spent her summers shadowing world-famous tailors in Savile Row and Jermyn Street. When she started asking around about where to find made-to-measure womenswear, however, she was informed none of the tailors liked making clothes for women as they were "too hard to please".
So Gormley submitted a business plan to her parents, proposing to quit university, and put her final year's tuition fees towards starting her own ladies-only tailors.
"That was on the Friday," she recalls. "By Monday I was down in London working in an incubator in the City and bringing Gormley & Gamble to life."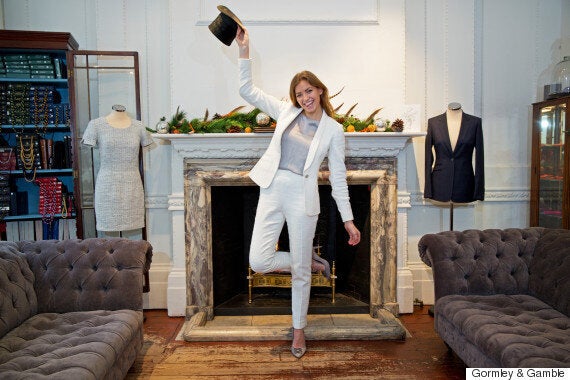 Phoebe Gormley in her Savile Row store
The "Gamble" half of the name comes fittingly from Gormley's own gamble. She was enrolled in a costume design course at Nottingham Trent University, but ditched her education in pursuit of her dream.
The 22-year-old is now firmly established in Savile Row, at "lucky number 13", and her first sale was in October 2014, to the CEO of Virgin Money Jayne-Anna Gadhia.
"Things have been snowballing ever since," she tells The Huffington Post UK.
Her business, which she and her five staff fondly refer to as "G&G", is based around empowering women.
"There's power in knowing something has been made specifically for you; your body, your lifestyle and your aspirations. I guess through G&G I'm trying to make that feeling accessible to all women. In short – I want my customers to feel like they can take on the world.
"Even when I was 14, wearing pieces I'd hand-sewn - badly - from scraps from my dad's old tuxedo I would feel like a boss in tailored outfit."
But launching G&G wasn't without its hurdles. When Suffolk-born Gormley first started out, the manufacturer she'd based her business plan around pulled out at the last minute.
"They thought I was too 'green' because of my age and sex. As you can imagine, this was a pretty big blow.
"Since then, however, I can only really say that my sex has been an advantage. Other women have been so supportive, and I've established an incredible network of mentors and friends. Being female-led company in such a male-dominated industry does also make G&G stand out, which is so important for a small business," Gormley explains.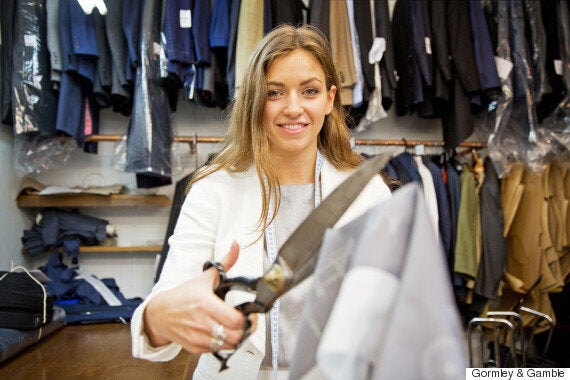 Gormley started interning on Savile Row when she was 15
"Most clients are just surprised no-one has done it before," she continues. "Women have such varied body shapes it is amazing that we are all expected to fit into the same off-the-peg sizes.
"I'm always overwhelmed by the level of interest customers show in the business – several of my clients now sit on my board of advisors and are integral parts of the company.
"I'm lucky enough to dress women from a wide range of backgrounds and careers, and they've all helped shape Gormley & Gamble in some way – whether its offering a small tip on growing the business, making a key introduction, or hosting a private shopping evening at their houses."
Last year, Gormley was named "young star" at the Women of the Future awards, which she says was "incredibly humbling". But she says the favourite moment of her business so far is "the moment the customer tries their piece on for the first time".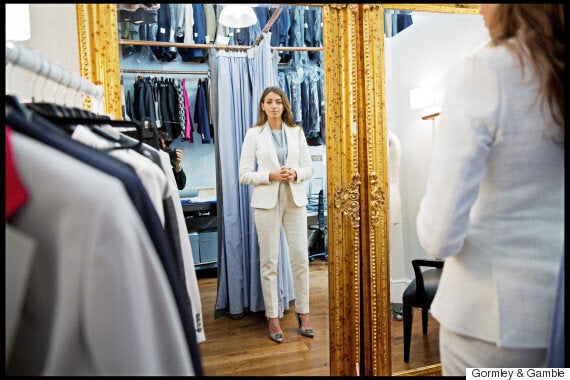 Gormley in her lucky number 13 store
"I always say this, but it really is true. When it fits like a glove.. it never ceases to be a favourite moment.
"It's a great reminder of why I started the company – as a founder you can get so bogged down in bills, finances and business plans, the look of sheer joy on a customer's face makes it all worthwhile."
And, as for advice for other young women wishing to start their own business, Gormley says don't be afraid to ask for help.
"I definitely felt like I was in it alone when I first started out, but as soon as I reached out for support and advice I was amazed by how many people were there and wanted to support," she says. "However, I would also say if you do go to someone – a parent, friend or mentor - for help, don't waste their time. Go with proper questions, and potential solutions for them to help you work through.
"Oh," she adds, "and always say thank you!"