A daily Scottish newspaper has had a one-day revamp for International Women's Day 2016 that is dividing opinion.
The Scotsman says it has been "symbolically re-branded" and has changed its name to The Scotswoman for 24 hours.
The name change is being supported by a female-focused mix of articles, chosen by its women members of staff, which the publication says "celebrates as well as analyses the social, economic, cultural and political achievement of women."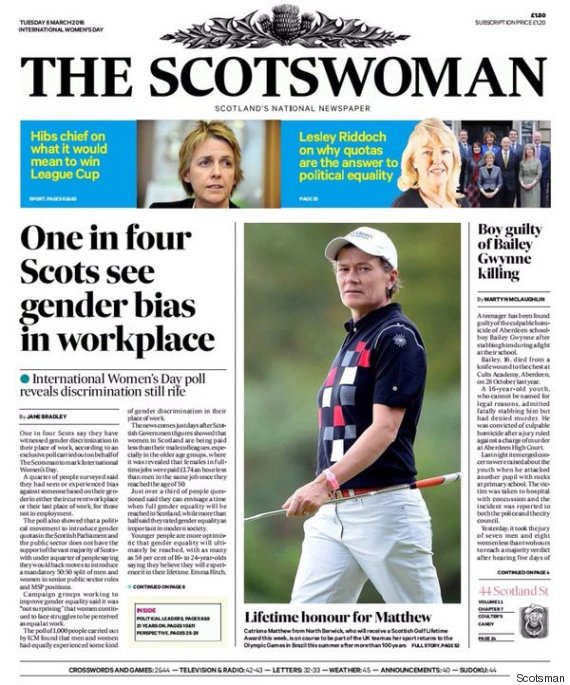 The Scotsman's front page
The paper, which includes a contribution from Scottish First Minister Nicola Sturgeon, highlights that women in Scotland are still paid less than their male colleagues.
The publication last used the 'Scotswoman' name for one day in 1995, when it interviewed women who were born when that first 'edition' launched.
Female golfer Catriona Matthew was on the front page and said she was "honoured" to be featured:
Very honoured to be on the front cover @TheScotsman on #InternationalWomensDay @ScottishGolf

— Catriona matthew (@Beany25) March 8, 2016
Many praised the gesture:
Great to see @TheScotsman celebrating #InternationalWomensDay in style - #TheScotswoman has quite a ring to it! pic.twitter.com/Aq5ZtYYE72

— OLearyPR (@OLearyPR) March 8, 2016
Celebrating International Women's Day with The Scotswoman @TheScotsman pic.twitter.com/KUQpWk9Qes

— Jan Howarth (@JanHowarth) March 8, 2016
Love this! Happy #InternationalWomensDay #Scotswoman @TheScotsman @SheSaysScotland @Investing_Women #agconf16 pic.twitter.com/L9TY27Jm1b

— Jane Strachan (@janestrachan) March 8, 2016
Thanks to @TheScotsman for today's issue - #laners ladies proudly carrying theirs as they come in this morning. https://t.co/L1qUYxbwls

— Ali Findlay (@aliatthelane) March 8, 2016
Excited to get a copy of the @TheScotsman today! #InternationalWomensDay #equality pic.twitter.com/3IIPdziFpp

— Allison Macmillan (@Allisonjoyce27) March 8, 2016
Well done to @TheScotsman #Scotswoman. Buy a copy and support a great idea #InternationalWomensDay pic.twitter.com/LuevslUIKO

— Stephen Jardine (@StephenJardine) March 8, 2016
Others were less keen:
Patronising much? The Scotsman newspaper renamed 'The Scotswoman' for #InternationalWomensDay pic.twitter.com/19UfNw6aYB

— Graeme McQueen (@GraemeMcQ) March 8, 2016
Right, I'm going to be unpopular here (for a change) and say I think rebranding The Scotsman to The Scotswoman is quite patronising #IWD2016

— Captain Haggerty (@AngelaHaggerty) March 8, 2016
And some commenters said the stunt had just reminded them that the paper is called Scotsman for the other 364 days of the year:
@brianjaffa @TheScotsman I think it's well intended but it made me think about how it's called the Scotsman every other day it's published.

— Mhairi Hunter (@MhairiHunter) March 8, 2016
The newspaper also carries an exclusive poll which looks at opinions to gender equality, finding that one in four Scots experience gender bias in the workplace.
Scotsman deputy editor Donald Walker said: "Gender equality remains an issue in almost every workplace in Scotland, and The Scotswoman aims to highlight the objectives of International Women's Day and raise awareness of where Scotland stands on this issue and where we could or should be. It is an opportunity to focus minds on a matter our political parties attach great importance to, yet one where evidence suggests progress remains slow, or indeed has stalled."