A daily Scottish newspaper has had a one-day revamp for International Women's Day 2016 that is dividing opinion.
The Scotsman says it has been "symbolically re-branded" and has changed its name to The Scotswoman for 24 hours.
The name change is being supported by a female-focused mix of articles, chosen by its women members of staff, which the publication says "celebrates as well as analyses the social, economic, cultural and political achievement of women."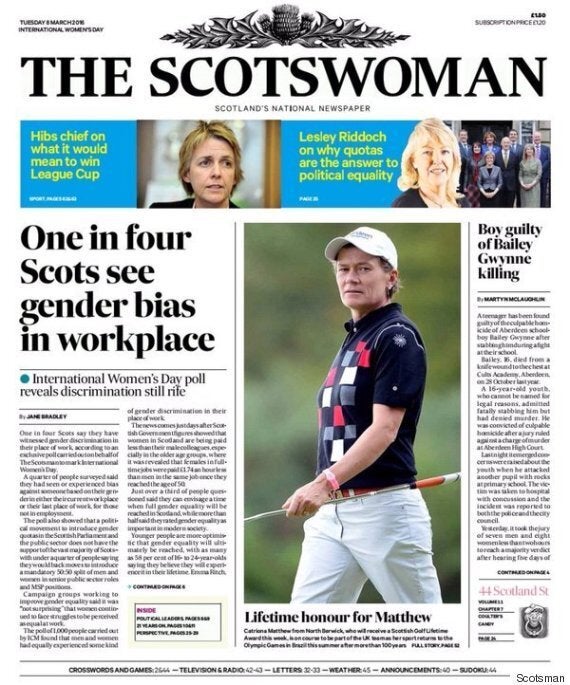 The Scotsman's front page
The paper, which includes a contribution from Scottish First Minister Nicola Sturgeon, highlights that women in Scotland are still paid less than their male colleagues.
The publication last used the 'Scotswoman' name for one day in 1995, when it interviewed women who were born when that first 'edition' launched.
Female golfer Catriona Matthew was on the front page and said she was "honoured" to be featured:
Many praised the gesture:
And some commenters said the stunt had just reminded them that the paper is called Scotsman for the other 364 days of the year:
Scotsman deputy editor Donald Walker said: "Gender equality remains an issue in almost every workplace in Scotland, and The Scotswoman aims to highlight the objectives of International Women's Day and raise awareness of where Scotland stands on this issue and where we could or should be. It is an opportunity to focus minds on a matter our political parties attach great importance to, yet one where evidence suggests progress remains slow, or indeed has stalled."
Related