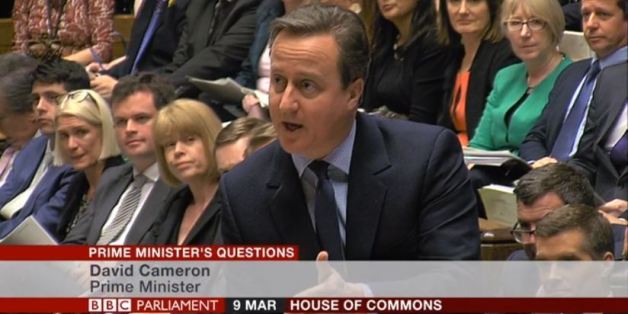 BBC Parliament
Another week, another mid-week dose of Prime Minister's Questions. As usual, it was a ridiculous farce full of school playground-style jeering and childish shouting.
So, here's a round-up of everything that happened without all that annoying rubbish.
A planted question from the Tories led to David Cameron slamming Labour for accepting an alleged 9/11 apologist:
Cameron already using planted questions to undermine Labour #pmqs

— PamCrossland (@PamCrossland) March 9, 2016
A very serious point which Jeremy Corbyn completely ignored:
Corbyn politically wise not to comment on 9/11 apologist. Labour should quietly expel him this afternoon. #PMQs

— George Eaton (@georgeeaton) March 9, 2016
So Cameron ignored Corbyn:
Cameron ignores Corbyn's question on cuts to disabled benefits, and calls it a "reform" to welfare #PMQs

— Political Scrapbook (@PSbook) March 9, 2016
Then Corbyn ignored Cameron and went on to benefit reductions:
"It isn't fair that someone struck down by cancer…bein made unfit to work the following year being reduced to poverty!" -@jeremycorbyn#PMQs

— Vivid Ricky (@VividRicky) March 9, 2016
Which got the usual spiel:
Since when was 'reforming welfare' straight code for cutting disability benefits? #PMQs#ESAcuts

— Phil Pocknee (@PhilPocknee) March 9, 2016
Then it was time for Corbyn's 100th question to the PM:
Corbyn asks his 100th question at #pmqs. Cameron congratulates him for reaching his century not out. Cricket bantz

— Graeme Demianyk (@GraemeDemianyk) March 9, 2016
And there was another milestone, too:
Jeremy Corbyn asks his first ever question on the economy at #PMQs

— norman smith (@BBCNormanS) March 9, 2016
George Osbourne apparently has "an excellent record on steering the economy" #PMQspic.twitter.com/bKHpIyBK20

— Danny Embargo (@dannyembargo) March 9, 2016
Despite stating his dissatisfaction with the previous 99 questions, Corbyn failed to follow up on any of Dave's pre-prepared codswallop:
Corbyn's approach of rarely following up prevents him from doing any damage to Cameron, he gets away with giving a standard answer #pmqs

— Jack Carnell (@jackcarnell) March 9, 2016
And, for some reason, ignored the Junior Doctors' Strike AGAIN, despite it being an open goal.
TALK ABOUT THE GODDAMN STRIKE JEREMY

— Marie Le Conte (@youngvulgarian) March 9, 2016
#PMQs@jeremycorbyn all over the place again: random questions, little agility, gloomy faces on opposition benches

— Gavin Houlgate (@GavinHoulgate) March 9, 2016
Angus Robertson hit the nail on the head for once, asking the PM if he is proud of our asylum system which is allegedly frought with atrocities:
SNP asks about asylum seeking children left to sleep on concrete and a naked women beaten he says he will look at it #pmqs

— michelle maher (@mmaher70) March 9, 2016
The PM was outright asked if he would resign if the UK voted to leave the European Union:
PM asked will he resign if loses #EUreferendum he replied "NO". #pmqs

— Ahmed J Versi (@ahmedversi) March 9, 2016
And then it was all just people fluffing up their own constituencies.