The campaigners who claimed victory after the Sun newspaper dropped its Page 3 topless models are back.
No More Page 3, which called for an end to the daily picture of a bare-breasted woman in Britain's biggest newspaper, had been quiet for nearly a year after the Sun stopped publishing the semi-nude shots in January 2015.
But the team has now returned with a website called Sexist News, that will round-up the most 'sexist' media coverage in UK newspapers each week.
It warns that the first installment - which takes aim at The Daily Express, The Daily Mail, The Mirror and Sun - contains "high levels of disdain" for editors and "some swearing."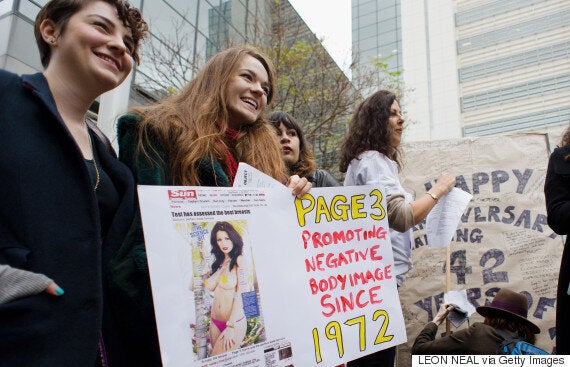 No More Page 3 campaigned for two and a half years
It plans to continue "asking for equal representation in our news media by relentlessly drawing attention to the sublime, the ridiculous and the sometimes downright dangerous."
Its first post is a roundup of highlights from 2014-2015 from the blog My Tights Won't Stay Up, which is run by members of the No More Page 3 team and inspired the new Sexist News website.
The blog highlights a piece in the Daily Mirror titled 'Watch Khloe Kardashian stretch out in skimpy black swimsuit for workout' and asks readers to "have a good think about exactly when and how your soul died".
The Daily Star is slammed for championing a Playboy model giving her boyfriend a threesome for his birthday, while The Sun comes in for criticism for announcing being a woman over 50 "doesn't mean you can't wear something sexy".
David Cameron is told to "nob off" for comments about his wife in a bikini, and Daily Mail editor Paul Dacre is given a six-step guide to place a toilet brush into a very rude place.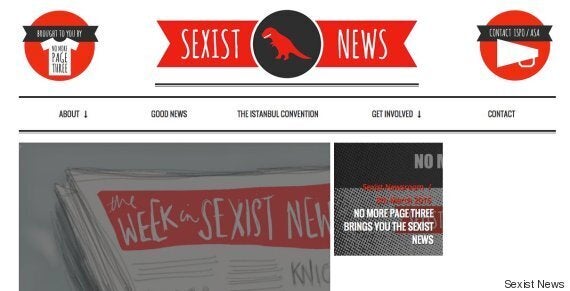 Sexist News is a new website from the group
"After almost two and a half years of flat out campaigning, we were obviously over the moon, but also, as it turned out, we were really quite worn out," the campaigners write in an update on the original No More Page 3 petition. "So we took a long break… well… we sort of took a break."
"Page 3 may be gone but the sexism in our press goes on and on and on and on... Women are presented still as stereotypes and sexual entertainment, from "nip slips" to "boob offs", 50% of the population are ridiculed, belittled and largely ignored. Our achievements in politics, business, sport, art and well… all the other amazing stuff we do, reduced to a foot note and a titillating image among multiple images and coverage of active and achieving men.
"In short, there is still a lot to do and that our lovely friends, is where we all come in."
No More Page 3 founder Lucy Anne-Holmes is named as one of the team behind Sexist News, but will be taking a smaller role in the group's projects going forward.
She told The Huffington Post UK last year that the campaign to remove the topless models form Page 3 would have gone on indefinitely until it was successful. She admitted it would have been "totally, totally exhausting. So we wouldn't have stopped it but we would have got more organised".