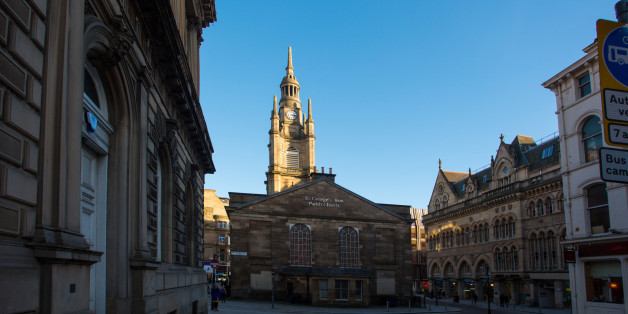 Karl Blackwell via Getty Images
Glasgow University tricked students this April Fools' Day when it told students it was erecting a helter-skelter on campus.
Herald Scotland and the University of Glasgow teamed up to fool students and residents, with an article published on the Herald's website today.
They even produced a video to announce the unveiling of the university tower as the helter-skelter, which has been covered in scaffolding for eight months.
"Students say that studying at the University of Glasgow is like studying at Hogwarts. Well now it's going to be like studying at Hogwarts, but with a twist," said Professor Frank Coton, the university's vice-principal for academic and educational innovation, in the video.
He told the Herald: "They said it couldn't be done. Then they said it shouldn't be done. But we did it anyway and we're thrilled to be the first university in the world to fuse education and entertainment in such an exciting way."
BREAKING NEWS:UofG Tower Helter Skelter-Find out more about our best kept secret https://t.co/KRynu3UEN2#UofGTowerpic.twitter.com/s4B6XrouLa

— Uni of Glasgow (@UofGlasgow) April 1, 2016
The Herald reported that the "notoriously reclusive Phil Tsarina Folios" designed the helter-skelter in the tower, which was originally built in 1870.
"Look out later this year and early next for amazing developments at Macchu Picchu, the Colosseum, and Stonehenge," he told the paper.
Readers quickly realised that the story was an April Fools' joke, but were impressed with the effort the university went to.
Have to applaud my uni for putting so much effort into their April Fools joke👏🏼😂

— Katakiarimoto (@alisonsingsalot) April 1, 2016
Glasgow uni went all out for that April fools tbf

— han (@hannahgwest) April 1, 2016
The amount of effort Glasgow Uni have gone to for this April Fool's hahaha

— hannah (@shooottherunner) April 1, 2016
The helter-skelter would consist of "nearly half a kilometre of tightly twisting slide", whilst sliding down it could leave you "reaching speeds of up to 25pmh", according to the Herald. Such level of detail about the proposed ride left some disappointed.
glasgow uni's april fools' got me a belter but genuinely torn between how impressed I am and how devastated/betrayed I feel it's not real

— Lenaïg_______ (@eilzyyy) April 1, 2016
However, one Twitter user had a crueler idea for April Fools'.
@UofGlasgow would have been funnier if you'd have written to all unconditional offer students saying there had been an administrative error.

— David (@Kowalskiy) April 1, 2016