The five things you need to know on Tuesday April 12, 2016…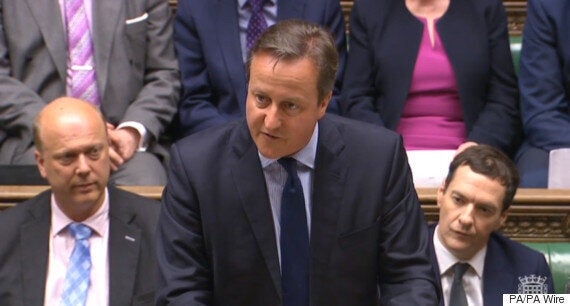 David Cameron got through his Commons statement yesterday relatively unscathed. In fact, the PM did what he's good at: making a robust case, admitting his own errors, using the theatrics of the chamber (and loyalty of his MPs) to his advantage, pressing on Labour's bruise on aspiration, 'family' finances and wealth-creation.
Jeremy Corbyn's smartest move was quoting ex shadow chief whip David Maclean, suggesting that the Government's crackdown on tax havens was not all it appeared. Sir Alan Duncan's class warfare yesterday did the Tories few favours. There are still questions about the £72k in shares the PM sold soon after becoming PM. And there are still questions about George Osborne's own tax statement issued yesterday.
The Mirror is focusing on the fact that Osborne's £200k income means he personally benefitted by £2,500 from his decision to slash the top rate of tax in 2012. But the Chancellor only released his figures for the past year and not previous years so it's difficult to check if he was telling the whole truth when he said on the Today prog in 2012 'I'm not a winner from this Budget'. (Yvette Cooper tweeted furiously about this late last night).
It may well be that without any dividends from his family wallpaper firm Osborne & Little, and with a smaller rental income from his home that year, Osborne did indeed not earn more than the £150k needed to trigger the tax cut benefit. But the Treasury could clear up the whole matter if it released his tax returns for 2012.
With the rest of the Cabinet making clear to the MP yesterday that they didn't want to be roped into the tax transparency era, perhaps that's why the Chancellor stuck to just one year's return. William Hague spoke for many of his ex-colleagues when he told Today the transparency had gone far enough. But as the PM set the standard with six years of returns, it seems strange to apply a one-year rule only to the PM.
The Sun meanwhile has spotted a discrepancy in the Corbyn tax return, with £450 in 'lecture' income on his register of interests not included in his tax statement. His office says it's sure 'there is a simple reason' why his three speeches were not included in the 2014/15 tax year.
Ever since he ran for Tory leader, it's been clear the public don't really care that much about David Cameron's personal wealth. It certainly didn't stop them voting Tory in 2015. But the big picture here is not his wealth but what he and Osborne do to help others who are wealthy. And in her Times column today Rachel Sylvester puts her finger on the precise problem. She cites David Laws' book detailing conversations on Lib Dem attempts to tackle corporate fraud. When asked how the Tories could oppose such plans, Cameron said "Not popular with business," but Mr Osborne said, with a smile: "Not popular with our supporters."
And Rachel then cites a senior serving minister: "It doesn't matter whether or not you are rich provided you are conscious of the need to deal with the perception that the Tories are the party of the rich. You can only do that if you truly believe in your heart of hearts that we need to change. Why has the burden of deficit reduction fallen so heavily on working age welfare? There is a point where you run out of excuses." Ouch.
Stephen Crabb has his first big speech as Work and Pensions Secretary today and the PM is determined to get back on to his 'help the poor' agenda with a big speech later this month. But that IDS charge that we are 'not all in this together' still looms large.
Whenever David Miliband comes over to the UK, hacks roll their eyes because he steadfastly refuses to discuss domestic politics. Today is different, well kinda, as he makes a Big Speech warning that "Brexit would be an act of arson on the international order". That phrase - as well has his line that Brexit would be 'unilateral political disarmament' - was catchy enough to get him some headlines and some airtime this morning.
On the Today prog, he sidestepped questions about his family's inheritance tax. But he also said it could 'only be a good thing' if Corbyn made an unequivocal case for the EU in his speech this Thursday. His claim that the UK already controls its borders is sure to be ridiculed by Brexiteers who point to EU freedom of movement.
Lots of Tory MPs are still very upset at the £9m pro-EU leaflets. Liam Fox dubbed it a 'dodgy dossier' but it was Nigel Evans who shocked David Lidington most yesterday in the Commons, describing the leaflet as a 'sort of spiv Robert Mugabe antics'. The Eastern Daily Press has a nice tale that a pro-Brexit photographer is upset at the leaflet for using his snap of Felixstowe docks without his permission. The port has made a donation to charity to settle the issue.
The Sun reports that the Cabinet Office 'referendum unit' has been expanded to 24 staff, including 'the brightest and best' of civil servants. Ex Israel ambassador Matthew Gould is leading it. Interesting…
Angela Eagle leads a three hour emergency Commons debate on the steel industry today, and Anna Soubry appears before the Welsh Affairs Committee at 3.40pm. But perhaps the most counter-intuitive headline around today is the FT's that Port Talbot could be 'part-nationalised'…by a Tory government.
Sajid Javid's statement yesterday made clear the state could 'co-invest' with another buyer on commercial terms. The ghost of Peter Mandelson clearly still haunts Victoria Street, despite Javid's image as a hard-nosed, small-state businessman. Some fellow Tories worry that he's overreaching himself to make up for having been in Australia during the crisis, but others see it as smart politics, outflanking Labour.
But perhaps the real agenda is to show that EU rules cannot be blamed for shutting the steelworks. The sight of thousands of workers 'sacked by Brussels' would be a PR gift too far for the Brexiteers.
BECAUSE YOU'VE READ THIS FAR…
Lest we forget, one of the biggest political prizes to be won before the June EU referendum is the London mayoralty. The job carries a huge personal mandate and an annual budget of about £3bn, as well as a bully pulpit and rival power base to the sitting Government. After months of skirmishing (and a relative lack of interest given the absence of 'big names' like Ken and Boris), the fight between Sadiq Khan and Zac Goldsmith is hotting up.
It's Zac's manifesto launch today. Yesterday, Khan let slip his exasperation at Goldsmith's focus on his religion, as he tweeted that "Hey ZacGoldsmith, there's no need to keep pointing at me and shouting 'he's a Muslim'. I put it on my own leaflets".
In an interview with HuffPost today, Khan warns that it is Goldsmith who is being 'divisive' (the same charge used against Khan) with leaflets telling Hindus he was going to "nick your gold". He says Zac is a 'nice guy' but is being forced by CCHQ into a 'desperate' campaign.
Meanwhile, Transport Secretary Patrick McLoughlin has told City AM Labour's transport proposals do not add up to a "credible plan". Still, on transport, perhaps it will be *that* BBC interview gaffe that ends up doing Zac more harm than anything else: if the public think you don't even use the Tube, will they vote for you as Mayor?
The FT has a story that won't delight No.10. It quotes the outgoing Commissioner for Public Appointments claiming that new plans to give ministers more say over public sector roles risks "a return to the days of political and personal patronage".
Sir David Normington also suggests that the Prime Minster, and other members of the government, had stepped in about once a month to ask why party followers such as former MPs and donors had not been recommended for certain positions. Normington, don't forget, was once known as the 'smiling assassin' for his job cuts, and has years of bruising encounters with ministers from John Reid to Francis Maude.
Normington's parting shot is timed for the Public Administration Select Committee hearing today, when his successor Peter Riddell (ex FT and Times) and businessman Sir Gerry Grimstone give evidence on the latter's plans to give ministers more say over appointments to the court of the Bank of England and regulators like Ofcom.
Under the long years of Labour rule, the party tried to counterbalance what it saw as 'Tory quangos'. In turn, the Conservatives attacked 'Labour quango queens and kings'. Will any side end the cycle of political violence?
If you're reading this on the web, sign-up HERE to get the WaughZone delivered to your inbox.
Got something you want to share? Please send any stories/tips/quotes/pix/plugs/gossip to Paul Waugh (paul.waugh@huffingtonpost.com), Ned Simons (ned.simons@huffingtonpost.com), Graeme Demianyk (graeme.demianyk@huffingtonpost.com) and Owen Bennett (owen.bennett@huffingtonpost.com)