The five things you need to know on Tuesday April 19, 2016…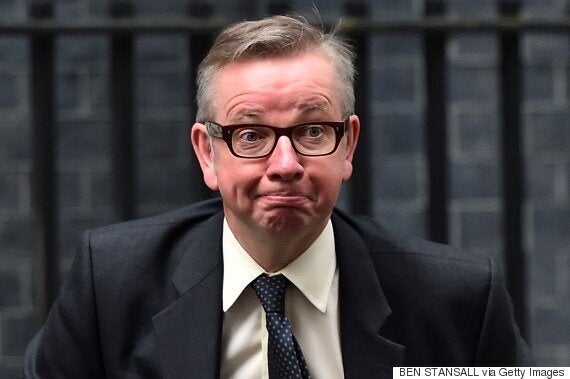 After the Treasury stat attack on Brexit yesterday, it's the turn of Michael Gove to hit back with his own Big Speech. Not that he'll be using his own statistics all that much, despite the goading of George Osborne (the Leave camp don't want to repeat the mistake of the SNP's independence White Paper that detailed just how much the oil bonanza would boost the nation).
Instead, Gove will try a judo move, where you use your opponent's weight against them, saying that the sheer avalanche of Project Fear stories is like treating voters like children with a nightly story about the bogeyman. It's almost as if the Justice Secretary is saying 'keep on using the bogeyman because it proves you're worried'.
And some in the In camp certainly are worried. The first jitters appeared over the last few days, with the big fear of low turnout and fears of a migrant crisis looming among some Remain ministers and MPs. The polls look a bit better today (ORB has a wider 9 point gap for Remain), but Lynton Crosby writes in the Telegraph that Leave can swing it: if it mobilises the 11% who think the UK's immigration system would benefit from Brexit, but who are not yet backing the Leave camp.
And on immigration, lots of papers give Osborne a kicking over the buried bit of his report admitting he will rely on missing his migration target to get growth. The Sun lays into "Osborne's Crystal Balls". The Mirror tries to square the In camp circle saying George Osborne's figures "are iffy, as is the norm with this tricky chancellor, but there is no doubt that Britain would be a poorer country if we left Europe"
The continuing problem of having a split Leave campaign emerged again yesterday, as Arron Banks suggested families losing £4,300 was a small price to pay. Brexiteer Allison Pearson made the same mistake last night on ITV's The Agenda, saying the figure was more likely only £1,000. Osborne took her down mercilessly, saying that was still a lot of dosh for many families.
On the Today prog, Gove was given an uninterrupted few minutes in the prime 8.10am slot. 'That was a party election broadcast from Michael Gove' Nick Robinson joked at the end. But that's exactly what it sounded like. I wonder if Osborne was offered a similar uninterrupted essay yesterday?
For Labour voters - and many floating voters - both Gove and Osborne are among the most loathed members of the Government and it's unclear how much either of them can make the impact that's needed for their respective causes among the key 'undecideds'. When it comes to 'Bogeymen', you don't get many more politicians with greater negative ratings than the pair of them. Who knows, Beefy Botham and Boris versus Alan Johnson and Martin Lewis may be the real contest.
Mary Creagh, whose Environmental Audit Committee today explains why Brexit would be bad for the environment, has blogged for HuffPost.
The White House can relax: Jeremy Corbyn wants to meet the Prez in London this weekend. "He is keen to meet Obama," said a Labour spokesman, adding the party was working to make it happen and that Jez was an admirer of Obamacare. The Times is defending its story yesterday, insisting it still hasn't been sorted.
As for that other famous American import, Corbyn stood firm last night as MPs confronted him over the plan to ban McDonald's from party conference. In a sign of how much he is now more prepared to face down his PLP critics, the Labour leader said it was right to make a stand for union rights. The PLP was quietish, with just a couple of references to anti-semitism. Corbyn also warned MPs against 'making predictions' in the local elections, which was probably an attempt to stop the Shadow Shadow Cabinet from talking about all those 400 gains he should be making.
It turns out Mrs Obama will join her husband for the birthday lunch with the Queen and the Duke this Friday (now that's what I call a Quad). Not that IDS is enamoured of the President's decision to intervene in the EU referendum. Speaking in Washington yesterday, he tells the Telegraph Cameron had begged Obama "on bended knee" to help "bully the British people". Strong stuff (which kinda confirms IDS ain't expecting a Cabinet recall when this is all over).
It's primary day in New York state. Donald Trump is expected to win. But overnight he's had a brain fade and instead of saying 9/11 said '7/11'. (watch THIS). Maybe late-night shopping was on his mind.
Barack Obama wants Europeans to do more in Libya to stem the chaos (which is kinda ironic given he had to be convinced by Cameron and Sarkozy to topple Gaddafi). Philip Hammond's surprise appearance in the country yesterday focused on stemming migrant flows but it also fuelled the already heightened rumours that the UK is set to deploy troops in some form.
But those suspicious of what's going on were even more struck by the way Michael Fallon yesterday told MPs that he was not going ahead with William Hague's 2011 pledge "to enshrine in law the necessity of consulting parliament on military action". The Defence Sec dumped the promise because it would "constrain the operational flexibility of the armed forces". He also insisted a convention to consult MPs on military action did not cover UK personnel embedded with the "armed forces of other nations".
No10 insisted at lobby that "It would be wrong to make any connection". But the Telegraph rightly smells a rat and splashes the story that troops could now be sent to Libya without a Commons vote. The Times has a Government source saying the PM wants to stop MPs from "testing the limits" and expanding a convention that parliament votes for major military action. The changing nature of warfare has made it harder to codify.
It's not just special forces, it's embedded troops and others grey areas the MoD and No10 are worried about. But as Chilcot looms (in theory it could be published from this week, though civil servants may be nervous of purdah), it's a reminder that the legacy of Iraq hasn't gone away.
BECAUSE YOU'VE READ THIS FAR…
Watch Labour's MSP candidate Ken Macintosh singing Return of the Mac in his new carpool Karaoke video. It's a fun way to encourage voter registration, but the SNP may point out there'll be no return of this Mac to Eastwood: he's on course to lose his constituency.
The first ever Commons inquiry into sex harassment in schools is being launched by the Women and Equalities Committee - and thanks to the charity Fixers it has gathered the views of some 300 youngsters on sexting, online bullying and the normalisation of pornography.
The findings make depressing reading: "In school corridors and playgrounds, sexually charged behaviour drives young people's physical interactions and permeates through to their 24-hour-a-day life online. They're feeling pressurised into sex, otherwise they're branded 'frigid' by their peers. There is a sense that boys have an 'entitlement' to girls and some report 'being bullied for being a virgin'."
One way to end the 'lad culture' that seems to pervade schools is to teach boys much younger the need for consent and other basic norms, through compulsory sex and relationships education. Nicky Morgan has held out against this in the past, despite (or maybe because of) Yvette Cooper's constant campaign. But with select committee chairs of all stripes backing the idea, maybe it's time has come?
The Telegraph has a nice scoop of a snap of an embarrassing document carried by an unnamed minister (was it Jo Johnson?) on uni fees. "Education across the spectrum – from some in the Russell group to courses … through FE [further education] colleges – do not offer the quality and intensity of teaching we expect for 9k," it says. The document adds that ministers plan to publish a white paper next month to "solve real problems of quality and regulation".
But just as intriguingly it suggests all is not well with the Government pledge to double the number of disadvantaged pupils entering higher education by 2020 from 2009 levels. "BIS [Department for Business and Skills] think we will never achieve this from the established sector alone (probably because of a combination of high entry requirements and reluctance to expand too fast)".
If you're reading this on the web, sign-up HERE to get the WaughZone delivered to your inbox.
Got something you want to share? Please send any stories/tips/quotes/pix/plugs/gossip to Paul Waugh (paul.waugh@huffingtonpost.com), Ned Simons (ned.simons@huffingtonpost.com), Graeme Demianyk (graeme.demianyk@huffingtonpost.com) and Owen Bennett (owen.bennett@huffingtonpost.com)
Popular in the Community