The five things you need to know on Thursday April 21, 2016…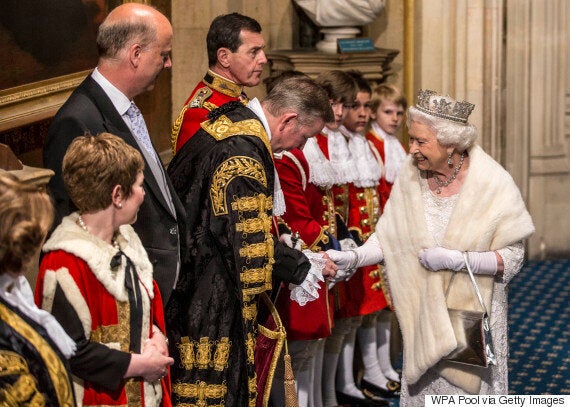 In case you missed it, today is the Queen's 90th birthday. The PM has trailed some of the tributes he will make when the Commons presents a 'humble address' to Her Majesty from 11.15am. The humble language is deliberate, for this is no 'debate', it's a tribute. And, just like swearing the oath of allegiance, therein lies the problem for MPs with Republican views. Crossing your fingers behind your back, Tony Banks style, would be hard to pull off today.
Every single MP on the blue side of the chamber will praise the Monarch, but what about Labour and SNP members who don't quite believe in an unelected head of state? All eyes will be on Jeremy Corbyn as he gets up after David Cameron to make his own statement.
Unlike No.10, Team Corbyn have very deliberately not pre-released his words. I understand it will be typically Corbyn-like. I wonder if any MP will risk that gag that both Jez and the Queen are secret Brexiteers - but are not allowed to say so? After the tributes, questions are bound to be asked of Team Corbyn about what, if any, present he's sending to Her Maj and whether he will attend any street parties (I'd be amazed if he did the latter).
Of course in years gone by, Corbyn would have simply stayed away from such events and quietly marked his Republicanism in his office with a hummous sandwich and an organic apple juice. After a few months in the job, he's getting more used to protocol while still believing he can do it on his own terms. If this event had taken place last autumn, as the national anthem episode proved, things would be more tricky. Many Labour MPs believe any hint of lack of patriotism is yet another reason they are facing difficulties in the May local elections (away from all the London mayoral hoopla).
I note there are quite a few written ministerial statements out today, including ones on legal aid and armed forces pay, surely no one will 'bury' bad news under the Queen's birthday….will they?
Thanks to the forced academies plans, Corbyn had probably his best PMQs since becoming leader yesterday. He seemed to have finally got the hang of asking six focused questions, and handling the responses, to build up to a finale that left Cameron forced to ramp up his defence - as many Tory MPs sat in silence. Quoting 1922 chairman Graham Brady "who says 'there is little accountability or parental involvement'" was very smart.
Cameron didn't help himself with lame gags about McDonald's and then the own goal of trying to use PMQs to insinuate Sadiq Khan was an extremist (the shouts of 'racist!' came from many 'moderates' on the Labour benches).
No10's post-PMQs huddle was notable for the way Downing Street stressed this was all a six year plan and there was plenty of time for more discussion. There was even talk that the timetable for legislation was not yet sorted. Does that mean the bill will not be in the Queen's Speech and may be a draft only? If so, that would undermine both the point of having the Speech before the referendum - and the PM's defiant words yesterday that children didn't have time to waste to see their schools improve.
Even if the full bill appears, it looks like it will have some caveats to reassure backbenchers, with some talk of rural primaries getting special safeguards. The Telegraph's James Kirkup even cites one Tory who thinks the plans will be amended to allow some councils to run multi-academy trusts (which kinda seems like a contradiction in terms). Some MPs think the EU debate has meant the whips took their eye off the ball of growing backbench dissent (and some loyalists think it's all a proxy for the Brexiters to slag Dave and George, which may have a grain of truth but doesn't explain the widespread unease on the Tory benches).
Meanwhile, the Guardian reports the Department for Education's annual accounts have been rated as "adverse" by the National Audit Office and warns the academies plan could mess up the finances even more. Just how Nicky Morgan handles any 'clarification' of the policy could be a test of her own future leadership skills…
Barack Obama lands later tonight and is expected tomorrow to make a strong plea against Brexit (the Leave camp may not be that enamoured that Front National leader Marine le Pen has announced she's coming over here in the next few weeks).
But as the EU referendum continues to cast its shadow over Westminster (if not the public), the rhetoric and bitterness in the battle has been sharpened further this week, so much so that it's difficult to see how the wounds in the Tory party can be properly healed.
Last night Vote Leave tweeted a mocking pic of Jeremy Hunt, adding 'the NHS is in crisis' but can be saved if we didn't send £350m to Brussels every week. Apart from the Euroscep caveat, it looked for all the world like a Labour attack ad.
But for his part, George Osborne's decision to call his opponents 'economically illiterate' earlier this week was just as bad. Mervyn King told Bloomberg the Chancellor's £4,300 was a 'simple minded' claim. Tory MPs were dismayed further when Stephen Crabb appeared to blame the rise in unemployment on Brexit fears (the Sun and others report today Priti Patel was 'gagged').
Vote Leave campaigns chief and former Gove aide Dom Cummings yesterday underlined just how sharp those divisions are. Cummings was famously originally barred from Government by Andy Coulson and Cameron only to be let in later. He is seen by some civil servants (whom he loathes) as an anarchist, a Steve Hilton with hobnail boots, but he's proud to be a disrupter. His three-hour session with the Treasury select yesterday was a classic, with him making a string of claims about 'the wide boys of Goldman Sachs', No10 'threats' to Brexit business leaders and so on. It's war, but not as we know it.
This morning, Labour's Seema Malhotra has a speech accusing ex-BCC chief and Brexiter John Longworth of a 'betrayal' of its members. She blogs for us HERE and also picks up on a survey of 10,000 small firms showing 75% of them want to stay in the EU. The survey was done by Aston Uni and Goldman Sachs (yes, Cummings' favourite bankers).
BECAUSE YOU'VE READ THIS FAR…
No.10 quietly confirmed a White House announcement yesterday that there will be a rather important mini-summit on Monday hosted by Angela Merkel but with Cameron, Obama, Hollande and Renzi attending. The main item will be "joint counter-terrorism efforts and the need to more effectively share information between our countries and within Europe." That covers Syria, migration, Ukraine but the hot issue really is Libya.
Downing Street is playing down suggestions that this is a war summit, mainly because the UK has not yet received any requests for assistance from the Libyans. But many in Whitehall are expecting our servicemen and women to be deployed sometime soon and Philip Hammond this week confirmed naval and air support could occur.
Several MPs on all sides are increasingly concerned that this could all happen without Parliament's approval.
In a sign of just how deep the 'Corbyn effect' goes among young people, the NUS's sitting president was ousted in an election yesterday by a radical student who once attacked 'Zionist-led media outlets'.
Malia Bouattia won 50.9% of the vote despite an open letter from Jewish students saying they were 'extremely concerned' by her views. Bouttia responded by saying she had been misrepresented and that "to take issue with Zionist politics is not me taking issue with being Jewish".
Yet she has criticised her own alma mater, Birmingham University, as a "Zionist outpost in higher education," saying it has "the largest Jsoc [Jewish student society] in the country." And in a speech two years ago (footage of which was obtained by online student mag The Tab) she said that it is 'problematic' to think Palestine can be liberated "only by means of fundraising, non-violent protest and the boycott, divestment and sanctions movement".
Ex-NUS President Wes Streeting had tweeted 'NUS is lost I'm afraid'. There may be a movement now for individual universities to disaffiliate. It could be worse: yesterday the NUS conference heard a motion to not recognise Holocaust Memorial Day because it was wrong to elevate the Holocaust above 'other mass genocides'. It was rejected.
politics?pop=nls&nls=uk-politics&ncid=tweetlnkushpmg00000067" target="_hplink">HERE to get the WaughZone delivered to your inbox.
Got something you want to share? Please send any stories/tips/quotes/pix/plugs/gossip to Paul Waugh (paul.waugh@huffingtonpost.com), Ned Simons (ned.simons@huffingtonpost.com), Graeme Demianyk (graeme.demianyk@huffingtonpost.com) and Owen Bennett (owen.bennett@huffingtonpost.com)