The five things you need to know on Wednesday June 15, 2016…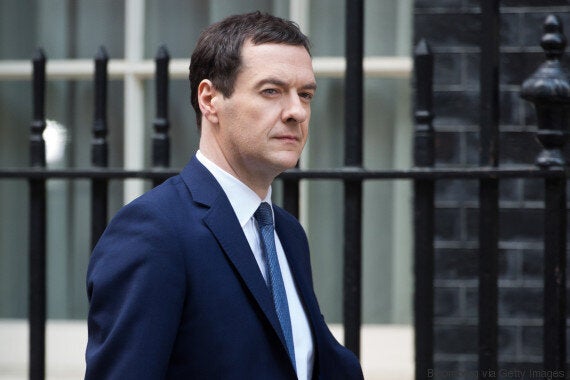 It's the last PMQs before the EU referendum and the big question is whether Tory Eurosceptics will let rip at David Cameron and George Osborne. Jeremy Corbyn has a tricky problem: does he go easy on the PM and instead train his fire on the 'right-wing Tory/UKIP Brexiteers' who will slash the NHS, hit the poor, kill workers' rights etc? If he does, he may for once be singing from the same hymn sheet as the official Remain camp.
Today we've seen the spectacle of a tag-team of Alistair Darling (who was on GMB, Sky and LBC) and George Osborne (on Radio 4's Today) setting out a post-Brexit Budget that would threaten to put 2p on income taxes, hike fuel duty and slash £30bn from public services like health, education and defence. It's Project Fear at Defcon One.
Osborne told Today: "It would be self-imposed austerity for many years to come". "When we walk through that door next Thursday, there is no coming back. It's going to be a one-way exit." Mishal Husain spotted the main flaw in the Punishment Budget idea: Labour won't vote for it, and together with Eurosceptic Tory MPs (57 Tories say they won't back it), it just wouldn't get through the House of Commons.
Yet the real nuclear bomb could be even scarier: dropping what some insiders are now calling 'the O-bomb'. According to rumours swirling around Whitehall and Westminster, Osborne could hint in his Mansion House speech tomorrow night that the markets could be forced to suspend trading the day after a Brexit vote. The Express reports the claim, with Liam Fox hitting back that it "smacks of complete desperation". A senior Remain source tells the paper: "This is why Labour was so confident to warn about an emergency budget last week, because John McDonnell's office has received this briefing directly from the Treasury."
After our Telegraph-HuffPost-YouTube EUDebate last night, Priti Patel told me that if the Chancellor were to try to talk about suspending City trading, that would be "totally irresponsible". She pointed out that it was Bank of England Governor Mark Carney who had been spooking the markets with talk about sterling and interest rates. Some in Vote Leave fear this is a typical black op designed to cause more panic, with no fingerprints.
The way the markets plunged yesterday - with £34 bn wiped off the value of the FTSE in one day, the biggest since the 2008 crash - would be nothing compared to Osborne hinting at suspending trading. Would it be legal, would he even have any direct role in doing so? Vote Leavers say that he wouldn't even be Chancellor after a Brexit vote. And Guido Fawkes says this is a classic e.g. of him dropping not just a cat on the table, but a Schrodinger's cat.
Remain clearly thinks that fear works, and is doubling down on it. And this talk of a Brexit Budget within weeks of a result is meant to spark an immediacy to the fear that has previously only been focused on claims such as a recession 'within a year' and so on.
The Sun reports that the PM could 'punish' Theresa May for not being vocal enough to support the Remain campaign. Is that yet more evidence of panic? I'm told that during cross-party conference calls, No10 sounds increasingly angry, resorting to swearing and lashing out at anyone not on message. But the message seems to change some days within hours, some complain.
The Punishment beatings aren't all one way, by the way. One Eurosceptic Tory MP told me the latest Commons Tea Room gag last night: "What do Hands, Halfon, Javid, Crabb etc have in common? They're all gonna be on the Brex Offenders Register for 10 years.."
In contrast to the Osborne scares, Vote Leave have set out what reads like an alternative Queen's Speech, with six new laws including immigration, NHS funding, and the power of the European courts. Chris Grayling tells the FT the UK would legislate to leave the EU by 2019.
But while Osborne plays his economy card for all it's worth, immigration is still the trump card for Leave. So much so that Labour are the ones really spooked by it. Tom Watson's hint to the BBC yesterday that Labour would look at freedom of movement rules in the EU has opened up a split within the Remain camp and within Labour. Corbyn agrees with the Burnham plan for an EU migration impact fund, but it's not clear at all that he agrees with curbs on migrant movement - and some non-Corbynista, pro-EU Labour MPs tend to agree with their leader on this (Hilary Benn, notably didn't repeat the Watson line at the Times debate last night).
When asked on Today if the Government was ready to reopen the freedom of movement question, Osborne said "the short answer is 'no'".
There have been rumours flying that No.10 could even offer some kind of referendum on Turkish EU membership (France are talking about one) to defuse the issue that is having cut-through with voters. Boris appeared to like the idea, but in typically Johnsonian fashion he also said how much he didn't like lots of referendums. Speaking of which….
Our Telegraph-HuffPost-YouTube EU Debate last night was nice and punchy. I've done a ringside seat report HERE, and we have lots of coverage of the best zingers, stories and tweets. But one of the most significant moments came when the panellists were asked what would happen if there was a narrow result in the referendum. Would there have to be a second EU referendum?
Priti Patel used the attack line Cameron deploys against the SNP to say that holding referenda should be a "once in a generation" thing. But to my surprise, Boris did too. He said the UK's future in the EU was a "generational question" and pointed out repeatedly that this was such a difficult decision for the public, you couldn't keep asking them to go through it all again. He also suggested that people elected politicians to make decisions and get on with it. "Politicians are paid to make important decisions, not regularly remit fundamental questions to people in this way".
With some Eurosceps believing the referendum has been 'rigged' against them, a narrow In vote will spark fury. And there are already some Tory MPs who want to use a second referendum pledge as a virility test for the next Tory leadership race. With Osborne guaranteed being on the ballot if Remain wins, will Boris be outflanked by a thrusting Outer making such a pledge? Well, perhaps for that reason, Boris told me after the debate last night: "I'm not wholly ruling it [a second referendum] out".
Salmond made a passionate defence of immigration, saying 'I am fed up of immigrants being presented negatively'. To which Idris Elba tweeted: "My parents immigrated to the UK, worked hard and made contribution…ME..on that basis VOTE IN..#EUDebate"
BECAUSE YOU'VE READ THIS FAR…
Watch Donald Trump claim claim that Barack Obama's political correctness means he is 'more angry at me' than the Orlando shooter. No, really.
4) SORRY WE HAVEN'T GOT A CLEU
After all those sizeable Brexit poll leads, the Sun/ComRes poll will have come as a relief to the Remain camp. It actually gave Remain a one point lead, with 46% for In and 45% for Out. That is down from other ComRes polls (its one for the Mail/ITV in mid-May had given Remain an 11 point lead) so there's no champagne corks popping. And that 46% is the lowest for the Inners since ComRes began polling on the referendum 11 months ago.
When 'don't knows' are stripped out, In still led Out by 51% to 49%. That's not exactly a clear mandate for either side, but it's still a slender lead that the Remainiacs will cling onto. Sometimes, you just wonder whether the voters have got a clue on how they really feel about all this.
The Sun/ComRes survey finds 61% of Brits say that they would be willing to accept a short term economic slowdown in order to see EU immigration controls tightened. But even more - 68% - say they are not willing to lose any cash at all personally to reduce the number of migrants coming in from Europe.
5) GREEN BELT DEVELOPMENT
Sir Philip Green finally caved to the inevitable yesterday and announced he would after all be giving evidence to MPs on the BHS collapse. The billionaire had famously called for the resignation of Frank Field as chairman of the DWP Select Committee, claiming he was 'biased' against him.
Yet in a letter he said: "Having given long and hard thought to the matter however, I have decided I will attend tomorrow morning, hoping and trusting that the committee will give me a fair hearing. This will be the first and only opportunity I have had to tell my side of the very sad BHS story and I will do my best to answer all the questions put to me in an honest and open way."
Big Phil owned the department store chain for 15 years until 2015, when he sold it for £1 to a consortium led by Dominic Chappell. The joint BIS/DWP Committee hearing takes place at 9.15am. It could be a belter. Popcorn, anyone?
If you're reading this on the web, sign-up HERE to get the WaughZone delivered to your inbox.
Got something you want to share? Please send any stories/tips/quotes/pix/plugs/gossip to Paul Waugh (paul.waugh@huffingtonpost.com), Ned Simons (ned.simons@huffingtonpost.com), Graeme Demianyk (graeme.demianyk@huffingtonpost.com) and Owen Bennett (owen.bennett@huffingtonpost.com)