The five things you need to know on Friday July 1, 2016…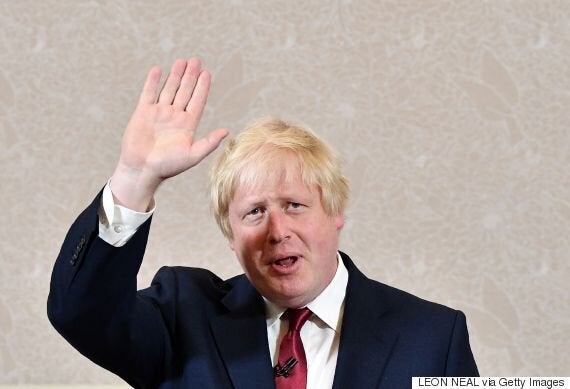 Everyone expected today to be a day of quiet reflection as David Cameron, Jeremy Corbyn and Princes Charles, William and Harry attend the Thiepval Memorial To The Missing on the Somme.
Political reporters were hoping for a rest too, after an exhausting EU referendum campaign, Labour coup resignations and the closing of the Tory leader nominations. So it may be that Michael Gove is greeted by some rather ratty, knackered journalists, not overly keen on him deciding that a Friday morning was a good day to stage his first leadership speech.
Michael Heseltine couldn't resist the military metaphor after Boris's leadership bid was blown up by Gove yesterday: "He's like a general that led his army to the sound of guns and at the sight of the battlefield abandoned the field, to the claims of his adjutant who said he wasn't up to the job in the first place. I have never seen so contemptible and irresponsible a situation."
Cameron loyalists (and there are many) can't work out which of Boris and Gove they loathe most right now, given both have acted like Oxford Union backstabbers. I wrote yesterday HERE of the shock in the room as Boris made his big reveal under the chandeliers. He had his own reference to Julius Caesar and betrayal. But for many in No10, but it's Hamlet that matters more: Boris was 'hoist by his own petard', the traitor himself betrayed.
The Sun's headline 'Brexecuted' is my favourite, and the paper has some fascinating details. On the day Cameron announced his resignation, Gove told Boris he would not run against him. They met on the Sunday at Boris's country cottage but things didn't start well when Gove's wife Sara tipped off the media. Things got worse when Team Gove weren't given the full list of 90 MPs Boris had claimed he had.
Andrea Leadsom's role in all this was one catalyst (though Team Boris say much of this is 'arse-covering excuses'). She had been promised the job of Chancellor by Boris and the Sun reveals he had a hand-written note to give to her at the Tory summer party at the Hurlingham Club on Wednesday evening: "Dear Andrea, Delighted that you're in our top 3, Yours Boris." Nick Boles was meant to hand over the letter, but says Boris forgot to bring it. By the time it was found, Leadsom had left, thinking her 8pm deadline had not been met, and decided that night to run for the leadership herself. Oh, and Boris had promised to tweet out a clear message, "with the Gover and Andrea tomorrow", but he never sent it.
The Telegraph has a nice read on how at 8.53am, Gove rang Boris campaign adviser Lynton Crosby to say 'I'm running'. Crosby replied 'Running what?' Gove: "I'm running for the leadership myself'.
Was this all just Boris's typically shambolic approach to politics, and whiff of arrogance over his support, rather than reneging on any deals to Leadsom and Gove? Was it Boris's backtracking on key Leave messages on immigration and trade (it's claimed he wanted EEA [membership of the European Economic Area] status)? Is this just a cunning plan with George Osborne to kill Boris and then let May win? Was Gove just looking for a moment to strike? Who knows if we'll find out for sure, with all sides disputing the other's version?
Gove was ridiculed mercilessly yesterday for his previous pledges not to stand for leader, not least his lines that he lacked the character and strength to be PM. Gifs of his pratfall in Downing Street, him clapping like a seal, all the parent and teacher toxicity of his Education days, these could combine to make him a lethal combo of Miliband and early Hague if he were to be Tory leader. And unlike those two, he would be PM not Opposition Leader.
While many admire his intellect, he struggled even after his biggest speech of the Brexit campaign to say what kind of trading relationship the UK would have with the EU (the 'Albania model' was one risible moment). Whitehall insiders say he has no head for figures, his fear of flying makes him implausible as a globe-trotter in a new era of buccaneering Britain. Gove only needs Tory member votes, not those of the public as a general election now looks like being put back to 2020. But if he wins, he could set back the Tories' image a generation, his enemies say. Anyone who can have the 'wild' Dominic Cummings so close to him has a serious judgement problem, No10 insiders insist.
The Times' Phil Collins makes the counter point, however. Gove has shown the brains and the ruthlessness needed in a PM, he says. Key will be which way Leadsom's votes go: to Gove or May?
Gove and Theresa May share a mutual loathing and distrust not seen in Whitehall since the Blair-Brown days. Their row over 'Trojan Horse' extremism in Birmingham schools (that 'draining the swamp' of terrorism jibe in particular) left relations almost unreparable. The idea that they could give or even want to offer each other a post in their government, after any Tory leadership election, is as unthinkable as Cameron and David Davis sharing power back in 2005. Coming second in this race does not guarantee a consolation prize.
May's launch yesterday was almost perfect. Honest, principled, tacking to the centre (on the deficit and ECHR), she turned her unclubbable nature into an asset. "I don't gossip over lunch. I don't drink in parliament's bars. I don't wear my heart on my sleeve. I just get on with the job in front of me".
She's an Alistair Darling kind of politician, where boring is good, dogged is valued and loyalty the watchword. Her big promise to appoint a Secretary of State for Brexit was shrewd, and the main Leaver who could get it could be Andrea Leadsom. May doesn't do deals, and Leadsom may prefer Chancellor, but this could be a powerful top team. It's perfectly possible Leadsom could lead on Brexit with the prospect of the Treasury job once the negotiations are over.
Boris rang a friend yesterday to explain his decision and said 'I didn't want to be a Jeremy Corbyn', i.e. a leader popular in the party but just too divisive among his MPs. And yet on the whole Brexit issue, May has been like Corbyn herself.
A 'reluctant Remainer', she did as little if not less campaigning for the In cause as the Labour leader. In retrospect, that's actually boosted her position within the Tory party, as someone as conflicted as it was about the need to be loyal to the PM with the need to lance the EU freedom of movement issue that undermined her net migration target.
Strangely, Brexit could now make it easier for Labour to grip the immigration issue. With us out of the EU, freedom of movement is ended and the party can devise policies to help with wages, one MP told me last night.
And it's proof that the battle for the future of Labour has shifted to hard numbers. 'Moderates' are signing people up under the #SavingLabour campaign, while defenders of Jez in Momentum are getting their people to back the #KeepCorbyn campaign. Traffic rankings for UK websites yesterday showed PeoplesMomentum.com at 13k and SavingLabour.com at 27k. I'm told the real spike in SavingLabour came the day after the Brexit result and was more about that than Corbyn per se.
I was told by a senior Labour source last night that the pro-Corbyn new members outnumbered the Corbyn-out new members by 'the tiniest margin'. Some MPs seized on that as a shift in the race, as earlier this week it was claimed that 60% of the 13,000 new members were backing the leader. There is a new box online that asks members why they have joined but it's unclear just how that information can really translate into serious estimates of who's backing who.
There are other straws in the wind. Local Labour parties around the country are holding confidence and no confidence motions, with many backing Corbyn but some backing their MP. Last night, Streatham, thought to be a battleground for Momentum, voted 53-13 for JC to quit.
Resignations continued yesterday and the sight of Paul Flynn, 81, as Shadow Commons Leader was one of the strangest on a strange day. Rob Marris quit as shadow treasury minister during a standing committee.
But the Times/YouGov poll of Labour members makes difficult reading for the plotters. It shows Corbyn ahead of every rival in a head-to-head (tho Tom Watson comes closest). The poor ratings for Angela Eagle caused further worries among MPs, and expect more phone calls about Owen Smith or someone else today. Momentum sources say their early canvassing of Corbyn voters showed them still to be 90% loyal. Eagle looks like she'll run on Monday, but nothing is certain right now.
John McDonnell has a speech at the Royal Festival Hall today to outline his vision of a Brexit Britain and its economy. Will he follow up his 'lynch mob' line about the PLP?
BECAUSE YOU'VE READ THIS FAR…
At his extraordinary press conference yesterday, Jeremy Corbyn said: "I don't like the use of the world traitor." But he infuriated colleagues of Jewish MP Ruth Smeeth who had endured the spectacle of Momentum activist Marc Wadsworth railing at her for working 'hand in hand' with the Tory media.
Many were upset that Corbyn failed to defend one of his own (in fact he says 'sorry' to Wadsworth after the event, as this video shows, at 2.58mins). Smeeth has called on Corbyn to "resign immediately" for his "catastrophic failure of leadership" in not correcting the activist.
The Chakrabarti 'inquiry' into anti-semitism confirmed MPs' worst fears that it had been diluted into a wider 'anti-racism' inquiry, with some ludicrously motherhood-and-apple-pie conclusions such as not mentioning Hitler so much. She's due on the Today prog.
But it was Corbyn's apparent moral equivalence between Israel and ISIS that really infuriated many, including Labor MPs in Israel. As I revealed last night, the reaction was so intense that Emily Thornberry rang Mark Regev, Israel's ambassador in London, to apologise for any offence caused. Regev was sent the speech after it was delivered but before he talked to Thornberry. Suggestions that he had in any way approved of its contents are wide of the mark, I'm told. In fact, the Israeli embassy tweeted as much just now.
The FT knows its market. It leads its front page not on the Tory Shakespeare show, but on Bank of England Governor Mark Carney's hint at monetary easing to cope with the looming financial shock of Brexit. Gilts moved into negative territory for the first time and the pound fell amid expectations of an interest rate cut.
There was a moment at his press conference when Carney asked a room of reporters and bankers whether any feel Bank of England's warnings about Brexit had not proven correct. The silence in response was telling, though Brexiteers will say that proves either how hacks are all part of the Establishment, or how he was showboating unfairly.
Carney's best quote was: "All this uncertainty has contributed to a form of economic PTSD [post traumatic stress disorder] in households, businesses and markets". But the most telling line was in the Bank's MPC report which said that a "material slowing of growth" had already happened.
A couple more telling moves: David Cameron pleaded with the Japanese PM last night to keep car and train manufacturing firms in the UK; the New York Times has a piece on who will be 'the new London', i.e. the financial capital of the world now that euro trading will almost certainly shift from the UK.
Our action-packed Commons People podcast is up HERE. Listen to us riff on yesterday's extraordinary events, as we say goodbye to our lovely colleague Graeme Demianyk. There's a superb Quiz of The Week. And a bit of a verbal punchup over the Stat of The Week.
If you're reading this on the web, sign-up HERE to get the WaughZone delivered to your inbox.
Got something you want to share? Please send any stories/tips/quotes/pix/plugs/gossip to Paul Waugh (paul.waugh@huffingtonpost.com), Ned Simons (ned.simons@huffingtonpost.com), Graeme Demianyk (graeme.demianyk@huffingtonpost.com) and Owen Bennett (owen.bennett@huffingtonpost.com)